Manners, Customs, Clothing
No to Rodeo Cowgirls, Yes to Escaramuza
Marian T. Horvat
I am no fan of the Women's Rodeo Association, which hosts competitions for 'cowgirls' similar to the timed events for their male counterparts. The ladies organized it in the 1950s with the aim of showing the men they were just as rough and tough as the cowboys. The association took off, fueled by feminism, and today the cowgirls pretend to be just like the men, roping calves, riding bulls and wrestling steers in competitions, some with high money stakes.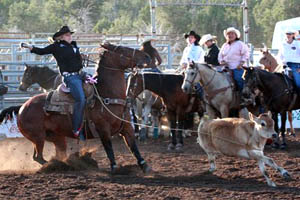 Above, mimicking the men, cowgirls rope steers
Below, a graceful maneuver of the escaramuza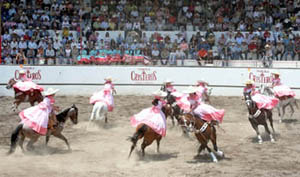 Now, since these cowgirls are usually wearing make-up and the tightest possible jeans and blouses, it appears to me they are trying to attract men as much as be like them. Regardless, neither the dress nor the events are appropriate for ladies and far from counter-revolutionary. It is, simply put, anti-natural and abnormal in any circumstance for a woman to appear like a man.

Different from this feminist competition in the U.S., I was pleased to find another kind of entertainment for women in Mexico that demands high equestrian skills. It is the escaramuza, which loosely translates to 'competition of adroitness' or 'skirmish.' In fact, this equestrian event corresponds to the feminine spirit in an enjoyable combination of skill and beauty.

A friend sent me a link to this escaramuza video clip with the note "I think you'lll like this." I did, as I believe my readers will.

The girls, in groups of eight, ride sidesaddle wearing lacy long dresses and wide-brimmed Mexican sombreros. Each team performs intricately choreographed patterns. The maneuvers require much practice to be performed in perfect synchronization. Since the drills are executed at a short gallop, the riders must be quite accomplished riders. The maneuvers are light and graceful, befitting the lovely young ladies who execute them.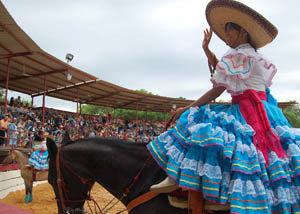 Above, a graceful wave to the audience. Below, fathers prepare their young daugthers for escaramuza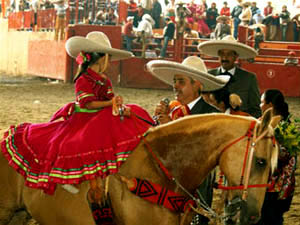 Rodeo, or charreria, is a popular sport in Mexico. Mexican rodeo has some quite distinctive and very masculine events, like the one where men catch bulls and throw them down. Or the Pass of Death event, where a charro (cowboy) on horseback leaps to the back of a wild horse without reins while the wild horse is being chased around by other charros. In the 1950s, when the daughters of the charros were tempted to enter the rodeo arena alongside their brothers, a much better solution than a Womens' Rodeo Association was found. A display of beauty appropriate to young ladies – instead of events of raw strength – was introduced: the escaramuza.

The girls left their brothers to practice roping steers. They dressed up, mastered the sidesaddle, and practiced hours a day for several months to perform their feminine escaramuzas.

"Why did you become involved?" an interviewer asked the girls – ages 12 to 18 – performing at one Mexican escaramuza. "Because it's so beautiful," those daughters of rodeo families answered. They had been riding since they were young girls and their fathers had found a way to challenge them in a way appropriate to their feminine nature.

Truly these young ladies appear elegant and skilled. The synchronization and symmetry of the maneuvers demand prudence, agility, presence of mind and perfect dominion over one's mount. The use of the sidesaddle does not impede the gallop, but rouses increased admiration from the audience at the dexterity, command and grace of the riders.

Here we have a demonstration that it is possible for girls to be sportive without being masculine or dress immorally.



Posted November 24, 2010




Related Topics of Interest

The Debutante Ball in Laredo

Women in Sports: Natural and Unnatural Challenges to Purity

Skating Champions Yesterday and Today

Polemic: Should Women Wear Slacks?

Forfeiting a Game for Principles

How to Prevent Daughters from Dressing Immorally

Related Works of Interest
Manners | Cultural | Home | Books | CDs | Search | Contact Us | Donate



©2002-2014 Tradition in Action, Inc. All Rights Reserved