International Affairs
Iranian Nukes for Latin America?

Toby Westerman
The recent trip of the President of the Islamic Republic of Iran, Mamud Ahmadinejad, to Venezuela, Bolivia, and Brazil demonstrates the great importance fundamentalist Islam places in its alliance with the neo-communist and socialist States of Latin America. Their common enemy is the United States, their mutual interest - at least on this trip - is challenging the U.S. nuclear monopoly in the Western Hemisphere.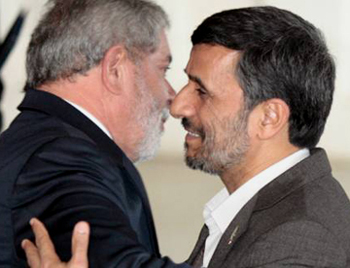 Lula warmly embraces the sponsor of Islamic terrorism




Ahmadinejad's Latin tour took place while the Iranian military engaged in large and what Iranian air defense chief General Ahmad Mighani called "vital" maneuvers, which involved defending Iran's nuclear facilities from air attack. The Islamic Republic of Iran has characterized the exercises as "unprecedented" and they involved "vast areas" of western Iran.

Reports indicate that Iran is willing to supply uranium to Bolivia and Venezuela, both under neo-communist governments. Evo Morales, the President of Bolivia, is a political understudy of Venezuela's Marxist dictator, Hugo Chavez.

Chavez is in the midst of a large-scale military build-up, and he is in an increasingly worsening border conflict with the still pro-U.S. nation of Colombia. Chavez is threatened by Colombia's permission granted to the U.S. for the use of several military bases to aid in anti-narcotics surveillance. Chavez is also angered that the Colombian government continues to inflict serious damage against the Communist FARC guerrilla army, to which Chavez has close ties.

The FARC (a Spanish acronym for Revolutionary Armed Forces of Colombia) has waged a 40 plus year battle against the Colombian government, and is also a major drug trafficker. The Chavez government is reported to be working with the FARC in the drug trade.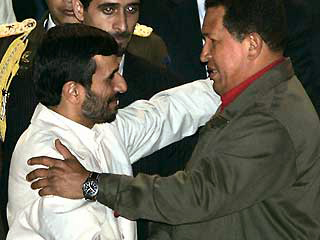 Ahmadinejad calls Chavez "my valiant brother"

Chavez's wrath at the Colombian pact with the U.S. is expressed materially by the recent delivery of some 300 armored cars and advanced T-72 Russian tanks. Moscow has already delivered to Chavez an order of state-of-the-art Su-30 fighters and 100,000 AK 103 assault rifles. Chavez is also calling for the Venezuelan militia to mobilize in preparation for war along the border shared by Venezuela and Colombia.

Ahmadinejad refers to Chavez as his "valiant brother." As he departed for South America, Ahmadinejad referred to the "collaboration" between Iran and Venezuela, and described the two nations as "revolutionary societies."

The socialist nation of Brazil was first on Ahmadinejad's itinerary.

Brazil's President, Luiz Inacio Lula da Silva (usually referred to as Lula), has consistently supported Iran's "right" to the development of "peaceful" nuclear energy, and Ahmadinejad describes Iran and Brazil as having a "common vision" in international affairs.

Ahmadinejad stated that he intends to "further develop cooperation" between Brazil and Iran.

A firm supporter of neo-communist Hugo Chavez, Lula is not an overt communist. Lula is working for a united, socialist Latin America which could some day challenge the United States commercially, and possibly militarily. Brazil is reviving plans to construct nuclear submarines, and technological assistance from Iran would be highly useful.

Ahmadinejad is proving that religious fanaticism can work with secular political ideology. All that is needed is a strong hatred of the United States of America and the God-given freedoms for which it stands.



Posted December 4, 2009




Contact T. Westerman at
www.inatoday.com
or P.O. BOX 5182, Rockford, ILL, 61125-0182




Read
Lies, Terror, and the Rise of the Neo-Communist Empire
by Toby Westerman





Related Topics of Interest

War on the Democratic Process from Chavez to Obama

Chavez Hits False Note Greeting Ahmadinejad

Color Variations in Communism

Narco-Terror Army Threatens U.S.

Declaration of Resistance to the Vatican Ostpolitik

Related Works of Interest
International Affairs | Hot Topics | Home | Books | CDs | Search | Contact Us | Donate



©2002-2013 Tradition in Action, Inc. All Rights Reserved