What People Are Commenting
Two Kinds of Distributists

Dear friends at TIA,

I have been following with interest the articles on Distributism that have appeared on your website [click here for articles]. It seems to me that concerning Distributism, there are distributists and distributists.

Belloc made the theory appear very good, though even he said that it was impractical until people had returned to God and Catholic ideals. Arthur Penty on the other hand would seemingly use Distributism as a cloak for Socialism. I would be interested to know any sources you may have that tell about this angle of the distributive movement.

I feel that the theory of Distributism, appearing as it is in the traditional Catholic movement in America, can be very dangerous to that movement. Simply because so few Americans think with their heads instead of their hearts. It seems to me that any attempt to carry out this theory on a large scale would inevitably result in a bloody revolution.

We need only look at the chaos in New Orleans this past summer to see how little is holding back the masses now! [click here for another example] I am concerned that the socialists are perhaps using the distributive movement in the Church to undermine the traditional Catholic movement as well as the country. Perhaps I am way off track - I certainly hope so!

In Jesus and Mary,

L.P.

TIA responds:

Dear L.P.

Thank you for your perceptive considerations.

We are passing the information regarding good and bad Distributism to Mr. Patrick Odou for his studies on the topic. We are sure that he will appreciate it and give it due consideration.

Cordially,

TIA correspondence desk.
Posted December 9, 2005

Related Topics of Interest

A Distributist Manifesto Strongly Spiced With Communism

Socialism and Distributism in Catholic Clothing

Eric Gill, the Pedophile Founder of Distributism

Other Moral 'Pearls' of Eric Gill

Eric Gill, a Precursor of Vatican II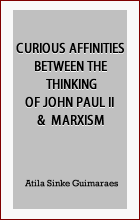 Comments | Questions | Objections | Home | Books | CDs | Search | Contact Us | Donate



©2002-2013 Tradition in Action, Inc. All Rights Reserved