Progressivism in the Church
Church Revolution in Pictures

Photo of the Week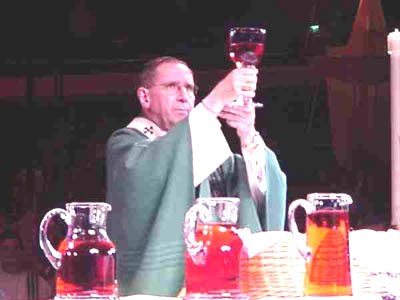 Archdiocese of Los Angeles website, February 2005
At the Religious Education Congress 2005 in Los Angeles, Cardinal Roger Mahony consecrates the wine of the Mass in kitchen pitchers normally used for lemonade.

It is amazing that in one of the richest Dioceses of the United States - with financial assets and liability of around $500 million, there is no money to permit dignified chalices for the Body and Blood of Our Lord Jesus Christ.

It is a so great a disrespect that one can ask
if it does not touch on blasphemy. In any case, it is another consequence of Vatican II's directive to transform the Catholic Church into a "Poor Church."




Related Topics of Interest
Pictures | Home | Books | Tapes | Search | Contact Us



2002-2007 Tradition in Action, Inc. All Rights Reserved