New Canonizations
Lourdes and JPII
A
news item
I read on this site caught my attention recently: it was a report that a pilgrimage was to take place October 21-27, where a blood-relic of John Paul II was to be taken to Lourdes for the veneration of the faithful. An anti-climactic event, a "sign from Heaven" frustrated that event, however, and I cannot resist speculation that Our Lady herself stopped the process.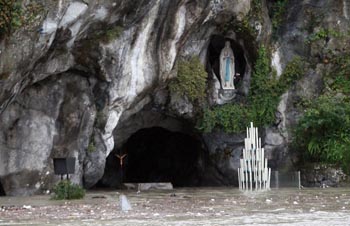 Waters covered the altar in the grotto
Now, the 'sign' from Heaven: A huge flood in Lourdes made evacuation of pilgrims necessary at the precise time the relics were to travel there for their benefit... The space in front of the grotto was entirely covered with water, the altar was under water, torrents of mud everywhere. The major damage will be very costly.
This led to a recollection about the travels of JPII. Another
news item
gave this resume of his journeys: "John Paul II has visited 123 countries and made 138 trips within Italy, and 291 visits to Rome. He has written 13 encyclicals, created 157 Cardinals and proclaimed 447 saints" (
The Tidings,
October 20, 2000, page 19).
The total of his 552 visits and trips (three to Lourdes) made him the most visible Pope in History, and the most loved by the world. There is a flagrant dichotomy in this, when one considers the words of Our Lord: "If the world hate you, know ye that it hath hated me before you" (John 15: 18).
If JPII deserves a moniker, it would have to be "the happy Pope," or perhaps "the playful Pope" or even the "buffoon Pope." Don't take my word for it. A graphic picture of the 27 year reign of "John Paul the Great" can be had by reading the book
Previews of the New Papacy
. (
Caveat
: some of the pictures of JPII with immorally dressed women are nothing less than scandalous.). See for yourself the evidence of how he transformed the papacy and the Church into something different from what it was.
Let's face it, JPII was basically in the entertainment world. Again it is a dichotomy because in actuality we live in a "vale of tears." And this brings us to the real nature of Lourdes, a gift from Our Lady to teach us about the true design of God's will for man. Lourdes in itself is an indictment of the jocular progressivist empire sustained by JPII, who helped to make the Church a symbol of himself.
A significant conversion
The realist author Joris Karl Huysmans (1848-1907) wrote a first person account about his visit to Lourdes in 1906. It offers a poignant view of what Lourdes is all about.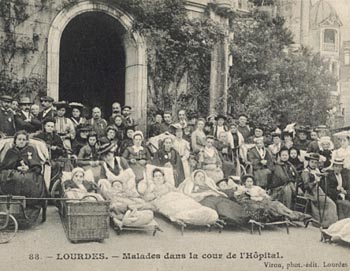 Sick pilgrims at Lourdes in the 19th century
This work is all the more significant given the life of Huymans. The French novelist and minister of the Interior was a Satanist and member of the French Decadent Movement, a realist school that professed to show all that is most base and vile in humanity.
In 1895 he spent a week at the Trappist Monastery of Issigny and was deeply impressed by the monastic life. Thus began his conversion, completed by a trip to Lourdes. Even after his conversion his literary works were realist, and his descriptions of the sick persons he saw there are quite graphic, as the reader can see in the excerpt below that comes from his book
The Crowds at Lourdes
:
"Now they are doing their utmost to undress a sick man whose back is one great sore; a horrible corpselike smell of pus takes you by the throat; the man is torn in twain and groans with his mouth wide open, exposing his teeth. For modesty's sake, they fasten a waist-cloth round him; a belt is slipped under his loins, and, with all the adroitness they can muster, the four bath-attendants let him down into the piscine. On coming into contact with the chilly water, all his skin seems to ripple over his body in waves; he suffocates, with his head thrown back upon his shoulders; they pull him out, and, without wiping him dry, put on his clothes and carry him off. …

"And then my gaze falls upon a new litter which is being brought in. From it emerges a being who is bent double, whose face is haggard with suffering and leaves me utterly upset. Oh, the pity of it! His wrappings are taken off and his flannel waistcoat; he is a skeleton streaming with perspiration. They let him down gently into the water; he clenches it in his fists and his throat rattles. He is taken out and put back on his stretcher, still wet – and now comes another.

"What a gaze he has! Two gas jets lighted in the eye-sockets of a death's head, and yet raised in hope or cast down in fear. They strip him of his shirt; it is flecked, here and there, with spots of gum and fresh blood, and stiffened elsewhere with marks of dry humor which make it look like a sticking-plaster. And the man displays great pomegranate-like hollows in his sides...The water has turned into a hideous broth, a sort of grey slops with bubbles in it, and red bladders and whitish blisters swim round in this molten tin into which they keep on plunging people." (1)
The graphic descriptions of the sick and suffering who come to Lourdes continue. And what is my point in offering this excerpt? It is very simple. Most people do not reflect on Lourdes in the manner above. I spent my career going from the Marine Corps, to prison officer, to law enforcement. Not very much shocks me. But this scenario at Lourdes renews my understanding of this "vale of tears" that we live in.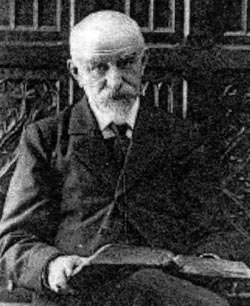 A remarkable conversion of Huysman after visiting the Trappists & Lourdes
The great gift of Our Lady of Lourdes is calculated to make us think about suffering. When we visit there, we are surrounded by the sick, the agonizing, those near death, whose last hope is Our Lady. It is not a world where "everything's okay."
The end of Huysman's life was also not a storybook picture. This man, who so valued his clear power of vision and took so much pleasure in looking and seeing, in his last years was afflicted with an eye disease and it became necessary to sew his eyelids shut.
Yet he accepted this cross with Catholic resignation, saying that his eyes were taken from him as a penance for the abuse he had made of them. He had contemplated and accepted the great gift of Lourdes, an understanding of suffering and human misery.
The Progressivist Church and the world hide the message of Our Lady. Especially the progressivist church, which is not doing its job of teaching the
four last things
. JPII spent his years doing the opposite. He was not a representative of the truth of the Catholic Church.
It seems his motive was for the world to see him. And it did. And it loved him. But he did not do what Our Lady wanted him to do. I believe that this why she sent a symbol of her rejection, preventing the relics of the buffoon Pope from being at her grotto.
The Crowds of Lourdes, Burns Oates & Washbourne, 1925, PP/ 45f.

Posted December 5, 2012