How could the word ambience be defined, at least in the sense we use it?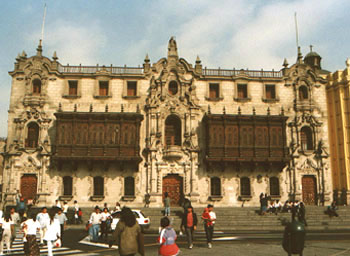 The Archbishop's plaza in Peru's public square
The Club Union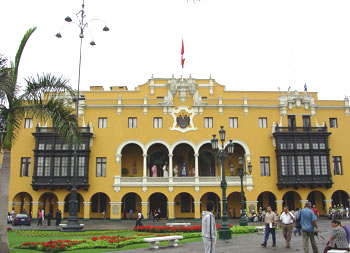 The City Hall

God established affinities between certain forms, styles and sounds on one side and certain states of soul in men on the other that are difficult to define but very real.

This explains how an object or group of objects can arouse a defined state of mind in men. Ambience, then, is this state of mind created by objects.

In this sense, an ambience can be inspired by a song, a piece of furniture, a room, a building, a city or a landscape.

For obvious reasons, on a much higher level, a person or a gathering of people can also constitute an ambience.

Having said this, it is easy to understand how nothing in the diverse parts of a city lends itself better for suggesting an ambience than the public square. It forms an entity that invites the passer-by to stop, take a moment's breath, rest and pause to consider the elements of unity and variety that make it beautiful. Because of this, more care is usually taken in adorning the public square than the other city streets.

Aware of this, our Peruvian neighbors knew how to make a splendid public square, where the most genuine Hispanic-American architectural traditions were united with an intelligent utilization of their resources.

At right above, the Archbishop's Palace of Lima, destroyed by an earthquake in 1904 but faithfully reconstructed, has the equilibrium, elegance, strength and above all nobility of the best examples of its genre. It is truly a jewel.

The building constructed for the Club Union, celebrating the national unity of the country, one of the most prestigious social groups in the Peruvian capital, is more recent, but one can assert that it authentically perpetuates the beautiful local traditions. At right below, the city hall – also majestic, strong and welcoming - merits a similar eulogy.

These noble buildings in Lima's public square serve as a framework for the magnificent Cathedral, below, which reigns there like a Queen. It is the symbol of the Church, piously proud of the traditions she created. With tact, prudence and wisdom, she inspires the continuity of those traditions amid the ever-changing circumstances of time.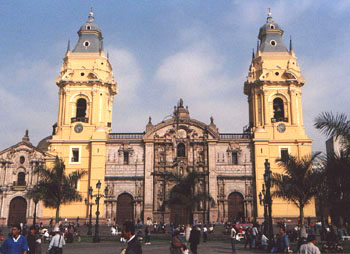 The Cathedral of Lima
Translated from Catolicismo, July 1959
Posted August 27, 2010

Related Topics of Interest

Reading Medieval Architecture

The Organic Formation of a Region

The Cathedral: Symbol of Paradise

Churches of Hell

Mittenwald and Its Violins

The Nefarious Power of Television

Organic Society and the Desire for Heaven

The Principle of Gradualism

Related Works of Interest