Feminism
Knocking Our Lady off Her Pedestal
with Mary 2.0

There is a feminist movement gaining ground in Germany that wants to modernize Our Lady. The movement calls itself Mary 2.0, a group of Catholic women who are protesting the masculine structure of the Church.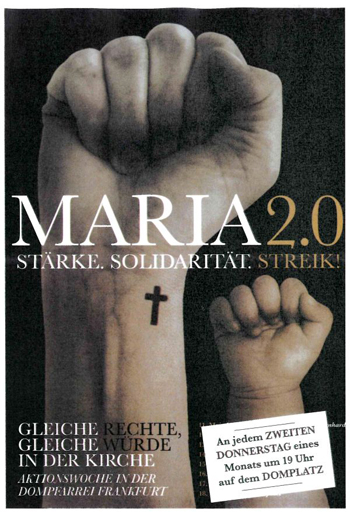 Remaking Our Lady into a feminist empowered Mary
The name – Mary 2.0 – is meant to signify a new, updated Mary. Mary 1.0, according to the founders of this movement, is an ideal of a silent, serving woman and they want nothing to do with her. Instead, they propose to create their own version of Mary, one who is their equal, who has been oppressed by men and who is an advocate of "women's rights."
One of the leaders of Mary 2.0, Barbara Stratmann, explains that "2.0 means a new beginning: Everything must begin from zero. We are no longer like that!" (1) In other words, "we are no longer like the Blessed Virgin. We are modern, empowered women."
These women no longer wish to imitate Our Blessed Mother in her humility. Instead, they choose to bring this Mary down to their own level and pretend that she is as they are – arrogant feminists who refuse to submit to the authority and doctrine of the Church.
The movement began this year (2019) in Munich with the call for a week long protest in May against the Church authorities and
a petition
that will be sent to Pope Francis, demanding voluntary celibacy (they do not specify for whom, but it can be assumed that they mean for priests, and, in turn "priestesses," new sexual morals that deal with the "reality," and women's ordinations among other things. The women who participated in the protest refused to enter any church or to offer any services to their parishes for 10 days.
Women 'on strike' against the Church make their own services outside
This refusal to enter the church grounds was supposed to represent how women are outside of the Church structure, not able to make any decisions or to hold positions of authority. So, these women (and even some men who support them) decided that they had the right to excuse themselves from the obligation to assist at Sunday Mass, without showing the least sign of guilt as they publicly committed mortal sin.
Unashamedly, they stayed outside of the churches, celebrating their own protestant-style services in the church yards, with hymns, prayers and sermons by the would-be priestesses.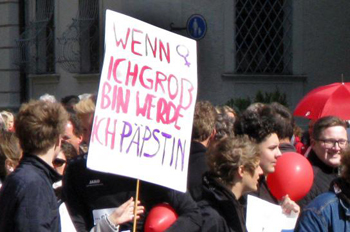 'When I am older I will be the Pope'
The petition, which currently has
34,300 signatures
, contains such shocking statements as the following:
"The men of our Church like to sing their praise to women. Paradoxically, men are the sole determiners of our participation in our Church. As of now, only one woman is tolerated among them: Mary: On her pedestal. She stands there, reduced to silence. We want to take Mary off her pedestal and into our midst, as a sister facing our direction."
For these women, Mary as she has been portrayed for about 2,000 years in the Catholic Church is no longer the feminine ideal; instead, she becomes their modern sister and a means to express their radical feminist ideas.
'Mary, do not be silent'
Their rally call is: "Mary, do not be silent." And to express these detestable insults against Our Lady, the protestors have painted signs of the Blessed Virgin with tape covering her mouth. They pretend that the Queen of Heaven and Earth has been silenced and suppressed by the Church, she who humbly embraced silence as a means to grow in grace and perfection and who lovingly submitted to the Church.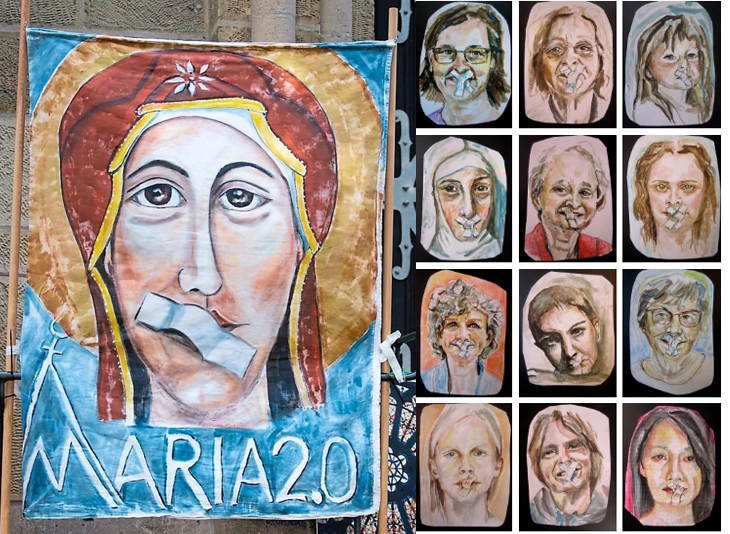 Our Lady, silenced just like all women, must be liberated and empowered
Rebelling against the humility of Mary, these women are clamoring to be priests. Jaqueline Straub, a young woman who is married and a theologian, explains why she wants to be a priest in
an interview
on a German news channel.
"First," she asserts, "women must receive the same rights. Mandatory celibacy must become a choice. The whole discussion about the abuse debate [sexual abuse crisis] must be radically explained. There must be a new sexual morality. And there must be a new language found in the Church, because most people who go to church on Sundays do not understand what is being said."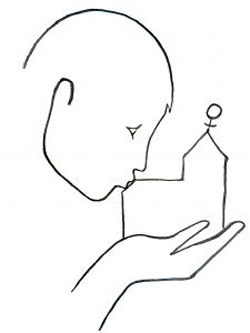 'We are kissing our church awake'
Mrs. Straub believes that most people are ready for a change in the Church, and she makes the ridiculous claim that Jesus would have supported her in her endeavor to become a priest because "even the early Christians knew that equal rights were self-evident." For Mrs. Straub, the question is whether this movement will stay in Germany or become an international cry for women in the Catholic Church.
Unfortunately, this movement is supported and promoted by the official website of the German Catholic Church,
Katholisch.de.
The Church hierarchy in Germany is ready for this movement, as the Bishops have been unashamedly discussing the question of woman deacons for many years.
Bishop Franz-Josef Bode, Bishop of Osnaburg and Deputy Chairman of the German Bishops' Conference, fully supports the movement. He says: "I find the movement to be good, as a sign to create more participation for women in the Catholic Church." He hopes to install women deacons and is a strong advocate for Mary 2.0 at the Bishops Conference. (2)
Bishop Peter Kohlgraf of Mainz also supports the movement, viewing it as a means to enter into dialogue with the protestors. Although he does not think that the ordination of women priests is a present possibility due to the persistent teaching of the Church, he hopes for a council of the Church that will rethink the possibility. This "way of the synod," as he terms it, points to the upcoming Amazon Synod as a means to legitimize women's ordinations. (3)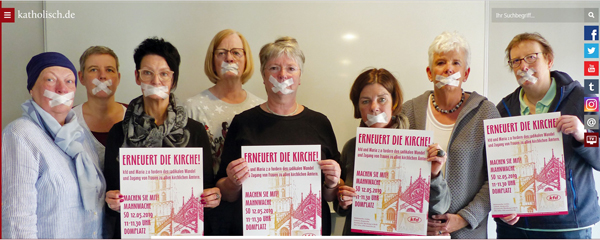 The official website of the German Catholic Church promotes the movement on its website
Cardinal Rainer Woelki Archbishop of Berlin also longs for a similar result. He is ready to discuss the question of women priests in further detail and is willing to take a new direction for the future. (4)
These are just a few examples of Prelates who offer their support for Mary 2.0. There are still many other Bishops who wish to "remain in dialogue" with these feminist women as they knock Mary off of her pedestal.
Reaction of faithful Catholic women
Faithful Catholic women have responded to this movement with a counter-movement,
called Mary 1.0
. The website states that "Our Mary the Mother of God needs no update! Above all we do not want to instrumentalize her in order to accomplish our own interests. We are Catholic women, who honor Our Mother of God and who see her as a model. We believe that there are many women all over the world who think the same way."
This is the correct response to such blasphemies, although I believe it would be better not to enter the arena letting the progressivists dictate the terminology. Instead of Mary 1.0, why not Our Lady, Queen of the Universe, fully proclaiming her royalty and authority?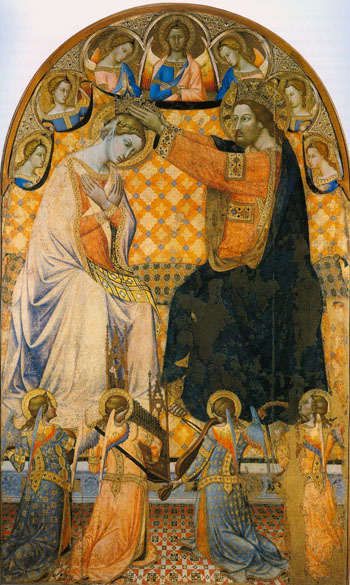 Faithful Catholic women defend Our Lady as Queen of Heaven and Earth
Our Lady is no ordinary woman – she is not one of those feminists aspiring to be priests. She did not even consider herself as equal to the Apostles. According to Mary of Agreda, Our Lady, the Queen of Heaven and Earth, humbled herself before all of the Apostles in anticipation of her death:
"With the permission of St. Peter, [Mary] left the couch and, kneeling before the Apostle, said to him: 'My lord, I beseech thee, as the universal pastor and head of the Holy Church, to give me thy blessing in thy own and in her name. Pardon me thy slave for the smallness of the service I have rendered in my life,' … She then prostrated herself and kissed the feet of St. Peter as the Vicar of Christ, by her abundant tears eliciting not less the admiration than the tears of the Apostle and of all the bystanders.
"From St. Peter she went to St. John, and kneeling likewise at his feet, said: 'Pardon, my son and master, my not having fulfilled toward thee the duties of a Mother as I ought and as the Lord had commanded me. ... Give me thy benediction for entering into the vision and company of Him who created me'" (
City of God
, Washington, New Jersey: Ami Press, 1990, vol. 4, pp. 623-624).
This is the true Virgin Mary, who through her humility and obedience has been raised above all other creatures. Mary 2.0 is nothing more than an excuse for the feminists to pull down Our Lady from her pedestal so that they can honor themselves – all equally 'empowered' and bold – instead of her. We should fight this evil movement that uses Our Blessed Mother as a means to undermine the doctrines of Our Holy Faith.
Let us ask Our Lady to humiliate these revolting and offensive women.

Posted September 4, 2019
| | | |
| --- | --- | --- |
| Volume I | Volume II | Volume III |
| Volume IV | Volume V | Volume VI |
| Volume VII | Volume VIII | Volume IX |
| Volume X | Volume XI | Special Edition |