Social-Political Issues
Soros, Drugs & the Media
Drug promoter George Soros, the billionaire hedge fund operator, must be reveling in his glory, successful beyond his wildest dreams. Twelve years after we published, "
The Hidden Soros Agenda: Drugs, Money, the Media, and Political Power
," America is in the midst of a full-blown illegal drug crisis, much of it driven by his evil vision. Equally startling, the entertainment industry is now selling the idea of drug dealers and addicts as sympathetic heroes and role models.
In Barack Obama, America has a President who was a heavy marijuana smoker in his youth and has used his executive power to dramatically weaken enforcement of federal marijuana laws. As the perception of the risk decreases, marijuana use among young people is increasing.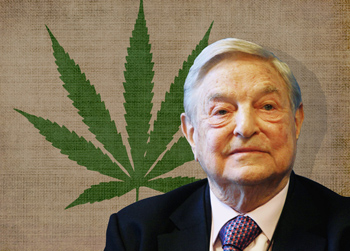 Soros - a big promoter of cash crop marijuana
The Drug Enforcement Administration (DEA) says the problem is so bad in Colorado, where marijuana has been legalized, that marijuana growing operations have become a danger to surrounding neighborhoods. In fact, a growing number of residents of Colorado, including law enforcement personnel, now want
to terminate
recreational marijuana sales and operations.
Meanwhile, the heroin epidemic has gotten so bad that citizen volunteers are now being trained to use Naloxone, a substance which reverses the effects of opioids in cases of heroin overdoses. Formerly this substance was carried only by hospital or emergency personnel.
In fairness, some media are covering the problem. David Muir's ABC report, "
Breaking Point: Heroin in America
," interviewed victims of the drug and their families. Steven Steiner, a father who came upon a victim of a heroin overdose and helped save his life, appealed for help to address the problem. Ironically, Steiner's own son had been killed many years ago by a drug overdose. Many ABC stations across the country joined in the coverage of this growing national problem.
The statistics are frightening: 129 people die every day from drugs, with most of the deaths resulting from heroin and prescription pain pills. Drug overdoses are now more deadly than car accidents and guns in this country, Muir noted.
Steiner vs. Soros
When George Soros spoke at the National Press Club in Washington, D.C. in 2004, Steiner tried to challenge Soros about his support for drug legalization by getting up on the podium and showing a photo of his dead son. Steiner was
led away
from the National Press Club podium by unidentified security personnel who slammed him into a door, dislocating his shoulder. He ended up in a hospital.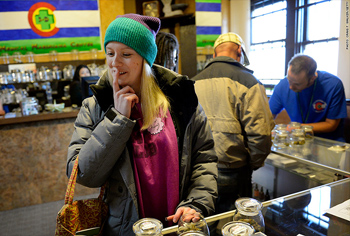 Sampling the wares at a pot shop in Colorado; below, students smoke it openly - Photo: AP/Brennan Linsley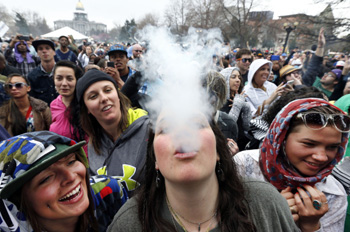 Today, Soros is back in a big way, openly backing Hillary Clinton for president. "Soros has donated or committed more than $25 million to boost Hillary Clinton and other Democratic candidates and causes, according to Federal Election Commission records and interviews with his associates and Democratic fundraising operatives," reports
Politico
.
Republican nominee Donald J. Trump, by contrast, has vowed to stop the drugs coming in from Mexico and talks about the concern he encountered in New Hampshire.
"New Hampshire has a tremendous drug epidemic,"
he says
in a video. "Every time I go there, people come up to me and they say 'Mr. Trump, what are we gonna do? Drugs are pouring in.'" Trump's border wall is part of the solution to preventing Mexican heroin from coming into the U.S.
The role of the media
Despite the human suffering and carnage caused by the epidemic, our media are glorifying those who use and sell illegal drugs.
In the wildly successful cable TV series "Breaking Bad," the hero is a former high school chemistry teacher who uses his skills to manufacture methamphetamine and sell it. The series became an immediate sensation, and the 2013 Guinness Book of World Records declared it the most critically acclaimed show of all time.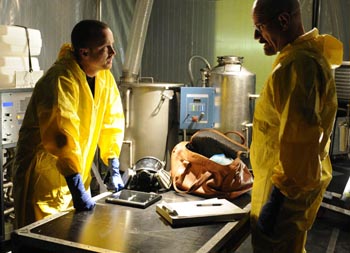 Breaking Bad stars make drug deals something "cool"
A Florida mother started an online petition objecting to Toys "R" Us selling action figures of "Breaking Bad's" crystal meth manufacturer Walter White and his junkie partner Jesse Pinkman, complete with detachable weapons, bags of cash and drugs.
A Toys "R" Us spokesman
responded
belligerently: "The product packaging clearly notes that the items are intended for ages 15 and up." The 6-inch dolls, or action figures, were sold alongside the store's Barbie dolls and Disney characters as part of a deal with Sony Pictures Television, the show's distributor.
Bloggers and druggies called her "a mom with too much time on her hands," while the show's Emmy-winning star Bryan Cranston, who took home $225,000 per episode, responded on Twitter, "I'm so mad, I'm burning my Florida Mom action figure in protest."
But the show's actors and fans are completely oblivious to the horrific effects of crystal meth in the real world.
Crystal meth use
destroys
the human body, causing chronic skin abscesses, lesions and rapid tooth decay, leaving many users toothless. Those addicted rapidly lose weight, soon becoming emaciated. Meth causes massive spasms in the arterial walls, setting up possible heart attacks or strokes as well as brain hemorrhage or spasm, and causes air pressure changes in the lungs, leading to lung collapse.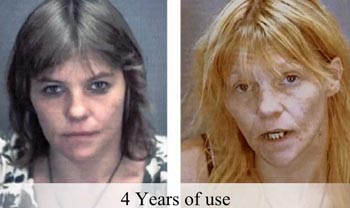 The devastating effects of meth ignored by the media
The mortality rate is 26 times higher than normal among women who use meth. Since withdrawal from crystal meth brings on excruciating effects, users will do almost anything to avoid it – making recovery extremely difficult. If a pregnant mother uses crystal meth, her baby is born addicted. "Meth babies" often have to undergo withdrawal treatment and suffer from premature birth and low birth weight. The meth high can last 4-5 hours as compared to the 5-10 minute cocaine high, making it devastatingly addictive.
Meth lab operators dump toxic waste into nearby streams and often pour volatile chemicals down sinks in buildings they rent, polluting and destroying local sewer systems. Poisonous fumes generated from cooking the drug indoors can permeate walls and remain active for so long that buildings have to be destroyed. If the waste is buried the cans eventually disintegrate, with the highly toxic chemicals working their way through the ground to the water table. Clean-up crews brave potential explosions, fire and asphyxiation from poisonous fumes.
Gleefully demonstrating total ignorance of these real world effects, Aaron Paul, the actor who plays drug seller and addict Jesse Pinkman on "Breaking Bad," posted on Twitter, "Which is worse – Barbie or meth?" and directed his signature line from the show "Yeah, b…!" at Susan Schrivjer, the Florida mother concerned about the Toys "R" Us action figures.
The successful series "Weeds" is the sympathetic story of a suburban mother and her children who grow and sell marijuana. The program's Showtime TV network explains, "Golden Globe Award winner Mary-Louise Parker stars in this original comedy series as a suburban California mother who is forced to start selling marijuana when the unexpected death of her husband leaves her and her family in dire financial straits."
The show was so successful that TV Guide
promoted
a "National Weeds Awareness Week," including a "How to Throw Your Own 'Weeds' Party" guide, complete with party recipes. "Weeds" has received multiple awards, with its star winning a Golden Globe award for Outstanding Lead Actress in a Comedy Series.
Continued
This article was published in Accuracy in Media on September 16, 2016
Posted December 5, 2016
| | | |
| --- | --- | --- |
| Volume I | Volume II | Volume III |
| Volume IV | Volume V | Volume VI |
| Volume VII | Volume VIII | Volume IX |
| Volume XI | Special Edition | Special Edition |