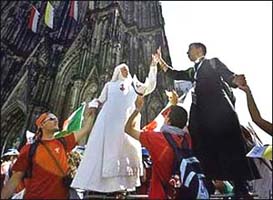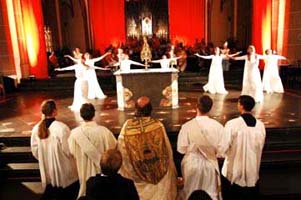 Left, AP; right, Internet photo
World Youth Day 2005
Cultural Revolution under the Church's Umbrella

Top left, a priest and a nun dancing on top of barrels in front of the Cathedral of Cologne.

Right, young women in white apparel dancing around the altar
where the Holy Sacrament is exposed in a montrance.

Bottom, first row, left, young couples arriving at that Cologne train station to spend five days and nights together.

Right, a couple laying on the ground in their sleeping bags during Benedict XVI's Mass.

Second row, left, a hippy character wraps rosaries around his head
as a headband holding a flag of the Holy See.

Right, a girl having a cross tattooed on her stomach.

Third row, left, young men cover themselves with their country's flag
giving the appearance that they are naked.

Right, a couple embracing in an atmosphere of great moral liberty.
Top left, DPA; right, Internet photo
Middle left, Internet photo; right, DPA
Botton left and right, Internet photos

Posted September 11, 2005

Related Topics of Interest