Progressivism in the Church
Church Revolution in Pictures

Photo of the Week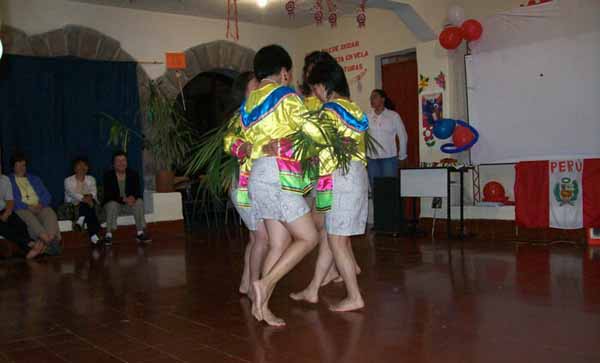 Show of nuns' legs in Colombia
Above you see a dance performed by Religious Women of the Sacred Heart during a general meeting of their institution that took place in the city of Sasaima, Colombia, in June 2010. The ladies who chose this "modern" way to entertain their colleagues - barefoot and showing their legs - are from the Peru delegation to that encounter.

Below first row, are the representatives of Mexico dancing to the rhythm of "La negra;" second row left, Sisters Vanesa and Paula from Argentina; at right, Sisters Cibele and Josefina. Third row, the Sisters of Mexico again dance and sing to the music "Los caminos del Sur;" fourth row, a pose for posterity: from left, Sisters Joaquina (Brazil), Silvana (Argentina), Irene (Mexico), Regina and Lourdes (Peru).

This meeting gives us a good example of the "seclusion of the world, recollection and seriousness" that a girl with a religious vocation will find when she decides to enter religious life...

These photos can be seen on the official website of the Religious of the Sacred Heart in Mexico, here.
Posted May 1, 2011

Related Topics of Interest

Sisters of St. Jospeh Show Their Legs

Nun Dancing in Obscene Postures

The Flamenco Dancing Nuns

Filipina Nuns Dancing Broadway Style

Massages by Contemplative Nuns

The Decay of Progressivist Women Religious

Liturgical Dancing over an Altar in Cleveland

Offertory Gifts Brought by Bare Breasted Woman

Epistle Read by Semi-Naked Woman

Hula Dances for the Pope
Pictures | Home | Books | CDs | Search | Contact Us | Donate



© 2002- Tradition in Action, Inc. All Rights Reserved