Progressivism in the Church
Church Revolution in Pictures
Photo of the Week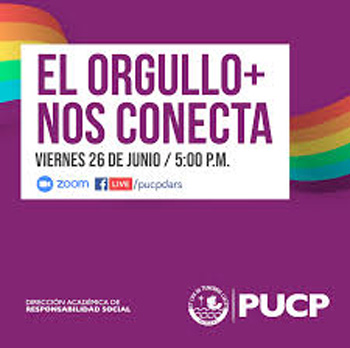 Peru's Pontifical University celebrates 'gay pride' day
On June 26, 2020, the Catholic Pontifical University of Peru (PCUP -
Pontificia Universidad Catolica del Peru
) celebrated "gay pride" day with an event sponsored by the official organization University Social Responsibility (RSU -
Responsibilidad Social Universitaria
).
The title of the event was "Pride+ Connects Us,"
above
. During its sessions, the participants discussed the progress of the LGBT agenda and how to further it in the formation of students, research and policies. See the program
below, first row
.
RSU presented each theme for discussion with its own flag,
shown below from the second row down
, whose translation from Spanish is the following:
1. LGBTIQ+ FLAG - Portrays the colors that represent the whole LGBTIQ+ community in general: Lesbians, Gays, Bisexuals, Transsexuals and Intersexuals, Queers and others;
2. PANSEXUALITY FLAG - Pansexual persons are those who feel a sentimental, aesthetic, romantic or sexual attraction independent of the sexual orientation or sex of other persons;
3. # PRIDE MONTH - FLAGS FOR EQUALITY - Recognizing the banners that represent diversity of persons;
4. POLYSEXUALITY FLAG - Polysexual persons feel an emotional, sexual or aesthetic attraction to persons of two or more genders and/or sexes; however, they do not feel attraction for all possible identities of genre;
5. INTERSEXUALITY FLAG - Intersexual persons are those who are born with sexual characteristics outside the classic binary notions due to variations in chromosomes, gonads or genitals.
6. FOR ME, FOR YOU, FOR ALL - A DAY OF PRIDE - AND YOU, HOW DO YOU EXPRESS YOUR LGBTIQ+ PRIDE?
(Psychology Department, RSU Commission, Catholic Pontifical University of Peru)
If you believe that the Rector of the University will receive any reprimand from the Cardinal of Lima or the Vatican, you show yourself to be completely out of touch with reality.
The solution will no longer come from the religious authorities; it will come straight from Heaven when Our Lord and Our Lady decide to intervene and put an end to this apocalyptical apostasy.
A snapshot of the University webpage on the event can be found
here
.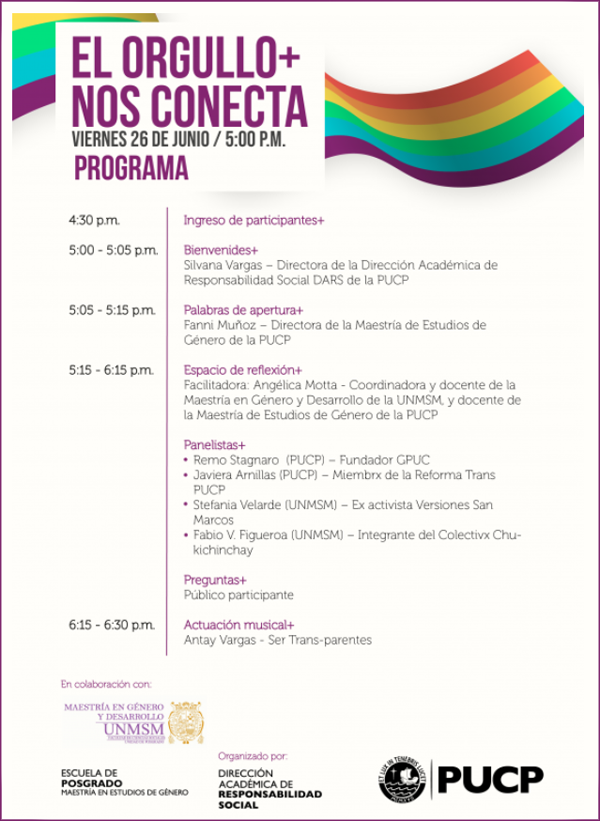 Posted July 12, 2020
________________________