Progressivism in the Church
Church Revolution in Pictures
Photo of the Week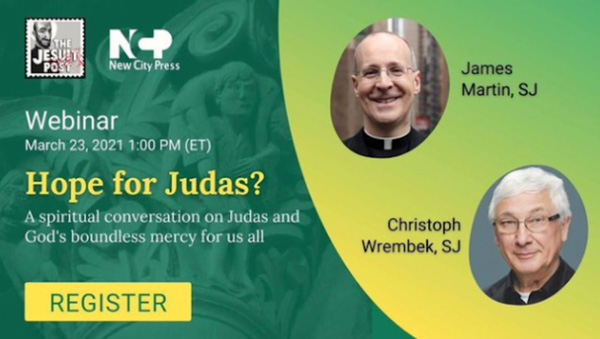 The 'Church of Judas'
After betraying the Catholic Church and selling her to the world to gain prestige in it, the Conciliar Church is now trying to rehabilitate Judas Iscariot, its model.
More than once Pope Francis has mentioned (
here
and
here
) that he keeps a picture of Judas hanging from the fig tree on the wall behind his work desk.
Von Balthasar
proposed that Judas, like Jesus, was a victim who died to achieve our redemption. He would be an indispensable minister who did what he did to accomplish the will of God the Father...
German Jesuit Fr. Christoph Wrembeck wrote
Hope for Judas
, a book just translated into English and published in the U.S. In a
conversation
between the book's author and Fr. James Martin, SJ, this topic of the rehabilitation of Judas in the name of mercy was discussed. The interview, promoted by New City Press, was held on March 23, 2021 and posted online the day after.
However, Our Lord stated quite clearly that it would have been better for Judas to not have been born, (Mt 26:24) and that he was a devil. (Jn 6:71) These divine words were correctly interpreted for 2,000 years as meaning that Judas was condemned to the deepest place in Hell. Now, the Pope and his Jesuit brothers are struggling to invalidate this truth.
Actually, we are witnessing the Conciliar Church revealing its real face:
It is the "Church of Judas."