Progressivism in the Church
Church Revolution in Pictures
Photo of the Week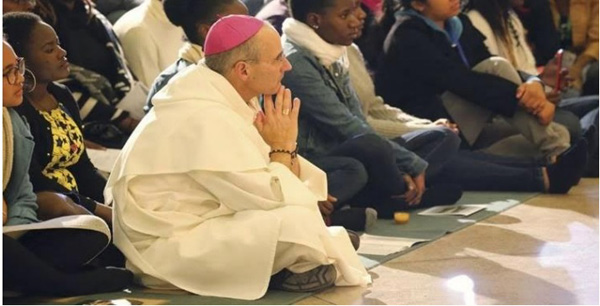 Pearls from new Archbishop of Algiers
In the photo
above
, you see Msgr. Jean-Paul Vesco, present-day Archbishop of Algiers, Algeria, when he was Bishop of Oran, also in Algeria, in 2018.
Pope Francis named him Archbishop of Algiers and he took possession of his new functions on February 12, 2022. Algeria is a country with a Muslin majority, although some are now "converting " to Protestantism, which does not fear to confront the general opposition.
We selected some "pearls" of his progressivist doctrine from an interview Vesco gave to the Swiss website
Cath.ch
some days before he assumed his new Archdiocese:
1. "He [Francis] shows that the Evangelization is made by fraternity and not by conversion. It is revolutionary!"
2. "He [Francis] affirmed that in some way Baptism is not the condition for salvation."
3. "The problem is not one of being few in number; the problem would be to become 'insignificant.'"
4. "A good Christian who has never left his community is not fully Christian."
5. "The Protestant churches are not our competitors. They also have their share of truth, which perhaps we missed."
6. "Our size is modest and none of the priests devotes all of his time to the service of the Christian community. This is the chance given to us to live more of a fraternity and a co-responsibility that does not make too much of a distinction between priests and lay people."
7. "We should be suspicious of ourselves whenever we are tempted to look negatively at Islam."
8. We must succeed in getting rid of the idea that we must evangelize, make others come to our truth, and simultaneously accept that there is perhaps also in Islam a part of truth that escapes us."
9. "We cannot give out testimony without our Algerian Muslin partners."
Msgr. Vesco's doctrine explains well why Pope Francis chose him to Archbishop of Algiers...
Posted March 27, 2022
________________________