Progressivism in the Church
Church Revolution in Pictures
Photo of the Week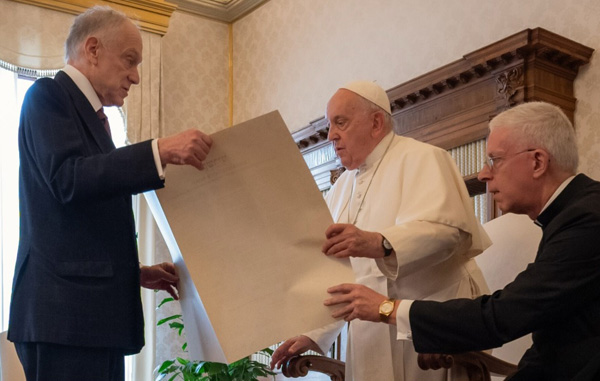 Jewish Congress opens office at the Vatican
In what has been touted as a first for a Jewish organization, the World Jewish Congress advocacy group opened an office in Vatican City to liaise with Catholic leaders and to further Catholic-Jewish relations.
On October 19, 2023,
WJC President Ronald Lauder visited Pope Francis while inaugurating the organization's "representative office to the Holy See"
on Thursday.
Lauder presented the Pope with a document the WJC called
Kishreinu
, meaning "our bond" in Hebrew. The document "encapsulates the intricate historical and cultural tapestry binding Jewish and Catholic communities around the globe," the WJC
said
in a press release.
Upon receiving the document, Pope Francis said: "Our intertwined communities of faith shoulder the sacred duty of weaving a world imbued with brotherhood, challenging inequalities, championing justice and ensuring peace transcends ethereal realms to root firmly in our shared reality."
WJC said its
Kishreinu
initiative was a response to
Nostra aetate
, the landmark 1965 document that modernized the relationship between the Roman Catholic Church, Judaism and other religions.
When John Paul II visited the Wailling Wall in March 2000, he
declared
this about past Popes who condemned Judaism as a religion: "We are deeply saddened by the behavior of those who in the course of History have caused these children of yours to suffer, and asking your forgiveness we wish to commit ourselves to genuine brotherhood with the people of the Covenant."
In December 2015, under Francis, the Commission for Religious Relations with the Jews, referring to the Religious Orders and prayers for the conversion of the Jews,
stated
: "The Catholic Church neither conducts nor supports any specific institutional mission work directed towards Jews."
In November 2018, Benedict XVI from his retirement also
affirmed
: "A mission to the Jews is not foreseen and is not necessary."
Today, on October 19, 2023, Pope Francis allows the World Jewish Congress to have an office at the Vatican.
If this process of destruction of the Catholic Faith and the inversion of its doctrine does not stop, we wonder when the Conciliar Popes will declare that Catholics should adhere to the tenets of Judaism...
Posted November 5, 2023