Book reviews
A Banal Approach to
Our Lady's Great Apparitions
Book Review of Our Lady's Wardrobe, by Anthony De Stefano,
Juliana Kolesova (illustrator), Sophia Institute Press, 2020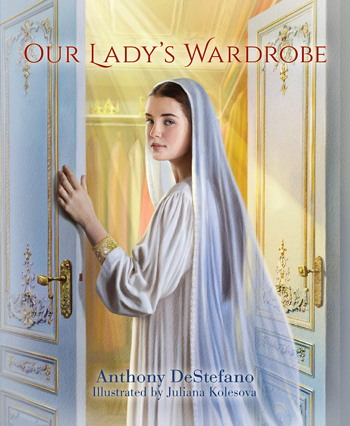 I received a request from a young mother who wants to raise her children well to review a recently released book about Mary titled
Our Lady's Wardrobe
(
Amazon link
and
YouTube link
). After looking at the book, I could not advise purchasing it for counter-revolutionary Catholic children.
Let me first clarify that this is a book on Our Lady's dresses in her different apparitions.
The poem and actual text in the book are not necessarily bad, but they tend to form a pragmatic and naturalist spirit. The pictures are much worse, portraying modern and humanist images of Mary. Since children are moved by images more than they are by words, this makes the book particularly dangerous.
A banal text
Let me say a brief word about the text. The natural audience for this book seems to be girls and women; yet, strangely, its author is a man. I would not recommend that boys read a book about Our Lady choosing her clothes for the great apparitions she makes on earth, and yet I fear today's boys will often be interested in the topic.
There is a strong and growing tendency in society to feminize boys and men, who should be turned toward heroism, militancy and the marvelous, and surely not be thinking about the dresses in Our Lady's wardrobe. There is something banal in this approach to the apparitions, introducing a worldly spirit into the supernatural sphere.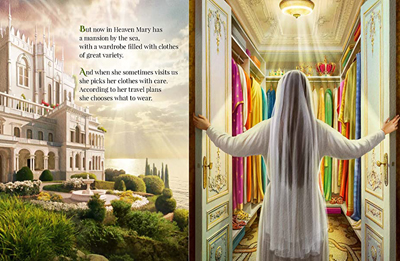 Mary, like an everyday woman, checking her wardrobe to choose her traveling clothes
Now, food that does not form virile strong boys is not a good meal for girls either. The feminine sex already has a strong tendency to become obsessed with clothing; according to this author, however, Our Lady would have the same spirit, with more emphasis placed on choosing the clothing for her "travels" than on the serious messages and warnings she wants to bring to mankind.
I am well-aware of the attraction this book can have for the practical American spirit: "What a good teaching tool! Here is a wonderful way to instruct children on how to identify the different apparitions of Our Lady. How clever!"
Ah, our ingenious Americans who are so taken with the pragmatic approach to everything, an attitude imbibed from Protestantism, which rejected the supernatural! They would reduce the supernatural world to a kind of scientific laboratory where identifying the object is more important that understanding its spirit, symbolism and meaning on a higher plane.
The illustrations: An everyday Mary
If you look closely at the young woman drawn to represent Mary, her face lacks seriousness. She is neither majestic nor sweet, but rather has the attitude of a modern girl, even with some teen-age moodiness and defiance in her gaze.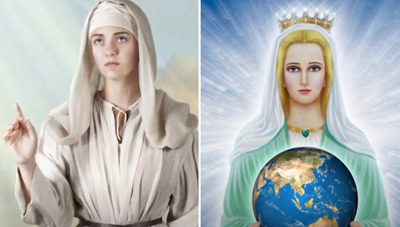 At left, Mary in Our Lady's wardrobe; at right, the New Age Mother Light
In the picture
at right
, she assumes a pose of piety with her eyes raised upward and one finger pointing to Heaven, but she is not pious. If this were a picture in a museum it might be titled, "Young woman pretending to be holy." It is a superficial attitude, one to which we should not invite girls or boys.
Additionally, in this and other pictures, there is a strange gleam in her eyes – a far away look, inviting a person to hidden secrets. There is something in this representation, in my view, of the New Age Mary, like the one
above right
who calls herself "Mother Light" and introduces a strange "New Age Rosary."
The real apparitions of Our Lady, represented by statues and paintings – which still cannot do justice to her supernatural beauty and glory – nonetheless have a transcendent note that move both adults and children to admiration and piety.
The best pictures of Mary do not try to represent her as a normal everyday girl assuming a devout pose, but rather depict an idealistic supernatural woman, one whom both children and adults can easily imagine as Queen of Heaven and Earth. The young woman presented in this book is queen of her wardrobe, but hardly anything more.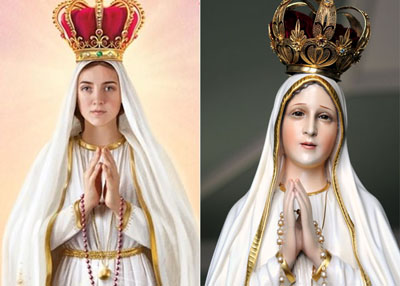 At left, Mary in Our Lady's Wardrobe; at right, the Pilgrim Virgin of Fatima
Compare the two pictures
at right
and you will see that the first, taken from
Our Lady's Wardrobe
, lacks both a supernatural presence and a maternal gaze, while the second, the Pilgrim Virgin of Our Lady of Fatima, is full of motherly sweetness and majesty.
When looking for picture books for your children, I recommend books that are marvelous and capture a sense of the supernatural, inspiring the imagination to the heavenly spheres, rather than pictures that present modern, everyday women such as those in
Our Lady's Wardrobe
.
Unfortunately, we have not found many picture books of Our Lady or the Saints that inspire admiration and wonder. Many of the modern picture books and paintings for homes portray Saints in a way that is either too childish or sentimental and soft, a topic we have already addressed on our site in several places (
here
,
here
and
here
).
Illustrations that nourish the marvelous
As Catholics, we do not need to limit ourselves only to Saints stories. Fairy tales and good children's books also teach a child the importance of being virtuous and fighting evil. These stories give children a sense of the marvelous, which is important for them to maintain their innocence.
A young lady who works at Tradition in Action, Miss Elizabeth Lozowski, has a large collection of children's books. I asked if she would make a short list of some of her favorite illustrators to recommend to readers and she readily complied. Here are her suggestions and comments:
• Randolph Caldecott is an excellent artist who illustrated books on nursery rhymes.
• Beatrix Potter wrote and illustrated several charming stories:
Peter Rabbit, Squirrel Nutkin,
and
Jemina Puddleduck
.
• Jessie Wilcox Smith's illustrations are very lovely, especially for Robert Louis Stevenson's
A Child's Garden of Verses
(a wonderful collection of children's poems) and for George MacDonald's
The Princess and the Goblins
(a story that teaches children the importance of having innocence and faith).

Left to right, Randolph Caldecott illustrating nursery rhymes, Peter Rabbit by Beatrix Potter; illustration by Jessie Wilcox Smith
•
Pinocchio
by Carlo Collodi is a good book for boys especially, for it teaches them that bad boys are always punished. I recommend Roberto Innocenti's illustrations.
•
The Wind in the Willows
by Kenneth Grahame is an enjoyable book that depicts the English spirit in the loyalty of four friends, though there is one chapter involving the god Pan that I would avoid. E. H. Shepard is the classic illustrator for the work (first picture). However, the illustrations of Inga Moore are particularly charming (second picture).

Left to right, Pinocchio by artist Carlo Collodi; The Wind in the Willows by illustrators E.H. Shepard and (far right) Inga Moore
•
Winnie the Pooh
, also illustrated by E. H. Shepard, captures a child's spirit of joy and innocence.
• Tasha Tudor's children's books have delightful illustrations, depicting country scenes from New England.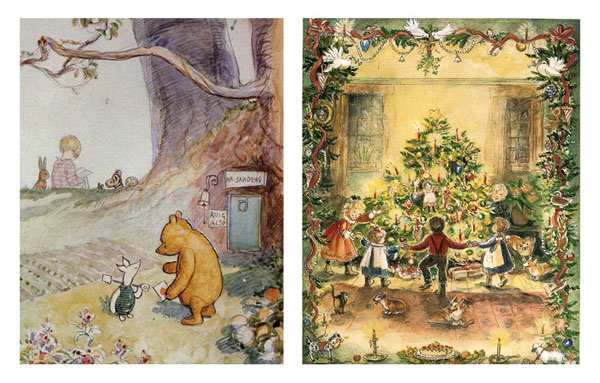 Left to right, Winnie the Pooh by artist E.H. Shepard; Tasha Tudor depicting a Christmas scene
• K. Y. Craft's illustrations are beautiful, using medieval imagery and symbols. She illustrates primarily fairy tales, such as
Baba Yaga
and
Vasiliga the Brave
,
The Twelve Dancing Princesses, King Midas
and The Golden Touch, and Cinderella. However, I would give a word of caution, for some of her artwork has a New Age look and some immodest costumes, such as her illustrations for
Beauty and the Beast
.
• Gennady Spirin's illustrations are also appealing. A Russian illustrator, he illustrates many Russian fairy tales such as
The Frog Princess
and
The Sea King's Daughter
.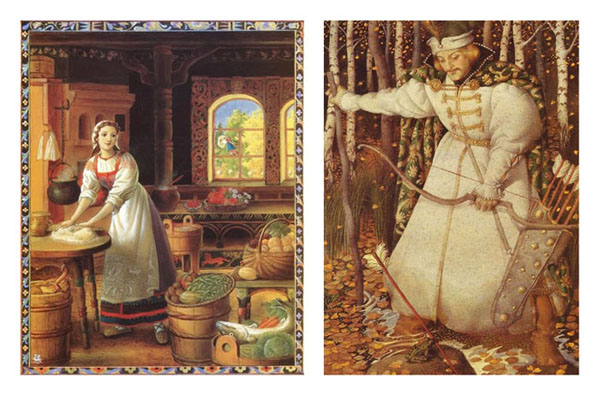 Left to right, a scene by K.Y. Craft; another by Russian illustrator Gennady Spirin
I hope that my reader will find these suggestions helpful. Miss Elizabeth will continue to look for good Catholic picture books to see if we can offer yet others worthy of recommendation. I would also appreciate suggestions from other readers.
Posted May 27, 2020
______________________