Recently a friend of mine died a sudden death. He was a good traditional Catholic, a daily communicant, an upright man. Yet after his funeral at the brunch the Church was hosting, I was talking to an acquaintance, who at one point raised her eyebrow, leaned over and said in a low voice, "But surely you know that a sudden death is a bad sign."

Yes, indeed, I know that, and for that reason I daily say the prayer that God preserve me from a sudden and unprovided death. But I also know that just as it is the lot of reprobates to die in sin, so also it is the lot of the elect to die in God's love and grace, and that this takes place in different ways. This is what St. Francis de Sales tells us in his Treatise on the Love of God:

"The just man never dies an unprovided death, since to make proper provision for death means that he has persevered in Christian justice up to the end. However, he sometimes dies a death that is unforeseen or sudden. This is why our all-wise Church does not have us pray in its litanies simply to be delivered from sudden death, but rather 'from sudden and unprovided death.'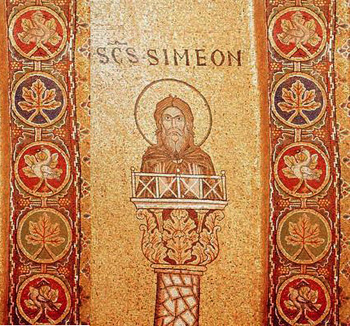 Fire from Heaven descended to complete
the holocaust of St. Simeon Stylites

"For death to be sudden is not necessarily bad unless it is also unprovided for. If weak, mundane minds were to have seen fire from Heaven fall upon the great St. Simeon Stylites' head and kill him, what would they have thought but thoughts of scandal? However, our judgment on it should be simply that this great saint had most perfectly immolated himself to God in his own heart and was already wholly consumed with love. Hence fire came down from Heaven to complete the holocaust and to consume it entirely. And, in fact, although the Abbot Julian was a day's journey distant, he saw the saint's soul ascend to Heaven and thereupon offered thanks to God at the same hour.

"One day while the Blessed Homobonus of Cremona was on his knees hearing Mass with very great devotion, he did not get up at the Gospel according to his custom. As a result, those nearby looked at him and perceived that he had passed away. In our own time, there have been men very great in virtue and learning who have been found dead, some in the confessional and others while hearing a sermon. Some have even been seen to fall dead as they left the pulpit after preaching with great fervor. All these were sudden but not unprovided deaths.

"How many good people have we seen die very suddenly of apoplexy, in a coma, and in a thousand other ways! Others die in delirium and madness without the use of reason. Yet these, together with baptized infants, have died in grace, and consequently in God's love.

"But, it is asked, how could they die in the love of God when they did not even think of God at the time of their departure? Learned men do not lose their knowledge while sleeping; otherwise, they would be ignorant on waking up and would have to go back to school. It is the same with all habitual prudence, temperance, faith, hope and charity. They are always present in the minds of just men even though those men are not always engaged in such acts. While a man is asleep it seems that all his habits are asleep with him and that they wake up with him. It is the same when a just man dies suddenly, whether crushed by a house that falls on him, killed by lightning, choked up by catarrh, or even dying out of his senses because of the violence of some burning fever.

"It is true that he does not die in the exercise of holy love but he dies in its habitual state. For this reason the Wise man says that even 'if the just man is overtaken by death, he shall be at rest' (Ps 61:9). To win eternal life it is sufficient to die in the state and habit of love of God and charity."



Taken from St. Francis de Sales, Treatise on the Love of God,
trans. by Fr. John K. Ryan, Rockford: TAN, 1975, Vol. II, pp. 38-39.
Posted May 15, 2010

Related Topics of Interest

Why Saturday Is Dedicated to Our Lady

What about the Luminous Mysteries?

Fatima and the Last Times Apostasy

Mater Admirabilis: A Goodness that Has No Limits

St. Therese of the Child Jesus: Master of Her Temperament

The Sniper and the Novissima

Related Works of Interest