Catholic Customs
Sacramentals vs. Blessings

Dear TIA,
Laudetur Jesus Christus
I'm a cradle Catholic and recent revert (2016). I'm trying my best to catch up after being away from the Church for 30-40 years, by God's grace and according to His Will. God brought my family and me back through my wife's conversion (former atheist) to the Catholic Faith. Thanks to Divine Providence, He brought us back via a traditional older priest who is retired but still celebrating ONLY the TLM. This pious priest baptized, catechized and assisted at confirmation of my wife all in the traditional Roman Rite.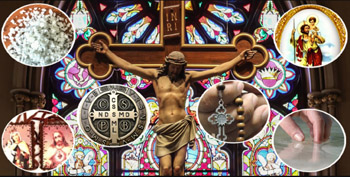 Is it wrong for a layman to bless objects?
I would greatly appreciate your guidance or recommended books on my rights and abilities as head of household to bless family members and other Catholic items like prayer books and cards, statues, etc., until I can find a traditional or semi-traditional priest to bless and pray over important items in our home.
Also, I've tried contacting two different priests to consecrate our home to the Sacred Heart of Jesus and the Immaculate Heart of Mary. They agreed but say they have very busy schedules. My parish priest promised last year but may have forgot due to covid. The other priest said the earliest would be summer as he is head of a contemplative monastery. I understand that it's difficult to find good priests which may be why the ones I contacted are so busy.
Could you recommend a home consecration I could do as head of household until a priest is available?
Thank you very much for being a place I can go to for trustworthy traditional Catholic guidance and resources!
God bless and Godspeed,
D.T.P.
______________________
TIA responds
Dear D.T.P.,
We were pleased to learn about your return to the Catholic Faith and the conversion of your wife.
It is hopeful to see the many graces Our Lady is giving now in the midst of this terrible storm that the Church is suffering. It is a demonstration of her goodness towards those who show good will and turn their gaze towards her in search of what is true, good and beautiful. Our holy Faith and the Church – always immaculate and true despite the worst affronts against her – are always present to give us a peace of soul and the assistance we need to reach that final port of Heaven.
Regarding your question about blessings, we have answered that question in several places where we address the blessing parents can and should give to children, or superiors to those under them, and even laymen to their friends. This right is based not only on custom and tradition, but also on the Scriptures. We direct you to these two articles (
here
and
here
).
It seems especially important in these days for parents to return to the good custom of blessing their children morning and night. The act has a profound meaning, for God ratifies in Heaven what His natural representatives do on earth. Besides this important religious character, it helps to affirm the authority of the parents and encourages the proper spirit of obedience and submission in the children.
Sacramentals vs blessings
Priests, as you note, are the ordinary ministers of blessings since they are ordained: As the words of the
Pontificale Romanum
: "
Ut quæ cum que bene dixerint benedicantur, et quacum que consecraverint consecrentur
" (So that whatever they bless may be blessed, and whatever they consecrate may be consecrated).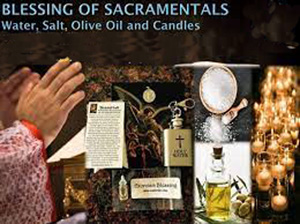 Only the priest's blessing makes a sacramental
Only when a Bishop or Priest blesses an object such as a Crucifix, rosary, statue, salt, bread, etc. does it become a sacramental. They bless in the name of the Church and for this reason these objects receive a certain power. For example,
sacramentals
remit venial sin and deliver us from some of the evil consequences of sin. They help us in the hour of temptation. They are also of use in bodily ills and infirmities, as a remedy and a shield. (Spirago/Clarke,
The Catechism Explained
(NY: Benzinger Bros, 1898), pp.668-671)
Now then, when laymen bless things (the home, religious items, etc.), it is to be understood that this is an act of will on their part, a wish or desire for another's spiritual or temporal prosperity, an appeal to God that is based on confidence in His Goodness and the merits of personal sanctity. The Catechism tells us the more pious the layman is, the more effect his blessing has (
Ibid
., p. 670).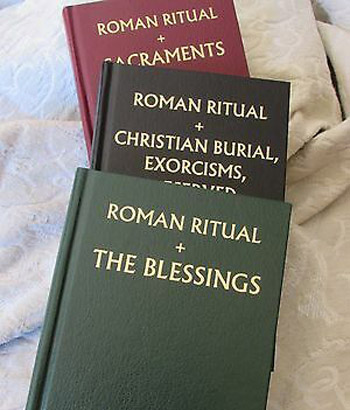 An excellent source for traditional blessingss
The important distinction to be made is that the layman does not have sacramental powers: Only a priest has the power to bless an object and make it a sacramental. Still, there is a value in such blessings made by the head of the home, and we would suggest that, if a priest is not available , you bless those objects.
The principal liturgical blessings recognized and sanctioned by the Church are contained in the
Roman Ritual
, which can be read in Latin or in English. This is an excellent book to purchase so that your home and family might benefit from the many blessings (seeds, food, statues, etc.).
It is also a good and pious custom to sprinkle holy water on any items that enter your home, especially when they are coming from second-hand stores or estate sales.
Enthronement to the Sacred Heart
As for your second question, the answer is simple. It is quite legitimate for you, as head of the family, to consecrate your home to the Sacred Heart. We have posted on our site a formula for this purpose that you can access
here
.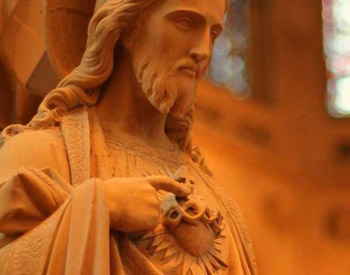 The Sacred Heart: symbol of combativity & the Restoration of Christendom
The text clearly states that, while it is ideal that a priest is present, the consecration can and should be made if this is not possible:
"Preparation: It is good if all can attend Mass that day and receive the Eucharist. If a priest won't be present for the Enthronement Ceremony, an image of the Sacred Heart will have already been blessed. The wall will have already been prepared for hanging the image, flowers and such should adorn the table or mantle under where the picture will be placed/hung, the frame for the Certificate and the Certificate itself should be ready, refreshments will already have been prepared, Sacred Scripture will be handy, any candles used should be lit, etc.
"If a priest will be attending the ceremony, it is good to have him bless your home. All are seated while the father explains what is about to happen. The priest or natural father may begin with a short talk on the meaning and importance of the Enthronement and comment on various steps of the ritual. "
The Enthronement is also a great blow against the Revolution as it states that Christ is the King and deserves to be true King of every family and nation, in other words, King of all of Society both temporal and spiritual.
We would encourage you to consecrate your home and family as soon as possible. In the future, perhaps you will be fortunate enough to have your house blessed by a priest, which brings many additional graces to a household, but until then Our Lord will accept your Enthronement and bless your house.
We hope this is of some help to you.
Cordially,
TIA correspondence desk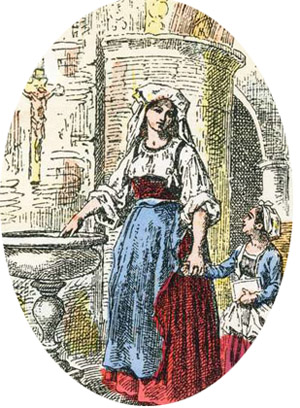 Only a priest can give a blessing
to make holy water

Posted May 19, 2022