Formation of Children
Advantages of Conquering One's Shyness
An
article on timidity
posted in
Dos and Don'ts in Photos
on this site should be read by the parents of children who are shy. Its title "Do perform willingly when you are asked" summarizes its point: that when a child with some talent (for example, on the piano) is asked to perform, he or she should do so, despite any natural shyness.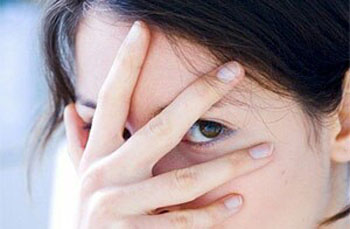 Shyness should be conquered to progress in spiritual and social life
The author, Elaine Jordan, rightly adduces that this shyness is not a product of humility, but in actuality is a camouflage for a latent pride. This pride comes from a scrupulous fear that a mistake will bring disapproval from the audience.
Fr. Joseph Massmann confirms this counsel in his book
Nervousness, Temperament and the Soul
, where he explains from a Catholic viewpoint the true nature of shyness. In his chapter on those with a melancholic and shy disposition, he points out:
Shyness and terror of disgrace constitute, for those who are striving to perfection, the most obstinate obstacle in the way of finding God and His peace. Once it is overcome, such persons make rapid progress in the spiritual life. For this fear keeps the mind in a state of unrest and is, in an obscure manner, the mainspring or the accompaniment of all the perverse actions of nervous people. It is mankind's greatest and commonest enemy and has to be fought tooth and nail. (1)
Bernadette's sang-froid and fearlessness
This subject brought to mind a scene from Franz Werfel's book
The Song of Bernadette,
which tells the story of St. Bernadette Soubirous and the revelations she received in Lourdes. Werfel was a Jew who was concealed by the community of Lourdes and thus saved from the Nazi work camps. He vowed that if he escaped the camps, he would "sing, as best I could, the song of Bernadette." (2) Werfel's book is a novel but not a work of fiction.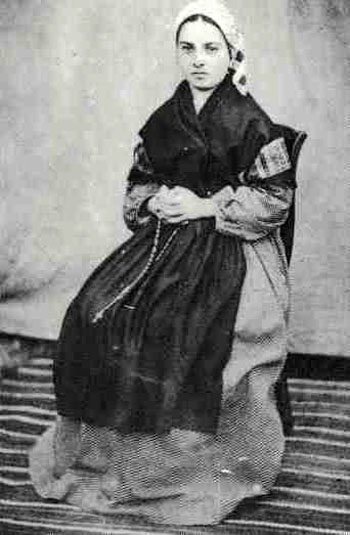 The direct and unpretentious gaze of the young seer
The skepticism of authorities – civil and religious – about Bernadette's heavenly visits, comes into relief in Werfel's story. Since the time I first read this book many years ago, one scene has always remained marked in my soul. It is so true and tender that it still moves me. It also supports Jordan's commentary on shyness and reaffirms the teaching of Fr. Massmann.
Before presenting this scene to the reader, let me point out that Bernadette did not have a shy personality. As one writer pointed out, she had "an imperturbable
sang-froid
and an unalterable gentleness." (2) Having said this, I go on to quote the scene in Chapter 33 of Werfel's book in full. To summarize it would not do justice to the impact it should have on the Catholic soul.
Bishop Thibaut, Bishop of Montpellier, had arrived in the village of Lourdes, under the jurisdiction of Bishop Laurence, to make a personal inquiry over the authenticity of the apparition. He was hardly a supporter of the apparitions, but was merely taking advantage of a trip in the area to enquire about the visions that even the people in his neighboring diocese were talking about. What the Bishop experienced follows:
At this time Msgr. Thibaut, Bishop of Montpellier, was taking a brief cure at Cauterets. In the parish house, he made the acquaintance of Bernadette Soubirous. Msgr. Thibaut offered the sharpest possible contrast to Msgr. Laurence. He wore his silky white hair rather long. His mouth was not at all sarcastic but gentle as a child's, and his eyes were of the deep blue of cornflowers.
The Bishop of Montpellier was a man open to pleasing appeals. His was of a poetical nature. In his leisure hours, as was not secret, he composed tolerable verses, both in French and in Latin, in praise of God, of Nature, of Heaven, of the Blessed Virgin, and of Friendship.
Like most people, Monseigneur knew of the apparitions of Lourdes only by what the papers had printed. Nor did he differ from the general opinion of the French clergy that, in view of the prevailing temper of the times, extreme caution was to be observed in respect of mystical appearances of any kind. Nothing could be more dangerous, he quite agreed, than any attempt to obliterate the sacred boundary between religion and ghost-mongering. Nevertheless, he asked Bernadette for an exact account of her experiences.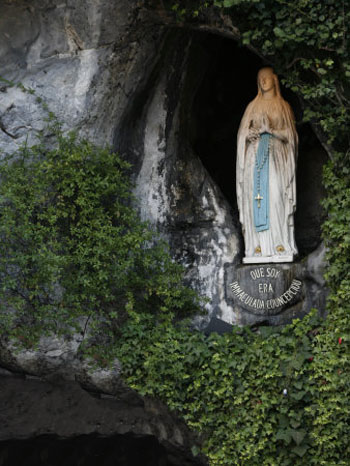 Bernadette gave a moving description of the Lady who appeared to her in the grotto
And a remarkable thing took place. Though she never refused such requests, Bernadette had been acceding to them merely by a mechanical repetition of facts, as by rote. But the glowing eyes of this listener inspired her. For the first time in her life, she seemed to be meeting a soul like her own, one able to embrace with equal breadth and depth the mysteries of ecstasy, of love, of being shaken to the very core.
Almost from the start she abandoned her mechanical repetition. She leaped from her seat. She knelt. She played her own part and she played the Lady's February 11. Behold, the brook was here, the grotto yonder. So powerful was the act of recollection that Bernadette herself felt how, by a force unknown, she was drawing and drawing the Lady hither, more and more, almost into the niche at the right of the room.
She grew pale and Louise Soubirous feared lest she faint. And when at last Bernadette, acting the Lady's part, said as though to herself with half-outstretched arms and in that tone of lovely earnestness: `Will you render me the grace of coming here each day for 15 days?' Monseigneur Thibaut suddenly arose and left the room. The old man's eyes were bathed in tears. He breathed hard. In the garden he leaned against a tree and kept repeating: "
Quel poeme... quell poeme...
What a poem!"
Two days later the Bishop of Monpellier went on a visit to Lourdes. He took lodging in Cazenave's hotel. He at once requested Dean Peyramale to send him a trustworthy witness of the visions and ecstasies of Bernadette. Peyramale selected Dr. Dozous and Jean Baptiste Estrade. The latter declared literally as follows:
"Monseigneur, I have in my time seen and admired the greatest actresses of the French stage, among them an artist like Rachel. Compared to Bernadette they were all but grimacing statues who exaggerated false and affected passions. The little seeress of Massabielle mirrored for us states of bliss and blessedness for which language has no words."
"
C'est cela, c 'est cela!
Just so, just so!" Thibaut exclaimed. (4)
The simple and humble village girl did not fear to recite what happened to her, even before a Bishop. She did so, straightforwardly, naturally and without blushing.
Elaine Jordan and Fr. Massmann are absolutely right. If the shy child overcomes the fear of being ridiculed and rejected, this can be the road to the fearlessness and
sang-froid
of St. Bernadette.
Fr. Joseph Massmann, Fort Collins, CO: Roman Catholic Books, 1941, p. 99.
NY: Viking Press, 1943, Preface
Fr. Henry Petitot, The True Story of Saint Bernadette, Westminster, Maryland: The Newman Press, 1950, p. 1
Werfel, The Song of Bernadette, pp. 383-384.

Posted March 1. 2013