Manners, Customs, Clothing
Returning to Old Ways of Staying Warm
After reading
this article
about restoring the old ways of warming people in the winter, I thought that some of your readers may be interested in our warm clothing experiments.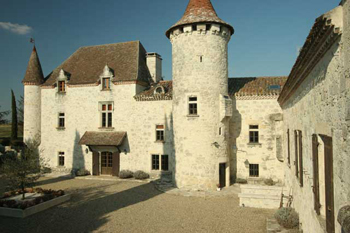 The challenge: to stay warm in
a 15th century chateau in Burgundy
With my wife, I live in a big house in Burgundy, France, which, when it was built in the 15th century, would have had all nine fireplaces burning around 15-25 cubic meters of wood per fireplace each winter (10-15 cubic meters with modern log burners), in an attempt to maintain a room temperature in the high teens centigrade. That adds up to well over 200 cubic meters of wood for the whole house, each and every winter.
The forests around here stretch for miles, but the one thing you notice about them, is that there appear to be very few trees over around 30 years old. In fact, the closer you look, the more you begin to realize that wood is just another intensively farmed crop drawn from soil which has undoubtedly been impoverished over a long period of time.
For the first few years of living in this house, the full extent of its winter energy hunger was masked by a modern, gas fired central heating system. We eventually came to understand just how extravagant it was to heat the entire house throughout the long, cold continental winters to close to 20 degrees Celsius (68 degrees F) just for two occupants.
From modern to medieval
My wife and I began experimenting with clothes for heating about five or six winters ago. The initial goal was to see if we could find clothing which would keep us warm, comfortable and happy even without any kind of additional heating source.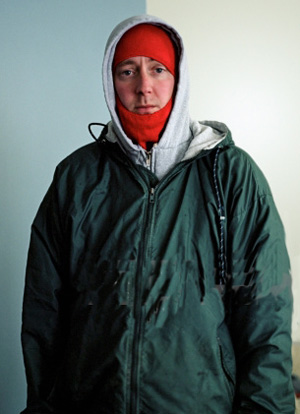 Modern winter layers – awkward indoors and ultimately not warm enough
We started the experiment in the first winter with modern clothing solutions: high tech thermal layers, specialist outdoor gear and the like, but found that the problem with most of them was the extremely large surface area associated with modern fashions.
The style of modern clothing more or less mirrors the surface area of the skin - the surface area of trousers mirror the surface area of the skin on legs and so on. Some of these technical fabrics worked well for relatively short periods of time, but most simply failed to keep in enough heat when days and weeks went by with temperatures close to or below freezing.
To retain anywhere near enough heat, we had to resort to wearing clothing designed for outdoor extremes. It was uncomfortable to wear indoors, made us feel stupid and miserable and so we abandoned the experiment in the first winter and switched the heating back on.
The exterior and lower layers of the house are medieval but the interior was remodeled in the 18th century, so the next winter, we experimented with 18th century fabrics and fashions. After all, there was no central heating in the 18th century, so clothes must have been warmer right? Wrong.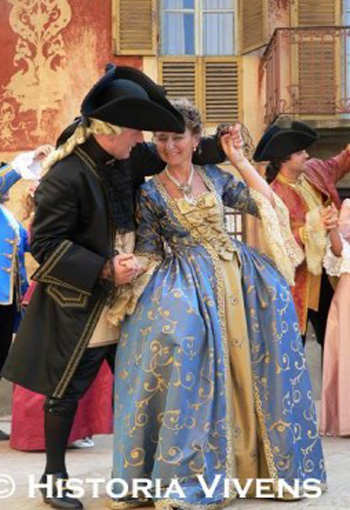 An 18th century re-enactment scene – this clothing was also insufficient
We found 18th century inspired clothing to be just as ineffective against the cold as their modern equivalents and came to the conclusion that the well known fashions of that era were by and large a mere statement of personal wealth: i.e. the frock coat, waistcoat and breeches were an outward reminder to people that the wearer could afford to buy over 200 cubic meters of wood a year to heat a house like ours, as well as the servants to keep the fires stoked.
The next winter, we went further back to a time contemporaneous with the building of our house: the late medieval period. After three freezing cold winters' worth of experimentation and with the discovery of just two principle items of clothing, finally we hit the 'heat your body not the air around you' jackpot.
The first of the two items was an ankle length, long sleeved medieval-styled house coat and the second was a four cornered 'Erasmus' styled soft hat.
The design of each of these two items proved to be so efficient at heat conservation and so incredibly versatile, that we now wouldn't wish to face a winter without them.
The Coat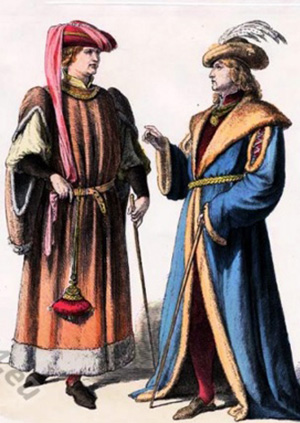 Late medieval Burgundian coats – finally warm enough!
After a few attempts with wool, we turned to a double thickness recycled fleece, with a plain exterior and a mock sheepskin interior. It is a wonder fabric: light, easy to wash and relatively quick and easy to dry.
The cut of the coat is 'A' shaped, being narrow at the top of the shoulders and very full at the ankles (at least as wide as the wearer is tall and then some). The sleeves are worn long and relatively narrow at the wrist. We added hoods to the coats instead of collars and snap fasteners every few centimeters to the full length of the front.
The hoods come in handy on really cold nights for the same reasons as the hooded chair in the article: they block out the cold from behind and capture any heat escaping from the neck of the coat. In effect, the coats have the appearance of a cross between a monk's habit (when fully closed) and a medieval knights' watch coat (when opened or buttoned only at the neck).
The 'A' shape, effectively channels all your body heat upwards and back toward your body. This effect is something you have to experience in order to fully appreciate. Body temperature can be very precisely regulated by opening and closing fastenings up to the waist, up to the neck or leaving the coat completely open (a loose clasp is very useful across the neck for temperatures more suited to a cloak rather than a coat).
The full shape is also very comfortable to walk around the house in; as comfortable as pajamas and not at all like wearing a coat indoors, even over other clothes.
The Hat
My wife finds the hood of her coat enough insulation in cold weather without a hat, but not blessed with her thick head of hair, I need a little extra help with 'loft' insulation. In general, I'm not a happy hat wearer; I usually find them too tight or too hot or just generally disagreeable.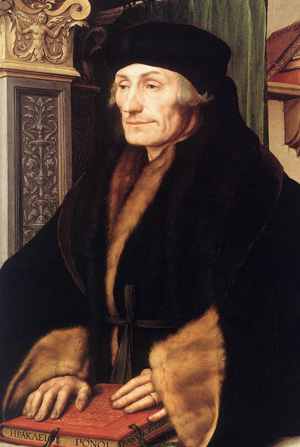 An Erasmus-style hat is comfortable and warm
But from studying medieval paintings, I worked out how to make the four-cornered 'Erasmus' style soft hat and found its design to be absolutely brilliant: comfortable, versatile, extremely effective; the perfect complement to the long coat.
The hat can be worn in up or down positions. When down, the ears are covered by flaps and the back edge is somewhat lower than in the up position. I find that the down position is only needed when the air temperature is at or below zero degrees centigrade - frosty mornings for example.
Each ear flap has a leather strap attached, which ties loosely across the top of the head to keep the flaps and neck warming section 'up' when it is not quite as cold. Again, I experimented with wool lined with flannel (which was very nice but awkward to wash and dry) but soon substituted that for a plain, good quality recycled fleece, lined with polyester.
These two items are the key items of our 'heat yourself' solution, though they still need to be used in conjunction with other clothing. Also a source of external heat is still necessary; we have found it impossible to do away with heating altogether.
For a start, when the temperature falls below 10 degrees Celsius for a prolonged period of time, there definitely seems to be an increased risk of illness and infection, probably caused by breathing in cold air.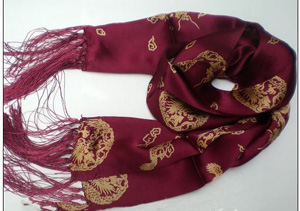 A silk loop scarf is elegant and efficient
Some of this can be alleviated by wearing a scarf which loosely covers the chin and mouth (to work in my unheated studio I made several loops out of silk scarves, which slip over the head and sit around the neck). The scarf has the effect of 'recycling' some of the air you breath out, mixing warm exhaled air with cold fresh air and generally raising the temperature of the air you are breathing.
For the sake of our happiness, we still light a log fire (log burner) all winter, but in just one double room. Our consumption has fallen to around six cubic meters of wood per winter. At this level of consumption, we can maintain between 10-15 degrees Celsius, even during prolonged periods of freezing weather, in a space covering forty square meters with a ceiling height of just over three meters.
In combination with our medieval style clothing, this is very comfortable for us. Luckily, our guests love dressing up in the extra coats and hats we have made when they come around for dinner, so we haven't suffered socially either (though people do tend to come to us more in the summer and invite us to them a little more often in the winter!)
Versatility
In the cold early Spring and late Autumn, wearing the long coats around the house is enough to make the house feel 'heated' even without an extra fire, extending the feeling of living in a warm house well into another season. The fullness of the coat means that it is also big enough to use as a sofa 'throw' when spread out.
To sum up, I have worked all day, day after day, very comfortably in an unheated studio, where the ambient temperature was well below zero degrees Celsius wearing the following items:
Erasmus hat (fleece, flaps down);
Long coat (fleece, mock sheepskin inner);
Neck loop (warming the air that you breathe – silk);
Commercial thermal base layer;
Pajama shirt (flannel);
Sleeveless jerkin (knee-length, round-necked garment, straight-cut or 'A' line), any warm material (recycled fleece is the easiest and lightest);
Warm trousers;
Warm socks;
Leather shoes.
Although I've experimented very successfully with a full medieval 'kit', for the sake of not appearing to be insanely eccentric when anyone rings the doorbell, I find that the coat and hat work well with well-layered modern clothing. Using snap fasteners on the coat means that they can be removed quickly if needed!
Finally, even if you hate the idea of living like this forever, you should not underestimate the feeling of liberation when you know that you can make clothes which, by their ancient and brilliant design, will help you comfortably to survive a freezing cold winter.
I hope this has been useful.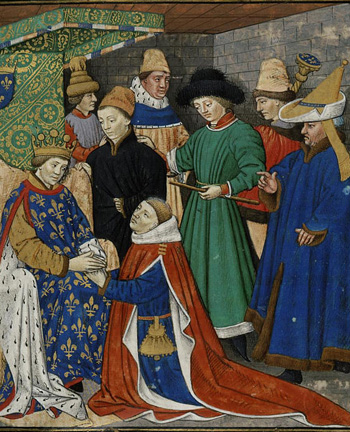 More medieval coats and hats for men