Manners, Customs, Clothing
Under Angel Wings: Protection at the Beach
I highly commend Fr. Vidko Podržaj for his courage
to engage in a crusade
for modesty at the beach or swimming pools. His zeal for that good cause has inspired me to take up pen to share this episode from the life of a Brazilian girl born in a well-placed family in 1900.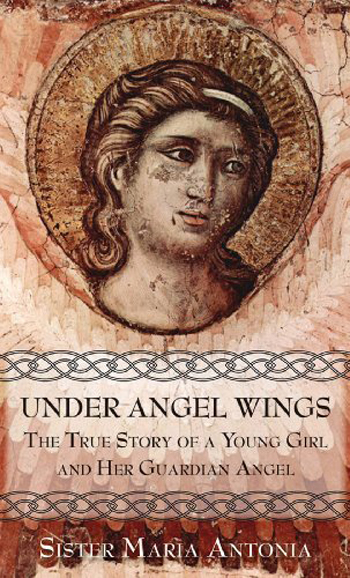 Before she died at age 30, Cecy Cony or Sister Maria Antonia – she became a professed Sister in the Franciscan teaching Order of Penance and Christian Charity in Porto Allegre, Rio Grande do Sul – was ordered by her spiritual director to write her biography. (1)
In the work, titled
Under Angel Wings,
we read how, from age 5, she enjoyed the continual guidance, protection and inspiration of her Guardian Angel, whom she called her "New Friend."
With great simplicity and innocence she describes how her "New Friend" protected her from every danger and even tendency toward sin or evil, so that she never offended her Divine Master intentionally. She understood her Angel perfectly when he spoke to her, she wrote, although she never heard his voice. (p. 13)
In a prayer to her Guardian Angel, she writes: "If it were not for you, my holy Guide, who knows but that I might have offended my good God voluntarily and gravely, thousands of times! How many, many times, given up to my own caprices and inclinations, I was ready to do evil, when your holy warning arrived, always on time, to hinder me from falling!" (p. 113-114)
Protection from the smallest immodesty
One of the ways her Angel protected her innocence was to protect her from careless and immodest habits. Because she always felt herself being observed by her "New Friend," she was careful of any postures she assumed in public, and even more so alone, when she dressed and bathed.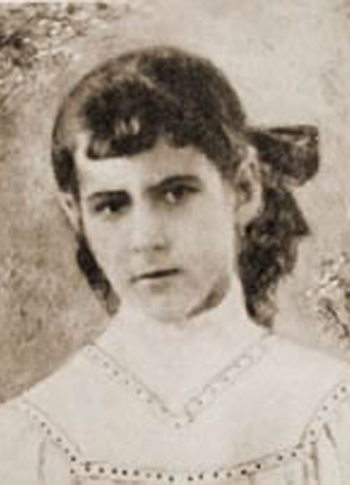 From age 5 Cecy saw her Guardian Angel
For example, at age 8, Cecy's father, a retired General, took her to see a military celebration in Rio Grande do Sul. She was delighted to see ponies there for children to ride. The lieutenant taking care of her brought her a beautiful pony and placed her astride it "as if I were a boy." She continues:
"I had just begun to pull on the reins when I heard and felt the warning of my New Friend just as vividly as I heard and perceived the lieutenant. My New Friend did not want me to continue any farther. I felt his holy arm taking me gently from the pony, just as I had previously felt the lieutenant lifting me onto the pony's back."
She told the lieutenant she no longer wished to ride. In admiration at her seeming agility in dismounting, he tried to persuade her, but she was firm. Later her father called her cowardly and silly. She writes: "Indeed, I should have like to ride on the pony, but I wanted much more to please my New Friend." Thus she was preserved form the danger of even the slightest fault against modesty.
The book is quite interesting because it opens our eyes to these tendencies toward immodesty that we no longer consider of any importance. Like Cecy's father, most people today would say it is "silly" to worry about such trifles. However, it was this gradual process of women adopting the habits and ways of being and dress of men that led to the great immodesty and rampant feminism of the Cultural Revolution of the '60s.
At the beach
And so we come to the episode I mentioned at the beginning of the article about swimming. It was 1912 and swimwear for women – with their arms and legs to mid thigh showing – was the new fashion, as you can see in the picture
below right.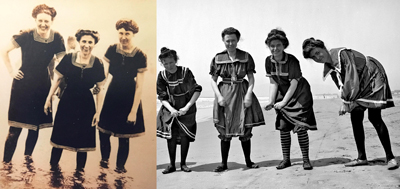 Swimsuits of 1912, when beach fashions started to catch on in the upper societies
Cecy was spending the school vacation from December 1911 to March 1912 at the vacation ranch house of friends in Santa Vitoria do Palmar. One afternoon, a group of families had planned a picnic and swimming at a nearby waterfall.
Some of the men fashioned some rough shelters from branches for the ladies and men to undress and put on their bathing suits. Happily Cecy ran to one of them when she was stopped by the arm of her Guardian Angel. She wrote: "My whole little being was filled with the most vivid presence of Our Lord, who made me understand that I should not accompany the group."
Despite the irritation of her hostess, who kept insisting that Cecy change into her suit, the 12-year-old remained firm and refused to undress or to go swimming.
As members of the group, dressed in their bathing suits, prepared to enter the water, Cecy's Angel placed himself in front of her and, for the first time, raised his wings before her eyes to prevented her from viewing the scene: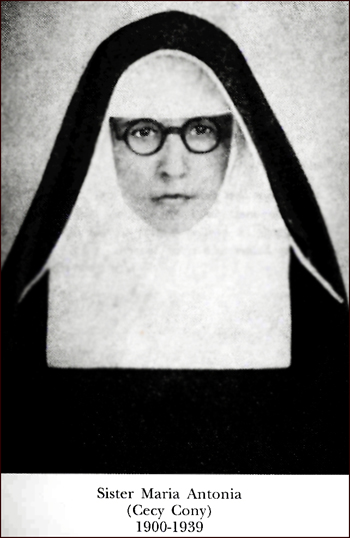 "During the whole time that the swimmers remained in the water or on the banks of the river, where they danced, I had for the first time in front of me the holy and protecting shade which I supposed was formed by the extended wings of my New Friend. From that day on, these holy, protecting wings were always extended in front of me to hinder me from seeing whatever Our Lord or my New Friend did not wish me to see." (p 123)
There were many more such occasions after that, she reports, as the movie rage began that year of 1912 and a movie theater opened in her city. Every Sunday, there were matinées for children. However often Cecy could not see what was on the screen because it was hidden from her sight by the "holy wings" of her Angel. At times, his wings were extended for almost the whole film, on other occasions just for a certain period of time.
Cecy reports: "Not only during the showing of movies did my New Friend act thus but also during plays and other stage exhibitions. How often did my mother call me a simpleton because I could not describe the film or the play that I attended! And my father said to me: 'My child, you should be able to describe what you see and to narrate what you hear.' Never did I tell them that it was my New Friend who prevented me from seeing what was on the screen or on the stage." (p. 125)
Writing this story as a sister under obedience many years later, she addressed her Angel in appreciation: "My holy and most faithful New Friend, only today do I realize the innumerable dangers to which I was exposed in that evil world and from which I escaped unharmed, solely on account of the special grace of God and thy most faithful protection!" (pp. 125-126)
Application to our times
If, in the early 1900s, the bathing suits of women were displeasing to Our Lord and Our Lady, then we can only imagine how much more grave the offense as the styles became progressively more immodest. Yet I have friends in their 50s and 60s who imagine that the one-piece bathing suit of the '50s was modest and appropriate and continue to wear these suits. Somehow, they have convinced themselves that they are giving good example to their children and grandchildren by wearing these "less immodest" bathing suits.
As the TIA web-editor Atila Guimarães pointed out in
a recent comment
to Fr. Podržaj, these suits were already more revealing and immodest than the infamous Moulin Rouge costumes of the early 1900s that were condemned by the Church unconditionally.
Somehow, we have slipped into the relativist and ultimately liberal position based on this argument: Since the Church didn't speak out against ladies' swimming suits in the 1950s, then they are correct, and only the bikini is immodest and immoral. What we must realize is that the Bishops and priests of the 1950s had already fallen into liberal customs and attitudes and were quite remiss in not warning the faithful about these bad styles and customs.
If only, like Cecy, we had the restraining hand and protective wings of our Guardian Angels to keep us from offending God. I believe many more of us would have resisted those bad customs, which have led to the outright nudity that is tolerated today.
But, seeing the disastrous consequences of tolerating these styles, we can at least begin to react more appropriately and proportionally to the crisis of our times and reject swimwear – past and present – with the aim of making reparation for the many sins committed today against the Immaculate Heart of Our Lady.
Under Angel Wings: The True Story of a Young Girl and Her Guardian Angel, The autobiography of Sister Maria Antonia, trans. by Fr. Conall O'Leary, orginal copyright 1953 by St. Anthony's Guild, Perston NJ, republished in 2000 by: Tan Books, Rockford IL.

Posted August 24, 2018