Manners, Customs, Clothing

Etiquette & Good Manners - 1
A Thank You to the Urbanity Manual
The full title of this article should be "A Thank You to the
Manual of Urbanity & Good Manners
" (
Manual de Urbanidad y Buenas Maneras
) written in 1853 by Manuel Antonio Carreño, a Venuzuelan musician, teacher and diplomat. The thank you is offered because since 1853, the year it was written, many generations of Latin-Americans – men and women – have been educated by rules inspired by this book.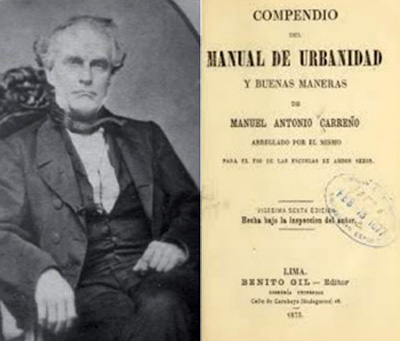 Manuel Carreno with one of the many editions of his famous Manual of Urbanity
It is a work so popular that, even today, it is enough to say "
El Manual
," and immediately any Spanish-speaking Latin American will conclude the sentence saying "
... de Carreño
." Everyone knows what it is.
Many copies of this work were preserved, passed down from generation to generation, inherited from grandparents.
Its content was considered so important and useful that it was approved for training in schools in Spain and Latin America. It was even published in English in New York at the end of the 19
th
century. To date,
El Manual
and variations, updates, etc have been reproduced in 44 works in 258 publications.
The moral dimension
These copies were used both at home and in schools in Spain and Latin America. What makes them different from the customary English-style books of rules and etiquette is that everything is based on Catholic Morals.
Indeed, the first words of this admirable work set out the foundation of all civility on Morals: "Without the knowledge and practice of the laws that Morals prescribes, there can be neither peace, nor order, nor happiness. In vain would we pretend to find in any other source the true constitutive and conserving principles of society that we propose to study, and the rules that teach us to abide by this law with the decency and moderation that distinguish the civilized and culture man.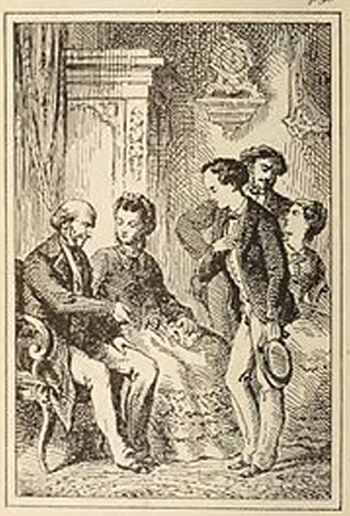 An illustration of relationships in the family
from an early edition of The Manual
"Virtue is the basis of all good, and the purest source of the joys and conveniences we find in life." (Introduction)
The first three chapters, in fact, are dedicated to the Moral duties of man: first, the duties to God; then, the duties to society (our parents, fellow men and country), and finally, the duties to ourselves. This ordering allows us to see that every law of the civil order and every right of man must be subject to moral duty, and to God above all.
Only in Part II do we find the actual rules of civility set out in five chapters. The author deals with how to act in the home, how to greet family members and friends, how to act in church or in the street, how to behave at the table, and even what should be worn inside and outside the home.
For Carreño, conversation is a vital chapter of life in society and, therefore, it is given special attention. The art of conversation has nothing of the spontaneous behavior of modern man, who says whatever comes into his mind.
To the contrary: "The conversation should always be animated by a spirit of benevolence and consideration that extends, not only to all those around us, but also to those who are not present." (Part II, chap. 4)
Looking from today's viewpoint, it would seem that the book was a kind of artificial imposition upon families to begin to practice good manners at home. In reality, it is the other way around: The book is rather an expression of the prevailing customs in the Catholic countries and environments of that time.
My experience with civility
My first experience teaching classes on this subject dates back to 1974, when a teacher at my school asked me to share what I had learned from Carreño's
Manual of Urbanity and Good Manners
.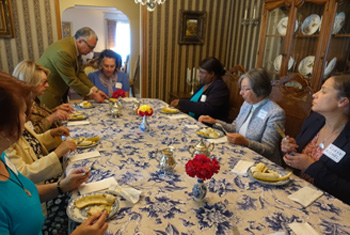 Mr. Padilla instructs an American class on table manners
Later, in 1977, I had the opportunity to enter the traditionalist Catholic world, being invited to Tradition, Family and Property (TFP), after a conference given at my College by a Peruvian aristocrat. This allowed me not only to appreciate Catholicism in its religious truth and essence, but also to admire the influence of the Holy Church in the Temporal Society. Indeed, one of the facets of Christian Civilization is the love of God, manifested in human relationships.
Being involved since 1982 with formation training and education, I embarked on developing a teaching-learning methodology based on research, experience and creativity. There are four decades and thousands of people to whom I have had the opportunity to give my classes.
Obviously I have read a lot about Etiquette, Protocol and Ceremonial; in that time dedicated to self-training I also have had the opportunity to meet and interrelate with many distinguished persons. Among them I had the privilege of meeting Mr. Atila Sinke Guimarães, my teacher for many years in TFP. In turn, he was an outstanding disciple of the distinguished Prof. Plinio Corrêa de Oliveira, who I also had the honor to know personally.
Through Mr. Guimarães in the recent years I was happy to meet Dr. Marian Horvat. I became acquainted with her books and articles on
Civility
,
Courtesy
and the
Restoration of the Catholic Home
. Thus, as the circle closes, I again found manuals on courtesy in the United States – not the expected place, given its promotion of casual dressing and spontaneity in treatment – that combine the Catholic soul with good manners.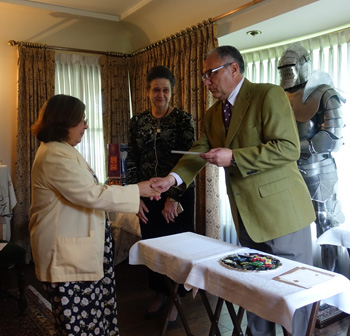 Mr. Padilla & Dr. Horvat present certificates & congratulations at the end of the course
Without diminishing Carreño's work, I note the particularity that Dr. Horvat's texts are exquisite. Above all, it cannot even be said that they are old-fashioned or modern; the appropriate thing is to say that they announce the future.
Having had the opportunity to share my experience with North American Catholic families in several classes given in the Los Angeles area, I see that, far from what is generally thought about the United States, there is a great deal of nostalgia, respect and eagerness to learn those values that have never lost their importance.
These good longings for Catholic civility give me the opportunity to offer my help. This is the goal of some of the articles that I start today and the classes that I hope to give to those interested in knowing the rules and the spirit of Catholic civility and etiquette.
In the following articles I shall present a synopsis of
The Manual
by Manuel Antonio Carreño to make the Catholic rules of the past available to TIA readers.
Continued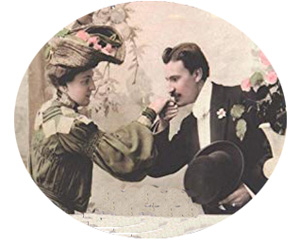 From the cover of a later edition
of Carreno's Manual

Posted January 28, 2022