Right to Life
Networks Ignore 'Major Blow'
to Planned Parenthood
Of the broadcast networks, only one highlighted President Trump's "
major blow
" to Planned Parenthood state funding on Thursday.
Trump signed into law a bill that empowers states to halt
hundreds of millions
in Title X federal funding from Planned Parenthood and other organizations that perform abortions. But of the broadcast networks, NBC was the only one to mention the breaking news.
During Nightly News Thursday evening, NBC anchor Lester Holt reported the story.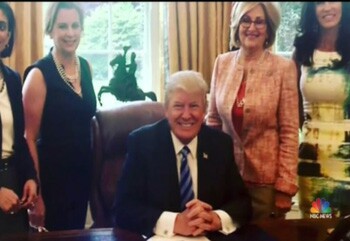 Trump signs law allowing States to defund Planned Parenthood
Trump, he began, "struck a potentially major blow" to America's largest abortion provider, Planned Parenthood.
"Surrounded by women," Holt continued, the president "privately signed a bill that allows states to withhold federal funds from Planned Parenthood and other groups that provide abortion services."
The Trump administration has
faced criticism
in the past for being surrounded by men in regards to healthcare decisions – so it's noteworthy that NBC showed a picture of Trump signing the bill with women, including Susan B. Anthony List president Marjorie Dannenfelser.
Holt concluded that the law "reverses a rule that was finalized" shortly before President Obama left office.
When the U.S. Senate passed the bill last month, all three broadcast networks (ABC, CBS, NBC)
covered
the "major setback" for Planned Parenthood during their national news shows. This was not the case for the bill's transformation into law. ABC and CBS remained silent during their following news shows.
According to its latest publicly available
annual report
, Planned Parenthood performed 323,999 abortions and received $553.7 million in "government health services grants and reimbursements" for the year 2014 – 2015.
SIGN THE PETITION! Congress Must De-Fund Planned Parenthood
This article was first publishedon LifeSiteNews.com on April 17, 2017

Posted April 19, 2017