Homosexuality and the Clergy
Queer Peers & the Family Synod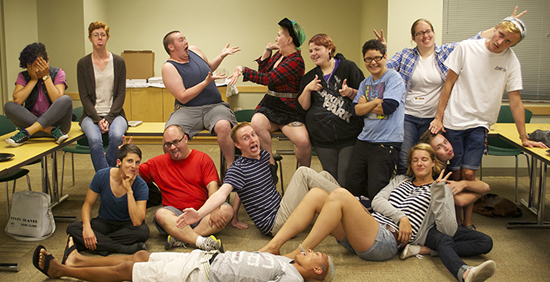 Who are these students posing for a "fun" photo at a 2014 training meeting at DePaul University in Chicago, the country's largest Catholic college?
They are all members of "Queer Peers," a mentorship program for the homosexuals, lesbians and transgenders who attend the Catholic university.
The program "connects current DePaul students with newly enrolled or newly outed students," according to the LGBTQA Student Services (the QA at the end of the acronym stand for Questioning, Queer, Asexual and Ally)
page.
All a "queer" has to do is request a mentor, and he/she/he-she will receive a "peer" who will offer monthly meetings and "social support" for the whole academic year.
Nothing is mentioned about offering Catholic teaching on homosexuality or support to leave this sinful lifestyle. No, it is simply support for students "to be their whole selves and their best selves" as Katy Weseman, coordinator for LGBTQA Student Services, told the student newspaper
The DePaulia
.
Now, according to her, such programs are necessary because "there's a lot of literature out there that says mentorship and direct support can help students in feeling acclimated to a university environment." This new Queer Peers program, funded by the University, "will help students feel connected so that they are more likely to do well in school."
There are already plans for a future partnership with the student group SAGA (Sexual and Gender Alliance) at Lincoln Park High School, a public school. So, we have a Catholic university helping public high school students to accept themselves as "homosexuals." Catholics publicly encouraging disorder and sin, instead of combating and preaching against it.
The Synod victory: To welcome and support is 'in'
Now, DePaul University, like many Catholic universities, already offers a LGBTQA office – the QA at the end of the acronym stand for Questioning, Queer, Asexual and Ally. This well-funded office already offers educational workshops, support, consultation, and networking space and faculty advocates.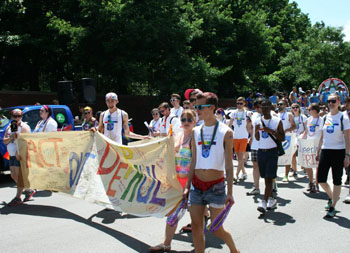 DePaul University students march in the 2014 Chicago Gay Pride Parade
So, Queer Peers is something extra to provide a "welcoming and supportive" environment to homo students at the Catholic university.
Do those adjectives – welcoming and supportive – sound familiar? Indeed they should. In the first draft document of the Synod of Bishops in Rome last week, which met to discuss family issues we found similar words. The Church should provide a "welcoming home" and "accept and value the sexual orientation" of homosexuals.
This draft was softened and reworded in the final synod document, a watered-down version of that first proposition. But the progressivist have no reason to worry. Pope Francis insisted on publishing the rejected texts, indicating his willingness to keep the topic on the round table. (1)
Many Catholic papers called this incident a triumph for the conservative Bishops and a "setback" for Pope Francis. I thoroughly disagree.
The document draft accomplished exactly the purpose for which it was intended: To send the signal to the world that the Church is willing to accept homosexuals and provide welcoming environments in their schools and churches. Who will question the Queer Peers at DePaul University after this Synod?
Only some traditionalists, apparently. But, Francis had words for us in his
final synod speech
: We were condemned for our "hostile inflexibility," being "closed in the letter of the law," and unwillingness "to be surprised by the God of surprises."
By the way, this speech received a five-minute standing ovation from all the Bishops – yes, including those "conservative" ones who opposed the homosexual texts.
In the end, the Synod supports a trend that was being implanted in Church institutions during the papacies of John Paul II and Benedict XVI: welcoming programs for homosexuals in Church institutions.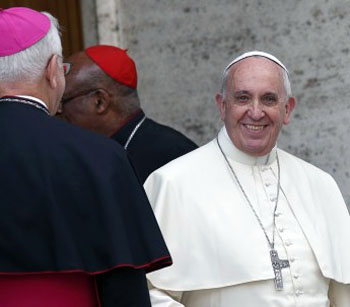 A triumphant Francis leaves the Synod after a long standing ovation
For an example, let us return to Depaul Univeristy: Its LGBT student services center has been operating since 2003. Further, it was the first Catholic university to offer a minor in LGBT studies in 2006. Students can take classes on "gay men's health matters," "LGBT French history" and "sexual justice," according to a course catalog.
Centers and courses like these are further justified by the actions at the recent synod. Already the largely pro-homosexual faculty and staff are supporting their position by citing the "new openness" toward homos shown by the Pope and the Synod.
"The Bishops at the present Roman Synod on family are calling for a better outreach to people who are LGBT," James Halstead, who teaches ethics and Christian theology at DePaul University, told
The College Fix.
I believe we can expect to see more and more support for homo groups not only in Catholic universities, but also in Catholic schools and parishes. Their existence will be justified by the signs of the times given by the Bishops Synod on the Family in its final report.
It is Pope Francis and the homosexuals who won – despite their loss – on this round of the Synod document.
Francis insisted in the name of transparency that the full document – including the three paragraphs that failed to pass – be published along with the voting tally. The document will serve as the basis for future debate leading up to the October 2015 meeting of bishops which will produce a final report for Francis to help him write a teaching document of his own. "Bishops Scrap Welcome to Gays in Sign of Split," AP news online, October 19, 2014

October 27, 2014