Homosexuality and the Clergy
Archbishop Cordileone Plays Both Ends
on Homosexuality
San Francisco Archbishop Salvatore Cordileone has been in the news lately receiving both support and opposition: support from conservatives and opposition from the pro-homosexual lobbies both inside and outside the Catholic Church. What is the reason for this?
In February 2015 he published a 2000-word statement on Catholic Morals to be added to the faculty and staff handbook for the 500 employees of the four Catholic high schools in his Archdiocese. Several themes addressed by Cordileone are considered "hot," such as same-sex "marriage," contraception and abortion.
The handbook controversy comes on the heels of another "conservative" initiative of Archbishop Cordileone, who, despite pleas from pro-homosexual city officials, marched in Washington, D.C. last year against same-sex "marriage."
I believe both initiatives are quite normal ones – considered extraordinary today only because the Church has become incredibly lax in Morals. Nonetheless, I have some doubts about the suitability of raising up the San Francisco Archbishop as a conservative champion. Let us look first at his handbook initiative, then at some clear-cut but rarely mentioned contradictory actions of the San Francisco Prelate.
A toothless document
The handbook asks the nearly 500 school employees to "affirm and believe" Church teachings and to avoid publicly challenging the Church's position on issues like same-sex "marriage," contraception, chastity and abortion.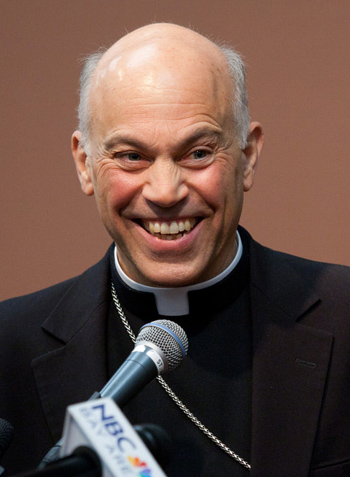 Archbishop Cordileone, pleased with the publicity
The Archbishop also affirms that all employees should avoid fostering confusion about the school's mission and, therefore, should conduct their lives "so as not to visibly contradict, undermine or deny" Catholic moral teaching. They should also not give public support "to any cause or issue that is explicitly or implicitly contrary to that which the Catholic Church holds to be true."
First,
this initiative is a good
albeit
not unique one. Bishops in Cleveland, Cincinnati, Oakland and Honolulu last year added language to teacher contracts regarding the need to conform their public — and in some instances private — lives to Church teachings. In this regard, their initiatives were more radical than Cordileone's since his provisions constitute just part of an employee handbook, not a teacher contract.
Second,
while the measure calls for adherence to Catholic doctrine, we have Cordileone's word that it is a toothless document. As soon as news of the document leaked out, Cordileone
was apologizing
that the so-called morality clause "is not anti-anyone. It's not anti-anything."
He went on to stress that no one would be forced to sign a handbook oath. Nor, he continued, does the handbook aim to target any teachers for dismissal from the four schools.
In short, according to Cordileone's own words, no one is required to accept the provisions of the handbook nor will anyone be punished for not following them. If this is so, what is the purpose of the handbook? Why bother to call on Catholic employees "to conform to the truths taught by the Catholic Church" if there is no punishment for non-conformance?
To me, it all looks like a grand show for Cordileone to set himself up as a conservative champion in the culture arena.
First stumbling block: Setting the Table
The first contradiction that struck me in Cordileone's supposed conservative stance on homosexuality is his public support for the book of homosexual activist Fr. James Schexnayder, titled
Setting the Table: Preparing Catholic Parishes to Welcome Lesbian, Gay, Bisexual, and Transgender People and Their Families
.
As you can read in one of the
first critiques
of this deviant work,
Setting the Table
aims to persuade all parishes to welcome homosexuals, to encourage homosexual ministries and to open marriage and family support groups to homosexual "couples."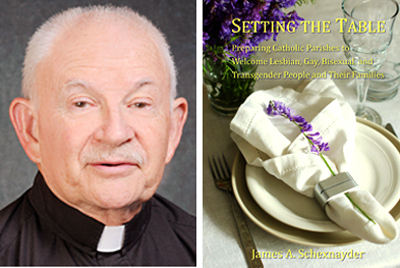 Schexnayder & his pro-homo book for parishes - approved by Cordileone
Now, if the Archbishop were a real opponent of same-sex unions, why would he lend his support to a book that proposes including homosexual "couples" in parish family and marriage support groups?
Not only is Fr. Schexnayder a retired priest in good standing in Cordileone's Archdiocese, but the book manuscript was read and approved by Salvatore Cordileone when he was Bishop of San Diego,
as reported
in the
Catholic Voice
. As co-founder of the present day Catholic Association for Lesbian & Gay Ministry -- CALGM, Fr. Schexnayder has openly advocated positions at variance with Church teaching, supporting same-sex "marriage" and rejecting that homosexuals adopt a celibate lifestyle.
How can Cordileone explain these contradictory positions regarding homosexuality: on one hand his support for Fr. Schexnayder, and on the other his handbook?
Second stumbling block: Most Holy Redeemer parish
Now we come to a second major stumbling block on the road to Cordileone's title of conservative champion. In his Archdiocese and operating with his full approval is what has been called the most "gay" parish in the nation,
Most Holy Redeemer (MHR) parish
in the notorious Castro district. The parish boasts of having a community that is at least 80% homosexual.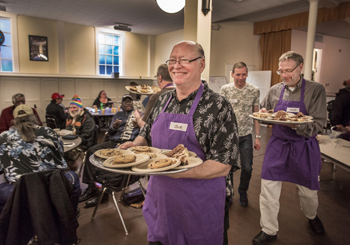 Cordileone has joined Frs. McClure & Link, above, four times at MHR to serve dinners for homosexuals
The parish committees and ministries are manned in part by homosexual "married" partners. Many LGBT parishioners adopt and raise children in the parish, even though the "institutional Church" officially condemns the practice.
Its two priests, who work as a team, Fr. Jack McClure and Fr. Matt Link, are active proponents of the "gay" agenda, framing the discourse on homosexuality in terms of social justice and civil rights. The two, who were appointed to MHR parish by none other than Archbishop Cordileone in July 2014, are wildly popular there. The appointment has softened criticism of the supposedly conservative Archbishop among MHR parishioners. "I cut him [Cordileone] a lot of slack," one of them said. "After all, he gave us our current pastors."
It is interesting to realize that even the progressivists recognize Cordileone's support for homosexuality in MHR parish. In a
recent series
on MHR parish by Thomas Fox, publisher of the progressivist organ
National Catholic Reporter
, I was surprised to learn that he is not antagonistic to the Archbishop of San Francisco.
No, Fox writes, MHR parish has unveiled "another side of Cordileone, a softer, more pastoral side.
MHR credits him for showing up four times to serve food at their widely celebrated Wednesday suppers.
He waited on tables without fanfare, requesting no photographs be taken.
He is also planning to celebrate one of the parish's morning Masses,
McClure said."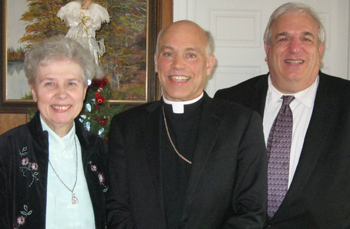 Cordileone in friendly dialogue with Sr. Grammick & DeBernardo of News Ways Ministry
Revealing more of this "welcoming" side of the Archbishop, Fox notes that late in 2014 Cordileone fulfilled a promise he made in the midst of the rally controversy to meet with some of the homosexual advocates. On two different occasions, he met with leaders of two homosexual Catholic groups, DignityUSA and New Ways Ministry, known for their public positions at variance with Church teaching.
According to a New Ways Ministry
statemen
t, Cordileone expressed both his genuine concern about Church teaching and his desire not to harm homosexuals. "Leaders of both organizations felt that he had been warm and friendly and showed sincere respect for each person throughout their time together," the statement said.
It seems to me that on the topics of same-sex "marriage" and conformance to Church teaching on morals, Archbishop Cordileone is playing both sides. Not a good thing for a man who pretends to present himself as the new champion of conservatism.
March 25, 2015
| | | |
| --- | --- | --- |
| Volume I | Volume II | Volume III |
| Volume IV | Volume V | Volume VI |
| Volume VII | Volume VIII | Volume IX |
| Volume X | Volume XI | Special Edition |