Homosexuality and the Clergy
Francis Praises Nun's Transgender 'Ministry'
Sister Monica Astorga is a Discalced Carmelite nun – still in a semi-habit – who has found her place in the Vatican II Church, which is increasingly becoming something quite different from the Holy Roman Catholic Church.
Sr. Monica has been working with transgender "women" in the Province of Neuquen in Argentina since 2006,
stating her mission
is to love them and get them out of prostitution and drug abuse. She makes no judgment about their unnatural sin, just accepts these men who look like women and offers understanding, as Jesus would, she claims.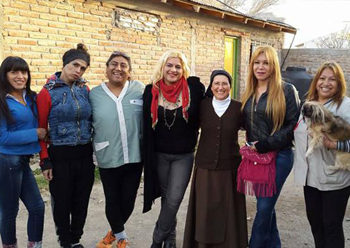 Carmelite Sr. Monica embracing transgenders and calling for their acceptance by Catholics
To affirm her mission as praiseworthy, on July 21, 2017, Sr. Monica wrote an e-mail to Pope Francis to update him on her latest project, providing housing for transgender "women" on a plot of public land the city gave her. An answer from Francis supporting her evangelization work came the very next day. "I have you and the convent close to my heart, as well as the people with whom you work. You can tell them that," Francis wrote in his response.
Sr. Monica was obviously expecting a kindly response from Pope Bergoglio, since he had approved her work when he was a Cardinal of Buenos Aires. When he visited her convent in 2009, she told him about her "mission" to transgenders and he encouraged her in it. "He told me not to abandon the border work the Lord had put me in," she said.
Let me try to put Francis' recent answer to Sr. Monica into perspective. It has been close to eight months since four Cardinals formally addressed Francis in a letter, asking for clarity on unorthodox aspects of his Apostolic Exhortation
Amoris laetitia
. It seems Francis has not had time to respond to these Prelates of the Church. But, when a nun working with transgender "women" writes a letter explaining her work, he cannot answer quickly enough.
His priorities seem quite clear. Disdain and antipathy for the conservatives; eager reception and sympathy for truly scandalous sinners who defy the nature God gave them and purport to "correct" the Creator's "mistakes."
This Carmelite nun is proud to be out in the filthiest trenches imaginable for a woman, making no effort to convert the sinners, to help them see the horror of their ways and to make repentance. The only ones this Carmelite nun judges and seeks to convert are the Catholics, still many in Argentina – thanks be to God – who will not accept transgenderism. These are the Catholics who still refuse to "walk with trans persons," as Francis
advises
, but correctly decry it as a sin against nature that cries out to Heaven for vengeance. Thus, also correctly, they shun so-called transgenders.
This so-called apostolate of this post-Vatican II Carmelite makes a mockery of the habit she wears and the once noble vocation she chose.
An actual transgender Carmelite
To this first abomination, we add another. A Carmelite Convent in Ontario, Canada, is taking support of transgenders a step further. It has accepted a man who calls himself a woman into the community. "Sister" Tia Michelle Pesando, formerly called Ted, is
being touted by progressivists
as "the world's first transgender nun," breaking the "taboo" of the Catholic Church that she supposedly uncharitably imposed for centuries.
Transgender Tia Pesando, accepted as a Carmelite novice
After 28 years living as a man, this Canadian decided to undergo hormone therapy and "transition" to the female genre. Two years later, "the call of God" came and he declared himself a "consecrated virgin." Next, Pesando decided to break the dividing wall still standing on the outskirts of what he/she calls "Francis's opening" to the LGBT communities and become a Carmelite nun.
In his book,
Why God Doesn't Hate You,
Pesando develops the theme of God's unconditional acceptance and love of everyone, regardless of gender identity and sexual orientation. It is an apologia for all unnatural sin and sinners: homosexuals and transgenders. Pretending to base himself-herself on the Saints and Doctors of the Church, Pesando offers a novel doctrine: The only important thing is love. He/she boldly applies St. Augustine's famous command "Love and do what you will" to the sins against nature.
Homos and transgenders should love and not fear God, Pesando affirms, quoting St. Therese of Lisieux who wrote, "How can I fear one I love?" God's love supersedes any notion of justice or sin, Pesando declares. God does not assign gender at Creation, according to this Vatican II's New Morals. He continues to love man unconditionally, even if the man decides to pretend to be a woman or vice-versa.
First
, we had the post-Conciliar Church and Popes stop teaching about sin. There are many youth today who have no notion of what a mortal sin is.
Second
, now, they take us a step further into the reign of Satan: accepting the unnatural sins of sodomy and transgenderism in the name of charity. It is a new doctrine that rejects the constant teaching of the Catholic Church.
"From a theological perspective, I think I have a solid argument," Pesando claims. This is wrong and ridiculous. Fifty years ago no Catholic priest or theologian would have taken such a "perspective" seriously, holding it inadmissible into the sacrosanct grounds of Catholic teaching. Today, we have a Pope who encourages the Church to "accompany" and "minister to" these scandalous sinners in their sins and the Carmelite Order accepts a transgender as a novice.
The tolerance adopted by Catholics after Vatican II has reached these inconceivable heights, certainly unsustainable for Catholics who follow the immutable teachings of the Faith.
August 11, 2017
| | | |
| --- | --- | --- |
| Volume I | Volume II | Volume III |
| Volume IV | Volume V | Volume VI |
| Volume VII | Volume VIII | Volume IX |
| Volume X | Volume XI | Special Edition |