Feminism
The Serious Threat of Catholic Feminism

Sunday, March 8, 2020, was International Women's Day. For those who do not know, this feminist "holiday" was created by Russian communists in the early 20th century. In true communist fashion, the occasion brought street protests all over the world this year, with noteworthy numbers in Chile and in Mexico.
This occasion of feminist class-struggle is not limited to the secular sphere: As outlined in the opening chapters of Atila Guimarães' book,
Fumus Satanae
(the eighth volume in the
11-volume collection on Vatican II
), the progressivist hierarchy in the Church is no stranger to feminism. In fact, since Pope Pius XII onward, the Conciliar Popes have openly supported the feminist agenda, and bishops and priests have followed suit.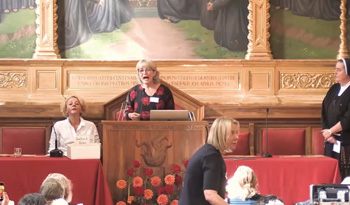 Symposium of Catholic Women Speak hosted by the Antonianum University, Rome, on January 10, 2018
In recent years, to celebrate International Women's Day, the Vatican has hosted a
feminist conference
within their walls from 2014 to 2018 in the
Casina Pio IV
(a villa located in the Vatican gardens). The conference was organized by a group called Voices of Faith, with their feminist speakers
reviewed and approved by the Vatican
.
After investigating Voices of Faith, I started to realize the depth and scope of this dark underbelly of Catholic feminism. Formed in 2013, Voices of Faith is led by 52-year-old Swiss lawyer Chantal Götz, and is an international network of Catholic feminist groups. (Götz happens to be the granddaughter of Fidel Götz, who
partnered with Cardinal Bea
to create the Pontifical Council for Promoting Christian Unity. )
Voices of Faith has featured and collaborated with all sorts of Catholic feminists. This includes but is not limited to: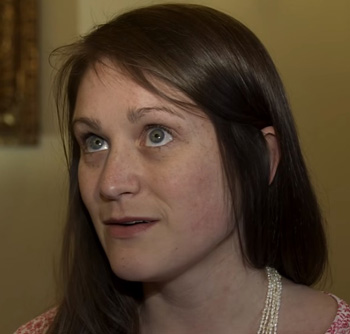 Kate McElwee, co-executive director of the Women's Ordination Conference
Deborah Rose-Milavec, an advocate for married priests & women's ordination (currently on VOF's advisory board);


Tina Beattie, pro-homo and pro-abortion theologian;


Ssenfuka Joanita Warry, pro-homo lesbian;


Kate McElwee, co-executive director of the Women's Ordination Conference;


Ursula Halligan, former journalist and pro-homo lesbian, coordinator of We Are Church in Ireland who was allowed to give a homily during Mass at the Jesuit Curia in Rome (also currently on VOF's advisory board).
In 2018, the group was forced to have their conference outside Vatican walls after authorities were notified that, besides having the presence of Ssenfuka Joanita Warry as a speaker, former Irish president
Mary McAleese
would be featured as its keynote speaker. Active in the radical leftist group
We Are Church
in Ireland, McAleese is certainly not known for being a "moderate" feminist, as she has made countless bold remarks, including:
The Church is an "empire of misogyny";


"Freedom of conscience... trumps [the idea] of mortal sin" (in reference to voting "yes" to homosexual marriage, see 5:30 mark here);


That it is acceptable to "have opinions within the Church that are at odds with the Magisterium" (again, 5:30 mark here).
The cancellation of their event in the Vatican has not stopped Voices of Faith from continuing its destruction – yes, this is its expressed goal. Founder Chantal Götz has stated: "The whole governing structure [of the Church] is crippled and paralyzed by clericalism. It cannot just be repaired somehow,
but must die and be resurrected in a totally new form.
" (see 13:00 mark
here
) (1)
Rather than focus its efforts on hosting one conference, Voices of Faith has insisted on going global. In 2019, VOF began their global "Overcoming Silence" media campaign, whose
goals
were for women to have voting rights in future synods, decisive functions in the Vatican, and leadership roles in all levels of the Church.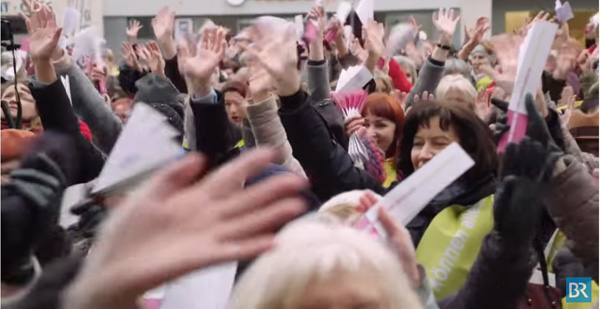 Women manifest in Germany requesting approval for women-priests
In November of 2019, Voices of Faith reported that the
Catholic Women's Council
was formed in Stuttgart, Germany. Interestingly, this elusive group has no official website, no listing of its current members or staff and no contact address. Yet, every time the Catholic Women's Council wishes to speak to the world, it uses Voices of Faith as its platform (see
here
and
here
).
This past March 8, Voices of Faith (aka Catholic Women's Council) organized a
global campaign
, with feminist protests staged for over
30 churches worldwide
. A large number of these
protests
occurred in Germany (in 8 of the 30 churches – almost one third).
There seems to be no greater force for Catholic feminism than in Germany, and their action and influence has extended to other German-speaking areas of Europe (Austria and Switzerland included).
Here are some recent examples of the bold actions of German and German-speaking feminists:
Maria 2.0, which we have previously reported on here, is one of the most radical and aggressive Catholic feminist groups in Germany. On January 31, 2020, in honor of the German Synodal Way, a mostly-female "liturgy" took place in St. Bartholomew Cathedral, Frankfurt, Germany. The organizers of the event were Maria 2.0, the Catholic Women's Council or Voices of Faith, and the St. Bartholomew Cathedral (yes, this church was involved in making the event happen).



Jacqueline Straub wants to be a priest; she has been promoted by the Swiss, French & German media

The "prayer service" was held for the equality of women in the Church, with some 600 women and men in attendance, and featuring several women in altar robes. According to the report from the Diocese of Limburg, "The women received support from the Bishop of Limburg, Georg Bätzing [he recently replaced Card. Reinhard Marx as head of the German Bishops Conference] … In an interview with journalists, he then emphasized the importance of fair participation by women in the Church."


During Lent in 2020, St. Nicholas Catholic Church in Munster, Germany, is hosting "Fastenpredigten" 2020, a series of Lenten "Eucharistic Celebrations" with sermons given by women. Lisa Kotter of Maria 2.0 is on the roster, among others. The church advertised the event on its website here.


This past March 7, the "Family Church Schmuckerau" in Vienna, Austria, recently hosted a performance of "The Vagina Monologues", a radical performance-play that promotes feminism, lesbianism and other shocking immoralities that I prefer not to list here. The event was advertised on the parish bulletin on p. 11 (here). This feminist event certainly could not have occurred without the approval of Card. Christoph Schönborn, Archbishop of Vienna. He is a long-time proponent of women deacons and priests, and a repeat-offender in matters of immorality.


Jacqueline Straub is a 29-year-old Swiss married woman who has proclaimed to the world that she wants to be a priest. She has been the subject of heavy media coverage: She was featured in a documentary aired by ARTE (a Franco-German television network which enjoys a major footprint in Europe), and has also been in featured segments by Bayerischen Rundfunk (one of the leading Bavarian television networks), and also recently Südwestrundfunk (SWR based in Stuttgart).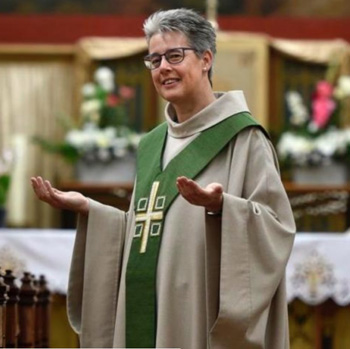 Dorenda Gies in the Netherlands dresses as a pastor, plays its role and is named pastor
With all things considered, what can we expect with this feminist action? Perhaps we can look to the Church in the Netherlands for an answer. The number of practicing Catholics in Protestant Netherlands is dwindling, and the presence of "priestesses" does not seem to be helping.
Indeed, in the Netherlands,
female priests are a reality
: with the absence of actual priests, laywomen are hired by churches as "pastoral workers," are allowed to wear priestly-looking garments, and are even called "pastor" in some places. The first female pastoral worker in the northeast Netherlands was introduced
over 26 years ago
. Yet despite this feminist novelty, church attendance is still at a seemingly all-time dismal low, with
only 5% of Dutch Catholics
actually attending Mass regularly.
With Progressivism bulldozing authentic Catholicity in the Church for the past 50 years, this Catholic feminism threatens to be another serious and damaging blow.
This idea of the Church having to "die" and "resurrect" is actually inspired by the progressivist doctrine of kenosis, which claims that the Church must participate in auto-demolition – 'crucifying' herself - in order to be like Christ. This doctrine is explained in Atila Guimarães book, Animus Delendi I, chap. II.
Posted March 13, 2020
| | | |
| --- | --- | --- |
| Volume I | Volume II | Volume III |
| Volume IV | Volume V | Volume VI |
| Volume VII | Volume VIII | Volume IX |
| Volume X | Volume XI | Special Edition |