War against Terrorism
Facing Muslim Blasphemies
Pope Asks for More Hospitality
Recently, I read that Francis made another universal plea for showing goodwill and hospitality to all the Muslim refugees. At a conference on August 13-14 in the Diocese of Ugento in southern Italy called "Mediterranean: A Sea of Bridges," Francis
sent a message
that the event would "enkindle a renewed commitment to promoting a culture of hospitality and solidarity and, thus, promote peace and fraternity among peoples."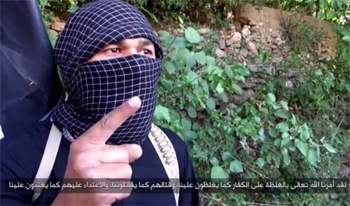 A masked jihadist sends his message: 'Slaughter, kill, stab them or, at least, spit on them'
The Muslim migrants, who are flooding Italy and all of Europe, provide an "opportunity" for establishing "dialogue among cultures," the Pontiff affirmed.
Hearing this, I wonder whether Francis is completely oblivious to reality or a conscious traitor. Does he not follow the news and see the crimes and terror his "dear and pacific" Muslims are perpetrating in Europe – robbings, beatings, rapes? More than this, is he really uninformed about the blasphemies committed and the hatred spewed against the Catholic Religion by so many of his beloved Muslims? How can he not see? And if he sees, why is he silent in face of crimes that cry to Heaven for vengeance and reparation?
Consider how ludicrous Francis' statement is in light of a recent statement by an ISIS chapter, who joined the growing chorus of threats against the West after the June 12 Orlando attack. In a video made in Afghanistan, an English speaking jihadist with a covered face, pictured above, tells his fellow Muslims to "try your level best to destroy all
kuffar
[disbelievers, that is to say, us]. By any means, slaughter them, hit them by your car, give them poison, stab them with a knife, punch them or, at least, spit on them."
Is this the dialogue among cultures the Pope is promoting? What kind of dialogue is this in which one party smiles and the other spits in its face?
Spitting on Catholics
One wonders where Francis was when Muslims spit on Catholics in Rome some time ago and screamed at them, "Death to the Pope!" A group of conservative young Catholic men were demonstrating against the Muslim invasion when they were assailed by both Muslims and the Italian police.
Muslims demonstrators in Rome, above, protected by the police while Catholics were dispersed...
The Muslims, holding signs that said "A good Christian is a beheaded Christian," began to provoke and taunt the Catholics, spitting at them and calling for their death. When the police arrived, it was not the Catholics making a peaceful rally who were protected, but rather the Muslims.
The police forced the Catholics out, calling out "Disperse!" When the Catholics left, the Muslims continued their anti-Catholic rally. This is the "dialogue" Francis-style: The streets of Rome were opened to the Muslims' vile diatribe against Catholics.
Unfortunately, for this kind of display, Francis simply has a blind eye, forgetting that the offense here is an affront to Our Lord Jesus Christ and his papacy that should represent Him.
Increasing attacks
The attacks by those receiving hospitality on the very ones offering it are increasing daily. In June, two young Muslim men, obviously enjoying the fruits of Western life dressed in Western clothing and riding a motorbike, spotted a Dutch female reporter on the streets of Rotterdam during a live broadcast. She was interviewing local politicians about the pro-Muslim invasion position of the city's mayor, Ahmed Aboutaleb, who at the time was staging a photo-op with "refugees" given shelter at Erasmus University.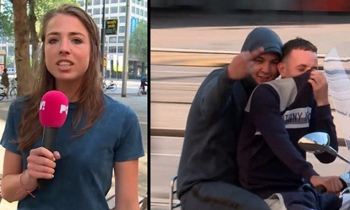 Two laughing youth spit on a reporter and make obscene gestures
The two youth rode by the reporter,
spat on her
openly, and made an obscene gesture at her as they laughed and sped away. No reprisals for the hoodlums, by the way.
This year a Muslim migrant
spat on a mother
and her children in a subway in Sweden after she tried to prevent him from stealing a handbag of an elderly woman. His supposed "punishment:" deportation to Denmark….
These are not isolated incidents. We are seeing such atrocities in the U.S. For example, a Saudi woman spat in the face of a Walmart customer who told her she was going in the wrong door. The Muslim woman justified her action by claiming that she was being "pushed around by whites" and that "a higher authority" told her to do it. Several weeks earlier she had spat at one of her professors at Florida Institute of Technology, where she is a guest student.
It should be noted that it is custom for Muslims to spit on infidels and women who do not cover their heads in public. Following Francis' guidelines, perhaps we are supposed to respect the "culture and traditions" of these refugees…
Shameful position of the Bishops
It is not enough that across Europe and America Catholic Prelates are allowing representatives of Islam to freely share their pulpits in the name of dialogue.
Other Muslims
show their gratitude for Western hospitality by entering these churches to spit on crucifixes, smash statues and, then, pray to Allah, with the aim of blaspheming Christ.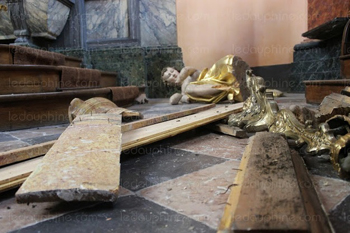 Altar destroyed, statues broken, hosts desecrated....
For example, a young Muslim guest in Thonon-les-Bains, France, entered the Church of Saint-Hippolyte and the adjacent Basilica of St. Francis de Sales on August 5, 2015, and proceeded to overturn two altars, destroy statues, twist a bronze cross, tear down a tabernacle and trample on the Hosts. The parish priest confirmed it was a Muslim who did the act, but, following the Francis guidelines, he did not dare to suggest any religious motivation for the horrendous profanation.
Even when Muslim attackers slit the throat of the 85-year-old Fr. Jacdques Hamel in Northern France on July 26, 2016, in an act of
jihad
, the Pope
only complained
about another act of "absurd violence," expressing sorrow for this and "every form of hatred." Not a word of condemnation for Islamic terrorism, which everyone knows is the root problem of this crime and so many others.
In addition to the countless incidents of Muslim persecution of Catholics in Islamic countries of the Middle East and Africa,
reported regularly
by the Gatestone Institute, their records also recount a growing roster of horrendous crimes by Muslims in Europe, the US and the UK.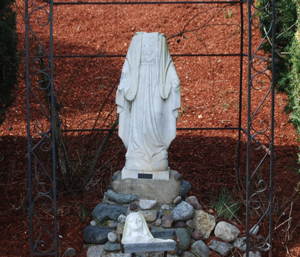 No response from the Church authorities ....
In the US, for example, recently statues were vandalized in a Catholic church in Massachusetts, the head and hands severed from an image of the Virgin Mary. Similar
acts of vandalism
are being made in the countries where Muslim migrants have been offered refuge.
Rather than respond with indignation to these offenses, the Bishops, following the mandate of Francis, favor importing hundreds of thousands more Muslims in the US and Europe.
It is insanity, a mania that feeds the self-destruction of the West. I say self-destruction because it is the naïve West that opens its doors and borders and offers hospitality to the Muslims who boast about the religious war they are waging, while the Catholic Pontiff and the progressivist establishment insist that, under no conditions, is this a religious war….
Are these religious authorities not traitors?

Posted August 19, 2016
| | | |
| --- | --- | --- |
| Volume I | Volume II | Volume III |
| Volume IV | Volume V | Volume VI |
| Volume VII | Volume VIII | Volume IX |
| Volume X | Volume XI | Special Edition |