International Affairs

Making America Socialist - Part V
Podemos in the Spanish Government
What is called 21
st
century Socialism has been spreading rapidly from Spain to Hispanic-America, and continues doggedly to make new conquests.
This action hails from the College of Political Sciences at Complutense University of Madrid (UCM). This Institute had become the headquarters of the leaders of the socialist party
Podemos
("We can"), as Spanish daily
El Economista
reports
: "The College of Political Science at Complutense University of Madrid is the cradle and current fishing pool of
Podemos
."
The future radically-left party
Podemos
was born from the protests that took over the Spanish capital in May of 2011. The protesters called themselves
indignados
, that is, indignant people. It also is known as the Spanish Occupy Movement in the US.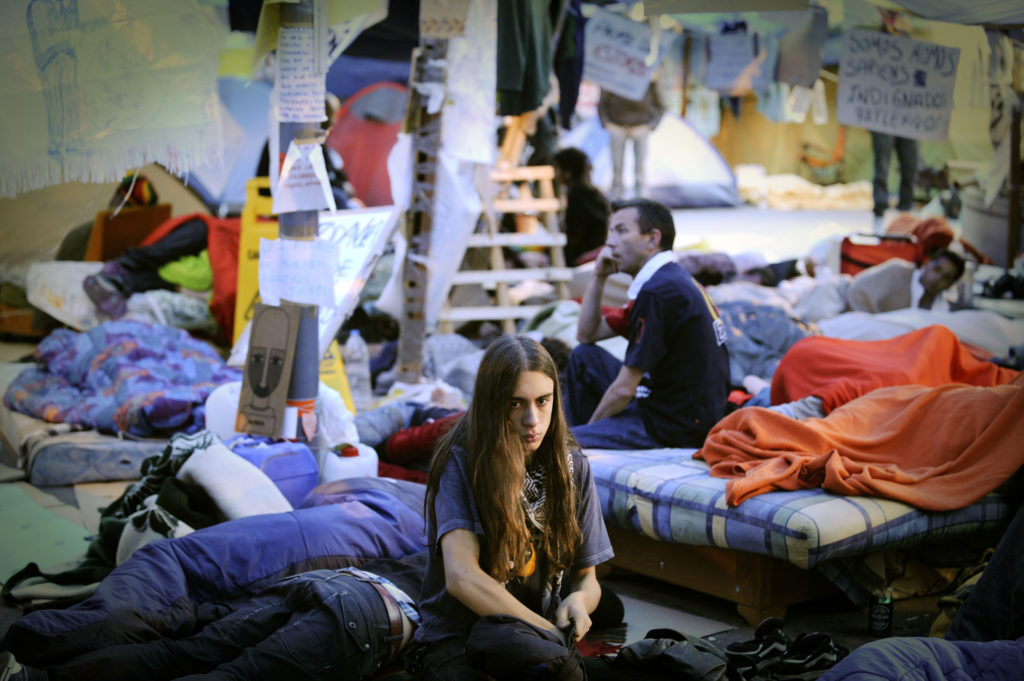 Youth making demands for progressive reforms camped out in the city square Puerta de Sol
This movement, first known as 15-M (15th of May), became the party
Podemos
. In the days following the landmark May 15, 2011 protests, Madrid's square
Puerta del Sol
became the focus of demonstrations and the campground of dozens of young Spaniards. They pitched tents and demonstrated for electoral reform and women's rights and against Capitalism.
The idea of occupying urban squares quickly spread via social networks (often with the hashtag #spanishrevolution). Soon
indignados
were camping out in towns across the nation.
That 15-M experience later formed the DNA of
Podemos
.
Although the camp-outs and massive demonstrations ended a month later, the influence of the protest movement did not. In neighborhood committees, disgruntled citizens began to gather to discuss local and national issues. Regular citizens had supposedly discovered that they could change the system and that everyone and anyone could participate.
Podemos
became the most visible legacy of the
indignados.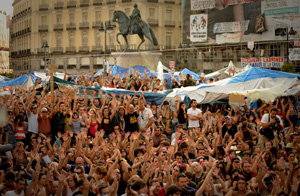 The Puerta del Sol filled with demonstrators
Behind the 2011 protests were deep leftist university professors of Madrid who were convinced now was the time for political transformation. Led by Pablo Iglesias, they founded
Podemos
in 2014 and won five seats in the European Parliament. In 2015
Podemos
candidates had already taken control of major cities throughout Spain.
As
Podemos
grew stronger, its members began to expand, offering consulting services to Hispanic-American governments.
CEPS & Foro de São Paulo
Socialism became stronger in Spain with 15-M and
Podemos
, and also with
CEPS
(Center for Political and Social Studies Foundation). This think-tank placed in Valencia provided political, legal and economic counsel to left-wing Latin-American governments.
CEPS is responsible for much of the socialist plague in Latin America. It trains the future leaders of the "'progressiste left."
CEPS established ties with the São Paulo Forum, a conference of the left-wing leaders of Latin America. The Ecuadorian daily
Primícias
confirms:
"When the parties linked to the São Paulo Forum … began to rise to power in Latin America, they created strong party structures and reshaped state administrations according to their ideals. One of the many organizations that moved ideas in Latin America was the defunct Center for Political and Social Studies (CEPS). This was a foundation that worked from Spain with the governments of 21
st
century Socialism."
Consulting for Spanish Governments in Latin America
Despite the group's ardent socialist ideals, CEPS did not work for free. It sent pricey invoices to Latin-American client-countries. One example among many is Venezuela, which was charged 4 million Euros ($4.71 million) by CEPS.
One of CEPS best clients was Chavist Venezuela. The non-profit foundation signed several yearly contracts with different ministries of the Venezuelan government. Then CEPS provided Chávez with a jurist, an economist and a constitutionalist. The invoice ranged between 7,000 and 7,500 Euros ($8,250 to $8.850) per month for each advisor.
It was CEPS that enabled Chávez to rise and remain in power, as reported by
ABC
: "CEPS advisers counseled Hugo Chávez on his main political lines, from the modifications of the Bolivarian constitution to perpetuating himself in power, from how to manage government crises or strategies to how to silence the opposition."
In fact, the Venezuelan National Assembly recently opened an official investigation into alleged financial ties between the Spanish socialist party
Podemos
and the administration of the late Hugo Chávez, according to documents obtained by
El Pais
.
CEPS & Podemos
There was a strong connection between CEPS and
Podemos
, despite its claim of non-affiliation to any political party.
CEPS functioned as a money funnel for Podemos. It took millions from Latin-American countries and passed the funds to
Podemos
, as reported by
OK Diario
: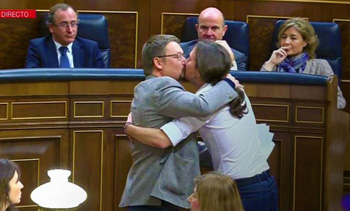 Pablo Iglesias expresses his warm support for an MP in the Spanish Parliament
"Pablo Iglesias not only managed to be a personal beneficiary of funds from the Venezuelan drug dictatorship during a period in the CEPS Foundation … If the leader of
Podemos
and eight other members of the Foundation's Executive Council managed to raise $1.6 million during the years 2008 and 2009 from the Venezuelan dictatorship, they also obtained … a massive flow of money from Ecuador - 369,019 Euros for multiple agreements. During those two years, Iglesias was a member of the Executive Council and also the Foundation's Research director. And he and the rest of the eight members … were 'beneficiaries' of the funds received."
Another source confirms that CEPS received money from Venezuela, Ecuador and Bolivia. The
Odebrecht scandal
, which took down Ecuador's once powerful vice-president on charges of
wide-ranging corruption
, is still being investigated in Ecuador.
Primicias
reports
: "The then leaders of
Podemos
, Pablo Iglesias, Juan Carlos Monedero and Íñigo Errejón, appeared as its directors. And the Center received money from the governments of Venezuela, Ecuador and Bolivia. In addition, payments from Odebrecht to
Podemos
through CEPS are still being investigated in Ecuador."
Constitutions & power
One of the "legal" means the Spanish socialists have used to gain power in Latin America is by altering the Constitution of each country to suit its agenda. Prof. Allan Brewer-Carías (Central University of Venezuela)
comments
:
"Populist movements, at least in the recent world and in Latin America, have come to power at the expense of the Constitution: convening constituent assemblies, pretending to directly consult the popular will against the established constitutions, and then approving
magnae cartae
that have established mechanisms that weaken the fundamental elements of a Constitution."
CEPS replaced by CELAG
Acting as a veiled extension of CEPS, another think-tank was founded in 2014 by the Spanish socialists, but this time in Latin America, under the name of CELAG (Stratetic Latin-American Center of Geopolitics). Its executive director, Alfredo Serrano Mancilla, is one of the founders of Spain's
Podemos
party.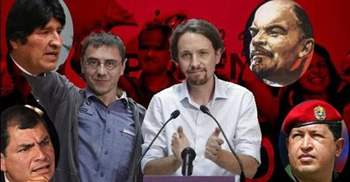 Bringing an even more radical socialism to Spain
CELAG's reach extends throughout Latin America and the Caribbean, with research teams in Argentina, Bolivia, Colombia, Ecuador, Mexico, Chile, Paraguay and Venezuela. Its work also
purportedly extends
to the United States.
CELAG is the heir of the Center for Political and Social Studies (CEPS), the Spanish foundation whose directors were Pablo Iglesias and Juan Carlos Monedero, directors of
Podemos
. As accusations of corruption against CEPS increased, especially after the Spanish press revealed millions of dollars received from the Correa and Venezuelan Hugo Chávez governments between 2009 and 2014, it lowered its profile until it disappeared. (Read more
here
) But not before its successor CELAG rose to take its place in generating leftist strategies for political conquest in Latin America.
Podemos enters Spain's government
As is normal in the left, the socialists almost never rise to power by an electoral majority. Public opinion normally rejects their leftist policies.
Such is the case of the capture of the Spanish vice-presidency by
Podemos
.
BBC Mundo
reports that after months of unsuccessful negotiations between the main left-wing parties in Spain to form a government in 2019, an "agreement" was reached to form a progressivist coalition government.
Thus, after taking advantage of South American socialist demagogues,
Podemos
stepped in to take advantage of the extended electoral crisis. Unable to form a government after inconclusive elections, Spain's ruling socialist party, the PSOE, reached an accord with the more radical leftist
Podemos
, installing its leader Pablo Iglesias as vice president even though his constituency is much smaller.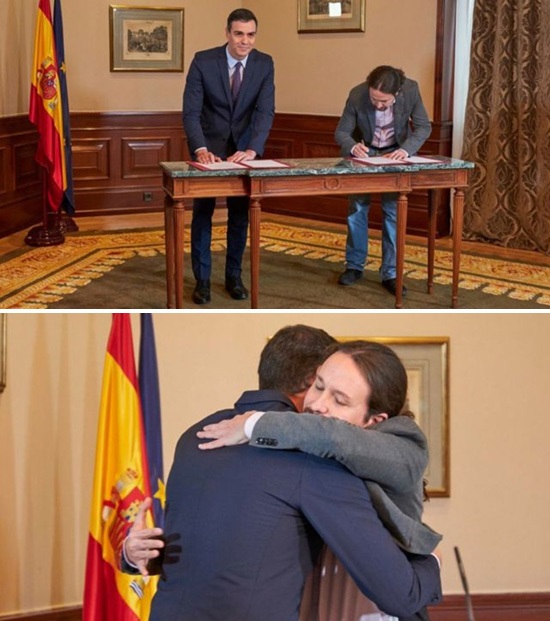 Radical leftist Podemos movement takes power in Spain:
Top, Pres. Pedro Sánchez gives the vice-presidency to Pablo Iglesias;
Bottom, Sánchez and Iglesias embrace to seal the new alliance

Posted March 26, 2021
| | | |
| --- | --- | --- |
| Volume I | Volume II | Volume III |
| Volume IV | Volume V | Volume VI |
| Volume VII | Volume VIII | Volume IX |
| Volume X | Volume XI | Special Edition |