Organic Society
Regionalism, Tradition & Good Taste
Regarding art, two equally wrong extremes should be avoided. One is cosmopolitanism, which strives to create a single art for the whole world, without considering the characteristics of each people and region. The other is Jacobinism, which rejects any foreign influence, even in cases where it is legitimate and necessary, in order to enclose oneself in a purely national context.
One can observe the cosmopolitan trend quite sharply in the construction of the cement and iron mammoth-buildings that a certain art is raising with bleak uniformity in Kuwait as in Switzerland, in South Africa as in Brazil, in Japan as in France, indifferently installed in banks, prisons, stock markets, temples and theaters. The Jacobin trend, in Brazil at least, reveals itself in the notion that art is only authentic when inspired by motifs drawn from productions – albeit interesting – of the Indians and blacks, which represents – in a completely artificially way, let it be said in passing – the superstitions and customs that are slowly dying among them.
In reality, the fact that dominates the cultural history of the three Americas is the coming of the European, who brought with him centuries of a baptized and glorious civilization. He meant to continue that civilization in the New World, adroitly adapting it and acclimatizing it to our continent.
The European inspiration – which was not just the influence of one man, but rather of a whole ambience formed by centuries of good sense – gradually grew and gave rise to diverse rich regionalisms. And thus was born a North American colonial style, distinctly regional, though rich in all the flavors of English culture. In Brazil a colonial style also emerged, filled with the magnificent Lusitanian sap but profoundly suited to our Brazilian temperament and way of being.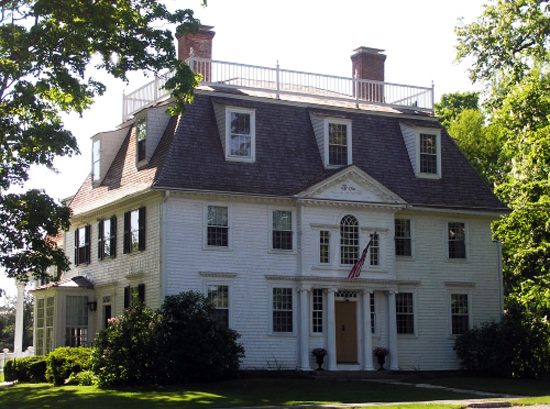 The picture
above
represents a beautiful and harmonious American building constructed through centuries. It belongs to the so-called late colonial style, and was built in 1760 by Elisha Sheldon. Originally its external appearance was simpler. Washington spent a night in this house, and that bed is still in use. In 1800, the structure was embellished by William Spatt with various decorative elements in use in North American construction of the time, that is, the entrance colonnade and the cornices above the windows.
And so it took on the final appearance of a comfortable, spacious, dignified and elegant house, made for stable, calm and temperate family life, marked by a visible English influence as well as a discreet regionalist tone that provides its true grace.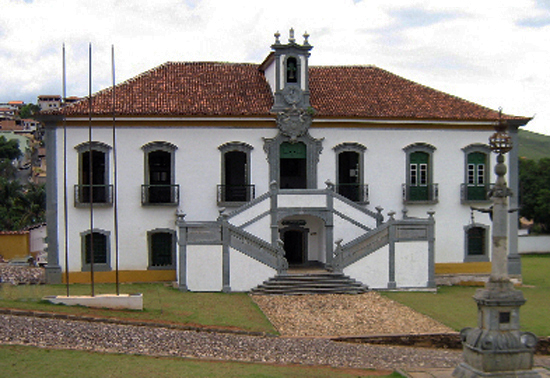 Who cannot note the Portuguese-inspired strength, stability and logic in the building in this second picture
above
? The edifice, which is the Town Hall and Jail in the city of Mariana, State of Minas Gerais, Brazil, is marked by good sense, balance and grace. In it, however, one finds a distinct Brazilian mark, expressed in its simplicity and appearance of a family home, in a special
bonhomie
without vulgarity, which distinguishes all that is authentically Brazilian.
These are two very different styles, one that was born in England and thrived in the northern U.S., the other that was born in Portugal and flourished in the sweetness of the Brazilian climate. Both wisely established on a balanced position between cosmopolitanism and Jacobinism. Two styles – above all in Brazil with the influence of the love that the Church has for all races – that knew how to create a harmonious ambience with picturesque elements of African or Indigenous origins, without mutilating or destroying them, but rather entwining them to make a beautiful garland of cultures, neither adoring them nor annihilating themselves before them.
These are examples of complex, sensible and robust cultural works, the products of whole generations of men of good sense and good taste – and, in the case of Brazil, men enjoying the gift of gifts, which is the true Faith – which serves to preserve us from the iconoclast cosmopolitanism of our times.

Catolicismo n. 49 - January 1955
Posted September 9, 2013