Organic Society
Rocking Horses for One Generation
after Another
There was a time when treasured toys were passed from one generation to another in a family. Recently the French magazine
Point de Vue
(Dec. 16-22, 2015) featured an article on the rocking horses of the English Royal Family, charming mounts that were the playmate favorites of Princesses Elizabeth and Margaret, then became the mounts of their children and, today, are destined to become treasures of their children's children.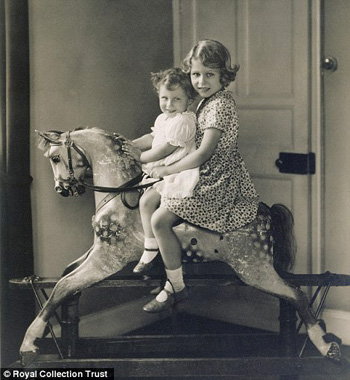 Princesses Elizabeth, 6, and Margaret, 2, perched on a dapple grey at St. Paul's Walden Bury, their maternal grandparents property
When Elizabeth and Margaret were girls living in the Piccadilly manor in London, a special part of their nursery play room was set aside as a "stable" to house some 30 wooden horses and stuffed mounts on wheels, which were also popular at the time.
The girls took their horse duties quite seriously, relates governess Marion Crawford in her memoirs. "Every night, the saddles were removed; the horses watered and fed, one after another. No matter what was going on around them, it was a priority regularly executed. Their fascination with their rocking horses and horses on wheels continued until real living horses began to play a more important place in their lives."
But the old "friends" were still cherished and remembered. After they moved to Buckingham Palace, the whole parade of horses went with them, destined to be the treasured mounts of future generations. And the number of wooden horses in the palace nursery stable grew, since it became common knowledge that the gift of a rocking horse was sure to please the Queen.
Continuing a family tradition
During the Victorian times, rocking horses were quite the fashion, especially the dapple grey favored by Queen Victoria. Some of those horses even had secret compartments to keep family treasures such as heirloom lockets, braided hair strands, etc. But then rocking horse popularity went into decline. Toy designers moved to products that could be mass produced – used and thrown away; with the advent of electronic gadgets to stimulate the youth, the rocking horse was relegated to the antique stores.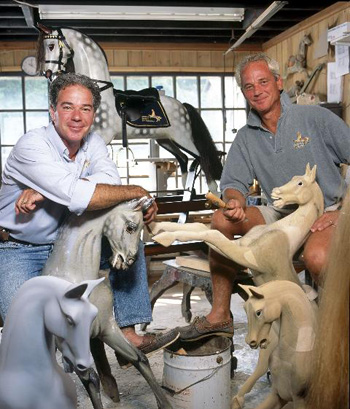 With a meager start, Marc and Tony Stevenson created a prosperous workshop
Into this scenario fraternal twins Marc and Tony Stevenson in the village of Bethersden, some 50 miles southeast of London, entered the picture in 1982. They came from a family of carpenters: Their father was a shipwright and their maternal uncle James Bosworthick had been crafting rocking horses and other wood toys all his life. "We always hoped he would give us one," noted Marc, a graphics design graduate, " but it never came."
So, he and his brother Tony, a self-taught carpenter, conceived the idea of starting a shop dedicated to creating the finest quality rocking horse available and to make it a "must-have" item on children's wish list once again.
The entrepreneurs went to see their uncle and asked him to teach them the craft, but he brushed them off, telling them rocking horses were a thing of the past and electronic toys the way of the future. The twins persisted and, finally, he agreed to train one of them in the fading art and asked for a £1000 as proof of their seriousness. The brothers agreed, borrowed the money for the fee, and Tony entered the apprenticeship.
Soon afterwards, the 25-year-olds opened their first shop in a former RAF fighter shed located on their sister's farm and the adventure began. On October 20, 1982, their 26th birthday, the twins sold their first horse made according to Uncle James' plan. They numbered it 001 on a brass plaque bearing the date and the Stevenson Brothers name and sold it for $600. (Today the price for a Stevenson's original runs anywhere from $2500 to $8,000 for the royal limited editions.)
From the beginning, the brothers determined that every horse would be a unique, handcrafted, lifelong piece of work, each one numbered. Even today, with a professional workshop and 18 dedicated employees all considered part of the Stevenson Bros. family, each horse takes between eight and ten weeks to go from tree to horse, depending on the size of the rocking horse, which come in three sizes - 3 ft., 4 ft. and 5 ft..
The attention to detail is extraordinary: The leather saddles and bridles are of the highest quality; the livery includes blankets with embroidered initials or emblems or any device the customer wishes. The long soft manes and tails are real horsehair, and the carved mouth and glass eyes are framed so that each horse has its own expression.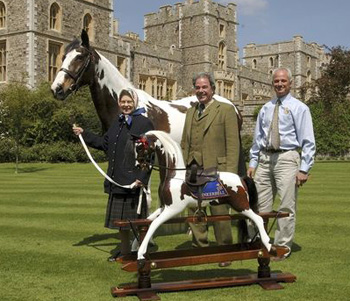 Tinkerbell, a gift for the Queen's 80th birthday
Their standard horses are very popular, but the brothers' specialty is making copies of people's horses. About a third of their orders are from people wanting a rocking horse of their own horse. "We work from photographs to be certain that the markings are reproduced faithfully," explained Marc. But it is more about capturing the spirit of the original."
In 2005 Great Britain had the opportunity to see Stevenson Brothers' handiwork displayed prominently in the press when they presented to Queen Elizabeth a replica of one of her favorite mares, Tinkerbell, on her 80th birthday. The rocking horse sported Tinkerbell's markings, mane, and blue, red and gold embroidered saddle cloth, which bears the EIIR cipher and crown.
An encouraging success story
Contrary to all expectations and predictions, the Stevenson Brothers Rocking Horses thrived in the modern market, making a niche for themselves among a clientele that was still seeking marvelous toys and quality goods.
In a little over 30 years, the Stevenson brothers have created some 8,500 pieces, true works of art designed in accordance with traditional techniques. Apart from their sheer beauty, each horse has the value of being unique: No two horses are exactly the same, each one bearing the mark and style of its maker.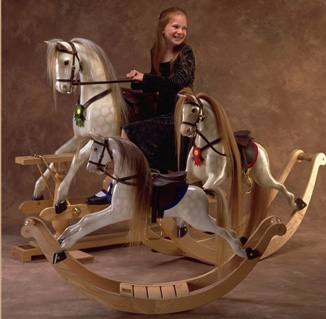 A girl becomes a princess on her rocking horse adventures
The brothers have no plans to change this old-fashioned way of crafting rocking horses. Far from being tempted into the morass of mass-production, they want to keep creating quality works that will be passed on from generation to generation. Although today Stevenson Brothers is the best known producer of rocking horses in the world, today it is turning out only some 500 a year, with no plans for any drastic increase in number.
The brothers attribute their success to the fulfillment of their initial aims: to create something beautiful and marvelous that would appeal to the imagination of every child, and to maintain the tone and craftsmanship of a proud family business.
"There is something magical about rocking horses that is missing in today's toys," says Marc Stevenson. "A rocking horse frees a child's imagination. A child can jump over the moon and be back in time for supper. He can soar across the Grand Canyon, chase down and capture the bad guys—and always win the race."
The appeal is not confined to children. Marc tells of a lady who ordered a custom-made rocking horse for her sister's 84th birthday. "We wrapped it up in a white cloth and tied a red ribbon around it. When the lady opened it, I saw the tears fall from her face."
The
story of the Stevenson Brothers
is a success story that offers hope in a modern world that pushes for gigantic proportion of mass-produced goods with the sole aim of making more money. Their quality hand-made rocking horses are proof that man still has a taste for excellence, a desire for beautiful things that stir the imagination and a respect for the dignity of fine craftsmanship.

Using a photograph for a custom model; at right, lined up in the company showroom
Posted February 17, 2016


Prof. Plinio

Organic Society was a theme dear to the late Prof. Plinio Corrêa de Oliveira. He addressed this topic on countless occasions during his life - at times in lectures for the formation of his disciples, at times in meetings with friends who gathered to study the social aspects and history of Christendom, at times just in passing.

Atila S. Guimarães selected excerpts of these lectures and conversations from the transcripts of tapes and his own personal notes. He translated and adapted them into articles for the TIA website. In these texts fidelity to the original ideas and words is kept as much as possible.

| | | |
| --- | --- | --- |
| Volume I | Volume II | Volume III |
| Volume IV | Volume V | Volume VI |
| Volume VII | Volume VIII | Volume IX |
| Volume XI | Special Edition | Special Edition |