Documents for your files
PROGRESSIVIST DOCUMENT OF THE WEEK
Conference on Teilhard de Chardin
at the Pontifical Gregorian University
On November 9-10, 2012, the Pontifical Gregorian University in Rome hosted a conference honoring Teilhard de Chardin. The gathering convened under the honorary presidency of Cardinal Paul Poupard, President emeritus of the Vatican Pontifical Council for Culture. The present day President of that Council, Cardinal Gianfranco Ravasi, gave the welcoming speech.
Here is another event that shows how the influence of the Teilhard de Chardin is being increasingly recognized in the post-conciliar Church.
Below
is a photo of the poster advertising the conference. Our translation is immediately above it. The
Mass on the World
written by Teilhard de Chardin was sung at the end of the conference.
Below the photos
is our translation from Italian of the schedule of the conference lectures.
Teilhard de Chardin Association
Sponsored by the Pontifical Gregorian University
and Honorary President Cardinal Paul Poupard

Teilhard de Chardin European Conference

Today's Anthropological Challenges
A Reading of Pierre Teilhard de Chardin
for a Renewed Evangelization

50 years after Vatican Council II

November 9-10, 2012
Pontifical Gregorian University - Rome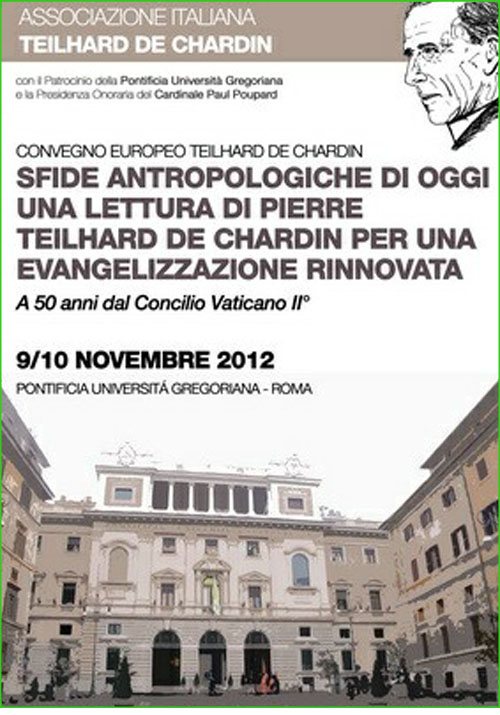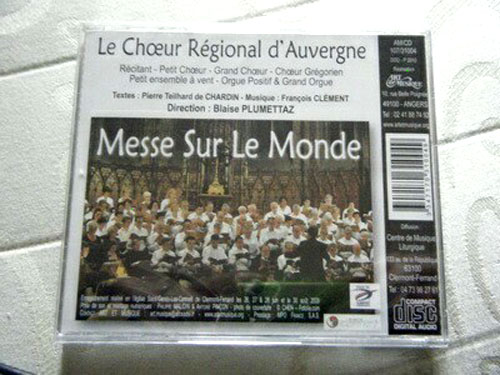 Credit to
Catapulta
November 9, 2012
Inaugural speech
: Fr. François Xavier Dumortier, S.J., Rector of the Pontifical Gregorian University
Welcoming talk
: Card. Giancarlo Ravasi, President of the Pontifical Council for Culture
Openness of the works
: Card. Paul Poupard, President Emeritus of the Pontifical Council for Culture
Greetings
: Anna Maria Tassone Bernardi, President of the Italian Teilhard de Chardin Association; Gerard Donnadieu, President of French Association of The Friends of Fr. Teilhard de Chardin
Fr. Teilhard de Chardin's contribution to the thinking on today's mission of the Church
: Msgr. André Dupleix, Honorary Rector of the Catholic Institute of Toulouse and Professor at the Catholic Institute of Paris
Evangelization: The conciliar Constitution Gaudium et Spes and Teilhard de Chardin
: Fr. Rosino Gibellini, Theologian and Literary Director of
Editrice Queriniana
A new threshold of humanization in economic, cultural and social relations
: David Grumet, Professor of Theology at Cambridge University
Total growth for human: "Male and female He created them"
: Anna Maria Tassone Bernardi, Author and President of the Italian Teilhard de Chardin Association
The role of cybernetics in a Teihardian vision
: Fr. Antonio Spadaro, S.J., Writer and Director of
La Civiltà Cattolica
magazine
November 10, 2012


The Church before the contemporary demand of liberty
: Marie-Jeanne Coutagne, Professor of Philosophy at the Catholic University of Lyons and at the Sèvres Center, Secretary of the Teilhard de Chardin Foundation
Teilhard de Chardin and Henri de Lubac before the challenge of the Second Vatican Council
: Msgr. Eric de Moulins-Beaufort, Auxiliary Bishop of Paris
The spiritual need of the world and the theological development of the Faith
: Fr. Alfredo Dinis, S.J., Professor of Philosophy at the Catholic University of Braga, Portugal
A planetary vision of mankind: the Noosphere
: Fr. Augustin Udias, S.J., Professor of Geophysics at the Complutense University of Madrid
The usefulness of Teilhard's vision today with regard to the religions of the world
: Gérard Donnadieu, President of the French Association of the Friends of Fr. Teilhard de Chardin
Teilhard and the openness of inter-religious problems:
Luciano Mazzoni Benoni, Religious anthropologist, Coordinator of the Inter-religious Forum of Parma
Teilhard de Chardin in the heart of the world: Dialogue with non-believers:
Evelyne Maurice, Professor of Theology at the Jesuit Faculty of Paris (Sèvres Center)
The evolving vision of the world and the Cosmic Christ
: Msgr. Thierry Magnin, Rector of the Catholic University of Lyons
Conclusion
: Card. Paul Poupard
Holy Mass
with the reading of the
Mass over the World
by Teilhard de Chardin
Posted on December 1, 2012