Documents for your files
PROGRESSIVIST DOCUMENT OF THE WEEK
Brazilian Bishop Celebrates Lodge's Anniversary
Atalaia do Sul [Southern Watchtower] Lodge in the city of Campos in the State of Rio de Janeiro, Brazil, invited Diocesan Bishop Roberto Paz to deliver a speech there this coming August 14, 2017, the day celebrating the 98th anniversary of that Masonic organization.
Bishop Paz is following the steps of so many other Prelates who, under the inspiration of Vatican Council II, became friends of Freemasonry and have visited their lodges.
Below
, we present a photocopy of the invitation issued by the Masonic Lodge to its members and friends.
Above the letter in Portuguese, we present its complete translation to English in blue print.
A.'.R.'.I.'.S.'. Southern Watchtower - n. 949
Affiliated to the Great Orient of Brazil

Orient of Campos of the Goytacazes - Rio de Janeiro

INVITATION

We have the honor to invite you to the Grand Session Anniversary of the Masonic Lodge Southern Watchtower, which will take place on August 14, 2017, at 20:00 hours in the Temple on Rui Barbosa Avenue n. 989, Downtown - Campos of the Goytacazes - Rio de Janeiro. We will celebrate 98 years of activity.

The speaker at the event will be Dom Roberto Francisco Ferrería Paz, Bishop of the Diocese of Campos of the Goytacazes. Come to give prestige to us. Bring your family members and friends. It will be an honor to receive you!

Otacilio de Souza Junior
Venerable Master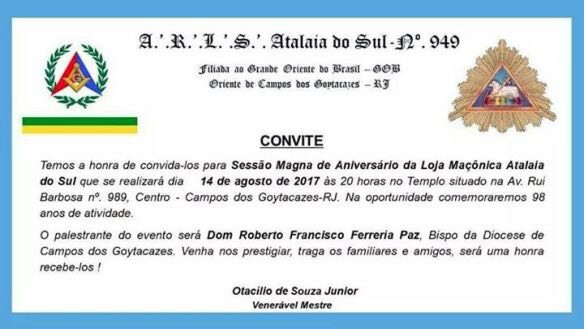 For a larger copy click
here