Progressivism in the Church
Church Revolution in Pictures


Photo of the Week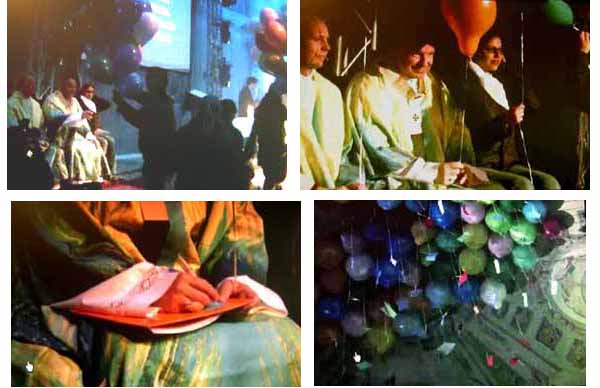 Balloon-rock Mass in Vienna
You are looking at photos of a youth Mass said by the Archbishop of Vienna, Cardinal Christoph von Schonborn, favorite disciple of Pope Benedict XVI. Above first row, he receives a balloon along with the other attendees; then, second row, he writes a prayer intention on a piece of paper attached to it. The balloons are set free and float up to fill up the cupola of the church. It seems like a quite primitive analogy to Catholic prayer...

This initial stunt as well as the entire Mass take place in the flashing florescent-light ambience of a church transformed into a discotheque, to the rhythm of rock performed by a band, below first row left. The acolyte of his Mass is a young woman, at right.

The host in the Consecration, second row, is made of a kind of Arabian bread in a mini-pizza shape. The rough bread can be seen in the "ciboria" at right. It was distributed to the communicants without any care for falling particles.

Card. Schonborn is one of the top papabile candidates to replace Benedict XVI...

To make your own judgment, watch the video here.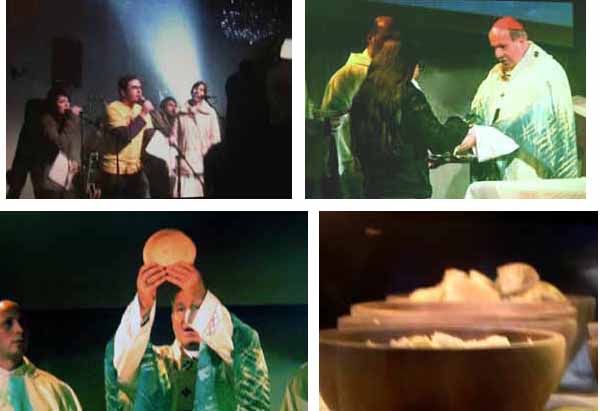 Posted December 28, 2008

Related Topics of Interest

Disco Mass in Vienna

Whipped Cream Orgy in Vienna

A Man and a Woman Lying on an Altar in Vienna

A Moral-Free Mass on the Outskirts of Vienna

Cologne's Basilica Offers a Disco Display of Lights

Disco Mass in Eisensdat

Eucharistic Congress Turned into a Rock Concert
Pictures | Home | Books | CDs | Search | Contact Us | Donate



© 2002- Tradition in Action, Inc. All Rights Reserved