Progressivism in the Church
Church Revolution in Pictures


Photo of the Week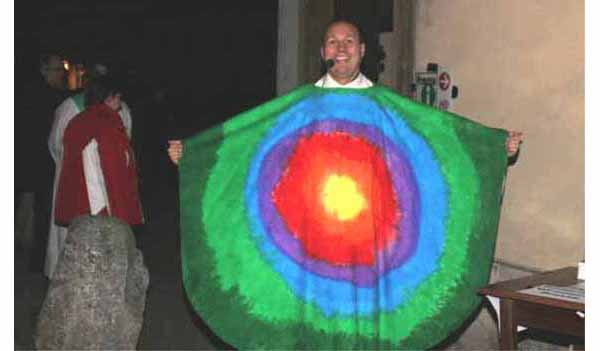 Kreutz.com
A Vienna Rainbow Priest
Vienna has gradually been transformed into the Mecca of extravagant disco Masses, with the due support of its Archbishop, Cardinal Christoph von Schonborn. Before entering one of these Masses, a priest poses for the camera wearing rainbow vestments.

It seems that we are witnessing another tacit approval of homosexuality.

Von Schonborn is one of the favored disciples of Benedict XVI who helped him become Pope, and is viewed as his possible successor.
Posted March 15, 2009

Related Topics of Interest

Church Welcomes British 'Gay Pride' Parade

Life and Death in a 'Gay' Parish

Hierarchy Urges Soft Approach to Homosexuals

Cover-Up in the Austrian Scandal

Paul VI's Homosexuality: Testimony of Prof. Bellegrandi

John Paul II in Rainbow Vestments

Prelates Wear Rainbow-Colored Vestments

A Dispute over the Rainbow

Visit Our Page on Homosexuality in the Clergy
Pictures | Home | Books | CDs | Search | Contact Us | Donate



© 2002- Tradition in Action, Inc. All Rights Reserved