Progressivism in the Church
Church Revolution in Pictures

Photo of the Week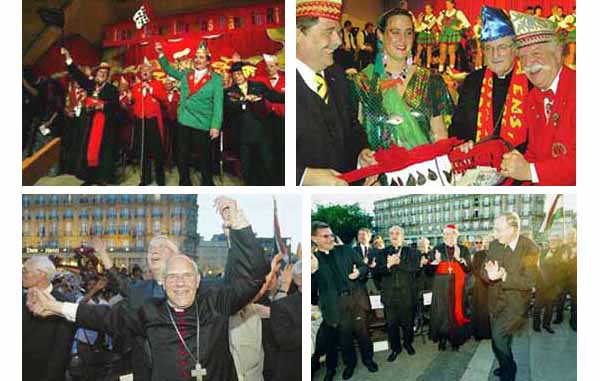 Card. Meisner and his clergy dancing at Carnival
It is February 2005; it is Carnival. Cologne is preparing for the 20th World Youth Day that will be hosted there in August. Cardinal Joachim Meisner, Archbishop of Cologne, and the monsignors of his clergy - unable to resist the rhythm of the Carnival music - join the fun in the city's clubs and streets.

Above first row left, we see the Prelate wearing a festive hat and waving a small banner with the city colors; at right, he has changed his hat, and on a stage behind him we see a group of young women showing their legs in green mini-skirts.

Second row, two of his monsignors give a public demonstration of their dancing skills. In the picture at right, we can observe the Cardinal clapping his hands to set the correct rhythm for his subordinates.

Below, the Prelate is sharing his effusive joy with a woman on the street.

There could be no better preparation to receive Benedict XVI in the WYD...

Thanks to Vatican II and its adaption to the modern world, Prelates and clergy have abandoned the meditations, penances and sacrifices they used to make during Carnival.

They also present a God that they shape according to their own image and likeness. For any serious person a question comes to mind: Are these men still Catholics?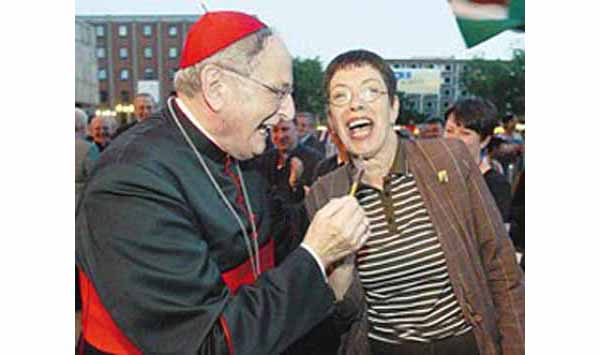 Photos from Inter multiplices Una Vox
Posted July 5, 2009

Related Topics of Interest

JPII Dances to Rock Music

Cologne's Cardinal in Carnival Attire

Card. Lehmann has been Chosen Fool of the Year

Lehmann Hands over His Clownish Title

Archbishop of Salzburg Celebrates a Clown Mass

Cultural Revolution under the Church's Umbrella

Belgian Nun Dances with Priest at WYD

Pope Wojtyla Poses in a Carnival Mask
Pictures | Home | Books | CDs | Search | Contact Us | Donate



© 2002- Tradition in Action, Inc. All Rights Reserved