Progressivism in the Church
Church Revolution in Pictures

Photo of the Week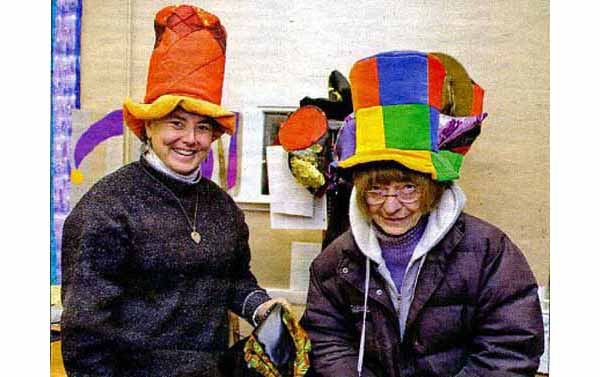 National Catholic Reporter, February 20, 2009
Franciscan sisters involved in extravagant activity
Franciscan Sister Carmen Barsody, above left, along with Unitarian minister Kay Foreseen, right, founded the group Faithful Fools in San Francisco about 10 years ago.

Inspired by the jesters and fools of the old courts, they envisage their group as "fools" who live without boundaries, with no social standing whatsoever. "As fools we chip away at the place of hierarchy that separates us," Sister Carmen Barsody explains. Using the Franciscan moniker is an effective way to chip away at bureaucracy, notes Sister Susan Knutson, another Faithful Fool and Franciscan Sister of Little Falls, Minnesota.

The group is inter-confessional and has a seat in San Francisco's Tenderloin district. It provides shelter and meals for homeless people, and regular visitors also come for Bible studies, Zen meditation, poetry reading and theater practice. A sewing class where people make funny hats is also one of its "ministries."

It is an egalitarian and extravagant social-artistic work that would have been unthinkable for Catholic sisters before Vatican II.
Posted September 6, 2009

Related Topics of Interest

Dominican Nuns Celebrating Halloween

Missionary of Charity Playing the Drums

Massages by Contemplative Cistercian Nuns

Benedictine Nuns Make a Buddhist Appeal for Vocations

Poor Clares Practicing Buddhism

A Dutch Priestess in the Making

Muddy Dominican Sisters

Belgian Nun Dances with Priest at WYD in Cologne
Pictures | Home | Books | CDs | Search | Contact Us | Donate



© 2002- Tradition in Action, Inc. All Rights Reserved