Progressivism in the Church
Church Revolution in Pictures
Photo of the Week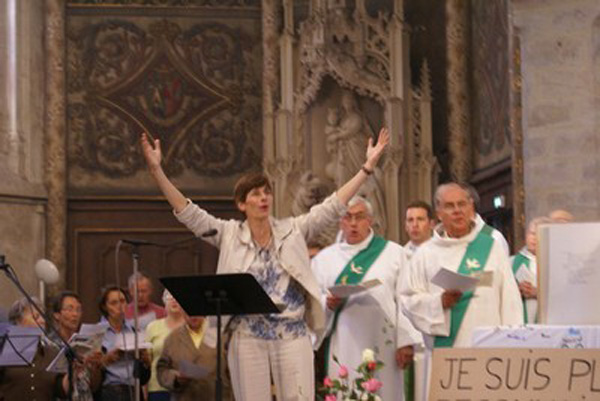 Liturgical animation by women increases in France
As the
Novus Ordo
is increasingly emptied of content and of sacrality, one solution for keeping people in the pews is to multiply the superficial distractions - songs, dances and general participation. This is just another imitation of Protestantism, especially Pentecostalism.
To implement this superficial agenda. nothing is more appropriate than to call into play women. This stratagem has the triple advantage of "animating" the audience, promoting feminism and paving the way for women to be "ordained" priestesses.
So, everywhere today we find women on the altar as "liturgical animators," in addition to their role as altar girls and almost-deacons who act as priests' auxiliaries during Mass.
We offer our readers today some examples of what is being termed "
liturgical animation"
in France. Here are some of the best photos from our search.
Above
, is a picture of an "animation" in the Cathedral of Notre Dame de Pellevosin in Marcq en Baroeul.
Below first row
, the Church of Saint Eustache, Paris;
second row
, Church of Saint Martin de Verneuil in Vernouillet;
third row left
, Abbay d'Ourscamp;
center
, an unidentified church posted on the French Bishops site;
right
, animation in Rueil Malmaison.
Fourth row,
animation by the team from
La Croix
newspaper in an unidentified church in Paris;
fifth row
, a woman singer with a man haircut in Merville who is engaged throughout France to "animate" marriages;
sixth row
, an ensemble of "animators" performing in a chapel in Nice;
seventh row
, Notre-Dame-du-Pré, Mans.
Eighth row left
, an unidentified church in Gazeran;
right
, Saint Francis de Sales Cathedral in Chambéry;
ninth row
, Church of Saint Éloi, Paris;
tenth row left
, Cathedral of Créteil;
right
, St. Bernadette Church in Bruilhois;
last row
, Cathedral of Chartres.



Posted April 10, 2016
________________________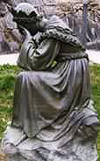 Our Lady of La Salette,
restore the Holy Church.