Progressivism in the Church
Church Revolution in Pictures
Photo of the Week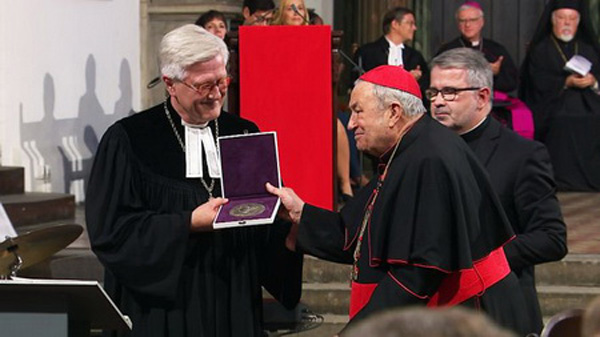 Card. Lehmann awarded with Luther's medal
This October 31, 2016, the Evangelical Church in Germany (EKD) awarded Card. Karl Lehmann, Bishop of Mainz, with the Martin Luther Medal,
above
. The ceremony took place in St. Mary's Church (the
Marienkirche
) in Berlin. Lehmann is the first Catholic to receive this medal.
From 2008 to 2016, the year commemorating the 500
th
anniversary of Luther's revolt, the EKD council has awarded this medal annually in a high-profile public ceremony. Its goal is to thank those who have made outstanding services for the Protestant cause in either a professional or honorary capacity.
The head of the EKD council, Heinrich Bedford-Strohm, emphasized that Lehmann has made great efforts to bring "the two main religions closer together" in Germany. The Protestant leader applauded Lehmann's great contribution in improving Catholic-Protestant relations, not only in general, but particularly in regard to the anniversary of the Reformation.
Bedforf-Strohm praised Lehmann's "readiness to change" and for his constant encouragement for Catholics to "rethink their positions" and for "having the courage to do this" himself.
In other words, the German head of the Catholic Bishops is being awarded for his work to change the Catholic Faith to adapt it to Protestantism. Which is tantamount to saying that he is being honored for his own apostasy and for dragging along many other Catholics with him.
I cannot help but wonder whether the Protestant award also includes a bag of 30 silver coins. I believe it would be most appropriate to include it, since Lehmann is following the footsteps not only of Martin Luther but also of Judas Iscariot, the archetype of all heretics and all traitors.
News report
here
.

Posted November 6, 2016
________________________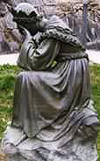 Our Lady of La Salette,
restore the Holy Church.
________________________