Progressivism in the Church
Church Revolution in Pictures
Photo of the Week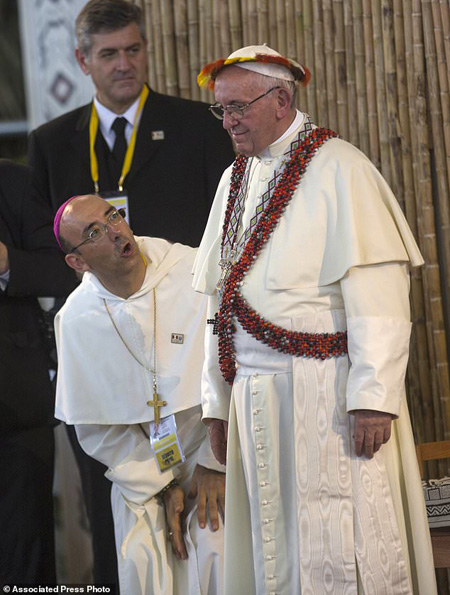 Francis dons tribal attire
On his recent visit to the Amazonian region of Peru, Pope Francis did not miss an opportunity to undermine the papacy.
Above
we see one such example as the Pope dons a tribal feather headdress, an Indian beaded chestpiece, and a thick briaded neckpiece with an accompanying belt.
At his right
is a clownish David Martinez de Aguirre, Bishop of the Mission Diocese in Victoria, Peru, making grimaces. These tribal pieces were given to him by natives, many of whom where half-nude, as pictured
below
.
In his address to these Peruvian tribes, Pope Bergoglio insisted that the Church must "preserve their spiritual and ancestral wisdom," affirming that the Amazon is "the heart of the Church." Such statements are odd, considering that many Indian tribes are still actively pagan and their primitive spirituality is fetishist if not outright demonic.
These recent visits to Chile and Peru seem to be opening the road for a massive promotion of tribalism by the Church under the pretext of serving the
Amazonia
missions.
Since we know that
tribalism is the next step after Communism
, we are seeing the Conciliar Church stepping up to become the most efficient tool to spread the "errors of Russia," in frontal opposition to the desire of Our Lady of Fatima.


Posted January 28, 2018
________________________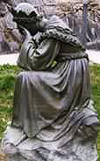 Our Lady of La Salette,
restore the Holy Church.
________________________