Progressivism in the Church
Church Revolution in Pictures
Photo of the Week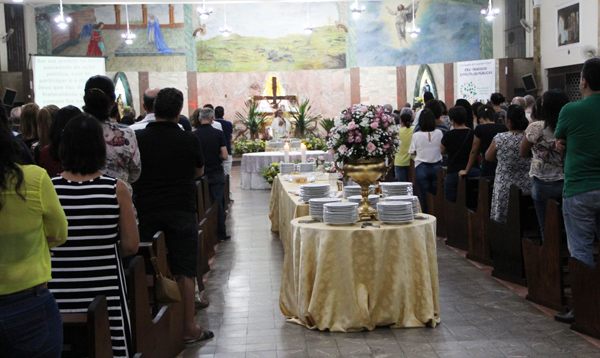 Banquet during Maundy Thursday Mass in Brazil
On Maundy Thursday, April 18, 2019, the parish priest of Santa Luzia Church in Sete Lagoas, State of Minas Gerais, Brazil, decided to host a "banquet" as part of the Mass. In the last row below, we see women opening the containers covered with tin foil to start serving the food inside the church. As the photos of this page show, the tables and dishware were displayed prominently in the center aisle during the Mass.

The faithful as well as the priest acted as if they all shared the power of Consecration, as shown in the first, second and fourth rows below.

Adding to the extravagance, the Mass was said under a crucifix where the person crucified was a young woman, and not Our Lord, third row.

We see that there is little of anything Catholic in this Holy Week ceremony, thanks to the progressivist heresy installed inside the Catholic Church from top to bottom.

Besides the offenses against Our Lord, it is sad to see that the simple faithful are being fooled and believe they are still attending a Catholic Church...



Posted May 5, 2019
________________________