Progressivism in the Church
Church Revolution in Pictures
Photo of the Week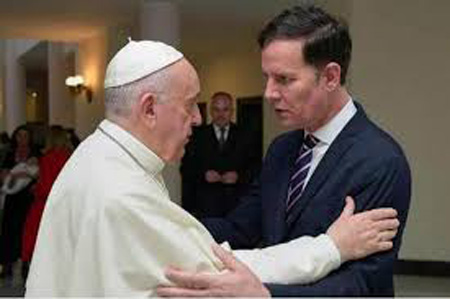 Pope names homosexual to Vatican commission
On March 24, 2021, Pope Francis
appointed
known Chilean homosexual Juan Carlos Cruz to the Pontifical Commission for the Protection of Minors.
Cruz became vocal in 2011, giving many interviews on the sexual abuse he suffered when a child from
Fr. Fernando Karadima
.
Later, he publicly stated that he was a homosexual and became an activist for the LGBT agenda. In April 2018 he was received by Francis,
above
, who told him: "Juan Carlos, the fact that you are gay does not matter. God made you like that and he loves you like that and I do not care. The Pope loves you as you are; you have to be happy as you are. (
Here
and
here
)
Francis' initiative has been considered an indirect answer to the March 15, 2021
Response
by the Congregation of the Doctrine of the Faith to a
Dubium
regarding the blessing of the unions of persons in same sex unions. The Response said that "God cannot bless sin."
So, we see that Bergoglio does not lose any opportunity to favor the homosexual agenda. Further, if some Vatican authority steps up to oppose that agenda, he immediately counter-attacks to be sure that the sodomites will have the upper hand in the discussion.
It is unnecessary to say that pro-homo priests like Fr. James Martin,
below
, was very pleased with Pope Bergoglio's choice of Cruz.