Progressivism in the Church
Church Revolution in Pictures
Photo of the Week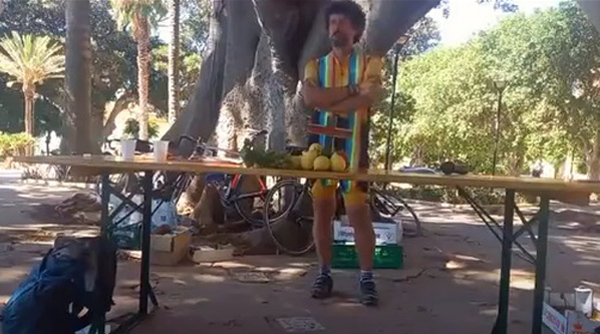 The biker Mass in Lampedusa
Fr. Fabio Corazzina,
above
, posted on his
Facebook page
a video of a Mass he said on September 10, 2022. The Mass was said for a group of bikers in Lampedusa, an island in the Mediterranean near the coast of Africa that belongs to Sicily.
The priest said the Mass in biker apparel – very tight shorts and a short sleeve shirt – with his only vestment being a rainbow colored stole. The "altar" was a bare folding table; the chalice and paten were a disposable plastic picnic glass and a plastic plate, which the red arrows points out in the
picture in the fourth row below.
Some lemons placed on the table helped to hold up a wobbling crucifix; during the Mass a bike had to be placed in front of the table to keep the cross from falling to the ground.
Fr. Corazzina is the parish priest of Santa Maria in Silva –
sixth row left
– in the Diocese of Brescia in Northern Italy, and enjoys the full support of Bishop Pierantonio Tremolata,
sixth row right
. In the
last row
we see Fr. Corazzina in his daily garb, always wearing some rainbow colored piece of clothing.
How can anyone believe that this is a valid Catholic Mass?
How can anyone deny that the Conciliar Church apostatized
from the Catholic Faith?

Posted September 18, 2022