Progressivism in the Church
Church Revolution in Pictures
Photo of the Week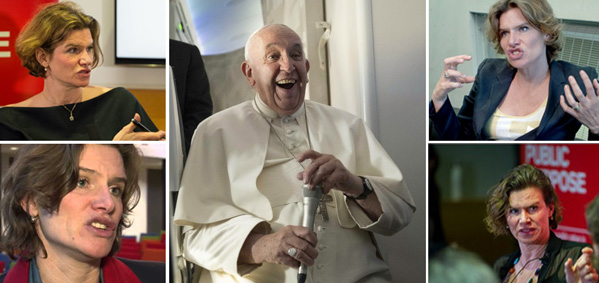 Francis takes a pro-abortion position
On October 15, 2022, Pope Francis
appointed
Marianna Mazzucato as a member of the Pontifical Academy for Life. Mazzucato is an Italian-American economist who teaches in London.
Since she is a known pro-abortion supporter, the papal choice understandably raised a great turmoil. The statutes of this Pontifical Academy read that the members should be chosen "on the basis of their academic qualifications, proven professional integrity, professional expertise
and faithful service in the defense and promotion of the right to life of every human person
."
In his
in-flight interview
on his return from Bahrain, on November 7,
above center
, Francis answered the question of a journalist about women's rights.
Embedding his choice into a feminist context,
specifically about Mazzucato he said:
"Women have their own way of solving problems, which is not man's way. And both ways must work together: the woman, equal to the man, works for the common good with that insight that women have. I have seen that in the Vatican, every time a woman comes in to do a job in the Vatican, things get better.
For example, the vice governor of the Vatican is a woman, the vice governor is a woman, and things have changed for the best. In the Council for the Economy, there were six cardinals and six lay people, all male. I changed the lay people I put one male and five women. And this is a revolution because women know how to find the right way, they know how to move forward.
"
And now I have put Marianna Mazzuccato in the Pontifical Academy for Life. She is a great economist from the United States, I put her there to give a little more humanity to it
."
Independent of his promotion of Feminism, which is highly censurable, he skipped the central point, which is that his candidate Mazzucato is pro-abortion and was chosen for a Vatican organ that is meant to combat abortion.
When we consider that he has also chosen three other pro-abortion members for that Academy for Life, we see that Francis actually is undermining the traditional stance of the Church.
The three members are Prof. Robert dell'Oro, of Jesuit Marymount University, Los Angeles,
below fifth row left;
Sheila Dinostshe Tlou, former health minister of Botswana, today Chancellor of the Open University of her country,
center
, and Prof. John Nkemgasong, from Cameroon, today an American citizen and Biden's head for the Emergency Plan for Aids Relief,
right
.
Thus, seeing that he has named four abortionists for the Pontifical Academy for Life, it is very difficult not to conclude that he is sabotaging the pro-life position of that Academy, which represents the bi-millennial doctrine of the Catholic Church.
In the last row, we have posted a photocopy of a
dispatch
from
Catholic Culture
documenting some of Mazzucato's written pro-abortion affirmations.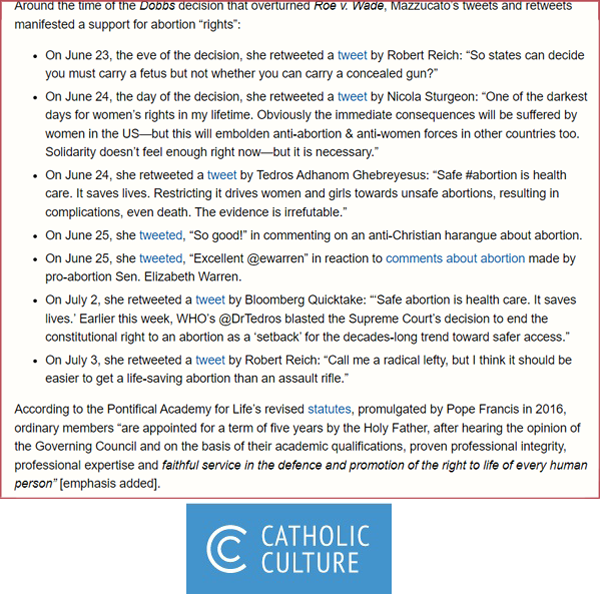 Posted December 18, 2022
___________________________
________________________