Progressivism in the Church
Church Revolution in Pictures
Photo of the Week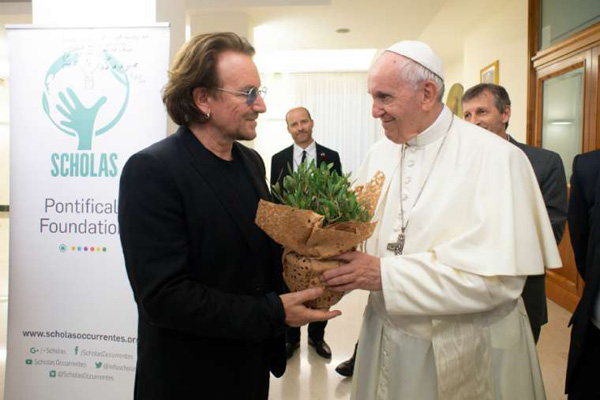 Pope receives pro-abortion rock star
Pope Francis' silence was a factor that, some months ago, greatly contributed to the defeat of the Catholic cause in Ireland when
abortion was approved
. On September 19, 2018, he confirmed his pro-abortion stance by receiving Irish rock star Bono in a private audience in Santa Marta Inn.
Besides the fact that the lead singer of the U2 rock band overtly campaigned for abortion in the Irish referendum,
it is known
that he takes a strong pro-homosexual position. Adding to the scandal, the singer announced that his meeting with the Pope was "to discuss the wild beast of Capitalism." A statement that in itself has a communist connotation.
Many leftist stars, like Bono on this occasion, have met Francis under the pretext of offering support to the pontifical foundation
Scholas Occurentes
(see
here
). Actually, this foundation, a papal initiative based in Buenos Aires, aims to change the mentalities of children by teaching them to accept every kind of aberration in religion, ideas and customs.
It is symbolic that in the logo of
Scholas Occurentes
, which appears hanging on the wall of the room where Francis greeted Bono
above left,
the row of dots are the rainbow colors, most likely a reference to its support of homosexuality - see the logo enlarged in the
last picture below.

Posted September 23, 2018
________________________