Progressivism in the Church
Church Revolution in Pictures
Photo of the Week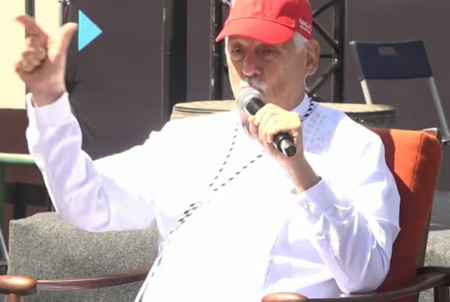 Jesuit Magis 2023 - a preview of WYD
Magis
– Latin for
more, greater
, is the name the Jesuits chose for their preview for the WYDs. Magis 2023 took place in Lisbon from July 22 to 31. Its goal was to select youth going to the WYDs to come closer to the Jesuit Order and work with it.
Above
, you see Fr. Arturo Sosa, General Superior of the Jesuits, speaking to the participants on July 22 on the stages for the WYD. He held a Questions & Answers session, monitored by Jesuit rapper Fr. Mike Martinez,
here
.
The feature theme of Magis 2023 was the "Festival of Nations," where youth representing different countries performed their "traditional" cultural dances. You may judge the level of morality by the photos
below
, taken from a
video
of the event posted on July 30.
Besides the moral laxity of the Jesuit gathering, it is worth noting that the Mozambique Show,
below,
ended with an exposition of the Mozambique flag, which was inspired by the flag of the communist Mozambique Liberation Front – FRELIMO. Indeed, the present day flag of Mozambique has a star representing its communist origin and an AK-47 rifle with a bayonet, a Russian Kalashnikov assault rifle, and a hoe – an updated version of the hammer and sickle.
It is interesting to see the position of the Jesuit Order reflected in the orientation it gave to this event.
Posted August 6, 2023