Progressivism in the Church
Church Revolution in Pictures
Photo of the Week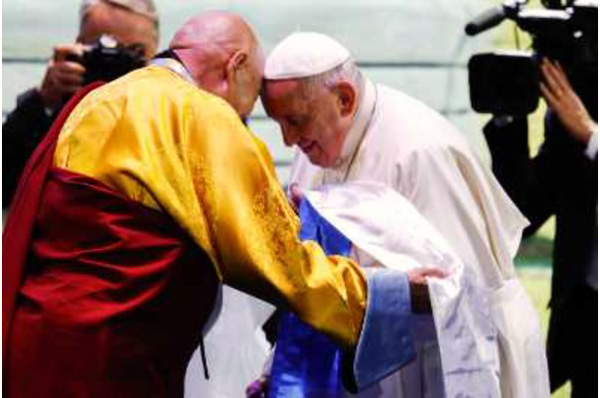 Francis' tête-à-tête with Mongolian Buddhists
On September 3, 2023, while visiting the Hun Theatre in the Mongolian capital Ulaan Baatar for an inter-religious meeting, Francis had a warm encounter with Gadju Choinjamts, the head of the principal Buddhist monastery in that city,
above
.
The most commonly practiced religion of the country is Buddhism, which assimilated many traits of the previous existing
Tengrism
, an
animistic and shamanic
religion still very present among the simple people. Tengri are the gods of the sky or of the mountains.
The blue ceremonial scarf the monk gave Francis, which he
kissed
and pressed to his heart,
below first row
, is a symbol of this shamanic worship of the gods of the sky and of the mountains. The scarf is habitually given to Mongolian visitors as an expression of welcome. This scarf is called a
khata
(
khada, khadag or hadag
)
In the speech he delivered on that occasion, Pope Francis twice cited the
Dhammapada,
the most widely-read Buddhist text, which is a collection of sayings of the Buddha.
"The fragrance of flowers spreads only in the direction of the wind, the fragrance of those who live according to virtue spreads in all directions,'" the Pope said, quoting the
Dhammapada
." (for more read
here
)
So then, we see that while Pope Francis is radically attacking those who try to keep the sacred traditions of the Catholic Church in the West, in Mongolia he heartfeltly encouraged the most radical practices of animism, shamanism and Buddhism, alleging that he is respecting that people's traditions. How can he be so contradictory?
Further, the goal of his trip to Mongolia continues to be unclear. Since there are only 1,500 Catholics in that country, why did the Pontiff make such an expensive trip to go there?
How many millions of dollars does a papal trip like this cost? Would it not be much cheaper to bring those 1,500 Catholics to Rome by plane? All the more so since he had just returned from another quite expensive trip to Lisbon, where, by the way, he ordered the youth to reduce their "carbon footprint" (via travel, unnecessary expenses, etc.) as much as possible....
Again, what was the real reason for this trip to Mongolia? Some unrevealed occult meaning, like his trip to Kazakhstan (
here
and
here
)? Who knows?
Posted September 10, 2023

___________________________
________________________