The Saint of the Day
St. Gemma Galgani - April 11
Comments of Prof. Plinio:
The picture we see is of St. Gemma Galgani (1878-1903), who became known for the sublime visions and revelations granted to her by God. She was Italian and lived in the city of Lucca.
She belonged to the Third Order of the Passionists. The Third Order is an association of lay people in which even married persons could participate without entering the religious state. Its members do not live in a religious house, but in the world, where they try to live an edifying and pious life.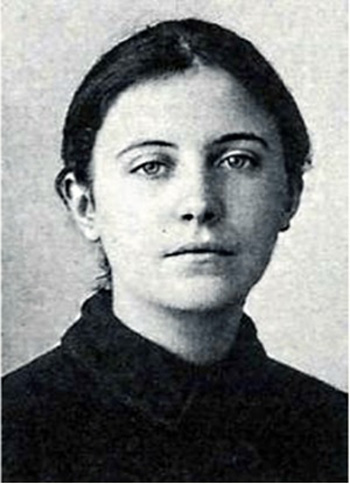 St. Gemma Galgani (1878-1913)
Her physiognomy is impressive. It is impressive for the harmony of her features and for the profundity of reflection that she expresses. We see that there is something in her gaze that is directed toward a very high point, upwards. Her thoughts are not of this earth. In her face there is something celestial.
The loftiness and angelic purity of her figure is remarkable. These qualities are noticeable by the way she holds her head, stately yet in entirely unpretentious way.
She does not wear any adornment. Her hair is fairly arranged, but without too much care. Although she is very clean, we do not notice anything that reveals the desire to embellish herself.
Her apparel is black and simple. However, St. Gemma reveals an extraordinary dignity that accompanies her virginal purity, which can be noticed in something impalpable that shines in her skin. We would say that her skin – as well as her gaze – has a luminous quality. This gaze reveals a complete uprightness. It is the gaze of a mystic absorbed by what she sees, and in it we can catch a glimpse of what she sees.
Her physiognomy also manifests the virtue of fortitude. She wants what she does because the Faith orders her to want it! And what does she want? It is to serve God, Our Lady and the Catholic Church. She follows this course despite all obstacles. And her decision is unbreakable!
She is a physical representation of the
Strong Woman
described in Holy Scriptures whose worth is priceless. It is worthwhile to go to the furthest ends of the universe to find her, as if she were a precious jewel.
Article from Catolicismo, August 1999, n. 583




Prof. Plinio Corrêa de Oliveira
The Saint of the Day
features highlights from the lives of saints based on comments made by the late Prof. Plinio Corrêa de Oliveira. Following the example of St. John Bosco who used to make similar talks for the boys of his College, each evening it was Prof. Plinio's custom to make a short commentary on the lives of the next day's saint in a meeting for youth in order to encourage them in the practice of virtue and love for the Catholic Church. TIA thought that its readers could profit from these valuable commentaries.
The texts of both the biographical data and the comments come from personal notes taken by Atila S. Guimarães from 1964 to 1995. Given the fact that the source is a personal notebook, it is possible that at times the biographic notes transcribed here will not rigorously follow the original text read by Prof. Plinio. The commentaries have also been adapted and translated for TIA's site.