Saints of the Day
St. Bonet - January 15
Biographical selection:
St. Bonet lived from 623 to 710 and served God in many different ways.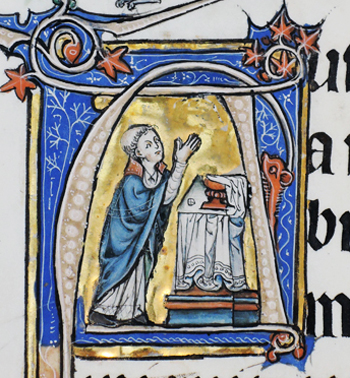 Bonet was praying when Our Lady & many Angels appeared in the Church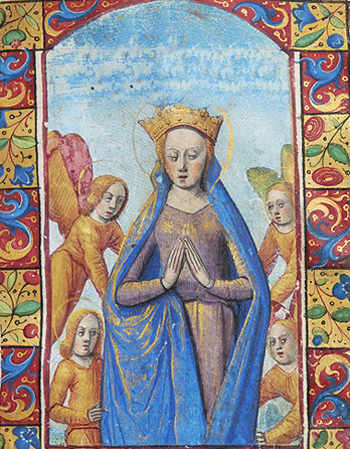 His parents , who lived in Auvergne, France, descended from families of Roman Senators. One day his mother knelt and asked the blessing of a virtuous priest who was visiting her. That priest told her that she was carrying in her womb a son who would be "a column of the State and a light of the Church."
Indeed, Bonet held many public positions and was for 30 years the chancellor of Austrasia under King Sigisbert III. When Austrasia was united to Neustria, Theuderic III named him governor of Marseilles and all Provence.
When his elder brother, St. Avitus, Bishop of Clermont, became ill, he called upon Bonet to succeed him. The choice was approved and Bonet gave the best example at the head of that Diocese. He was known to be greatly devoted to the Blessed Virgin Mary. One Assumption Day when he was praying by himself in St. Michael's Church, he saw the Mother of God descending from Heaven followed by a large cortege. The Angels prepared everything for the celebration of the Mass.
When they inquired who would be the celebrant, Our Lady answered: "My servant Bonet is present, there is no need to look for another."
Confused, Bonet hid behind a column, but, behold! the stone of the column changed its shape to reveal the body of Bonet. For this reason he became the patron of the ceramic workers. Later he resigned his dignity and went to live as a solitary; at age 80 he made a pilgrimage to Rome. He died at Lyons in 710, being 86 years old.
After his death, many miracles took place at his tomb, but curiously, they had to remain unknown. If a cured person would tell the cause of his cure, he would relapse into the same illness he had before. Perhaps it was because St. Bonet, even in celestial glory, wanted to remain hidden.
Comments of Dr. Plinio:
There are so many interesting data to comment upon that it is difficult to decide where to begin.
The affirmation that he descended from Roman Senators is not without importance. The Roman Senate was made up of men of influential and important families. Some members of the Roman Senate descended from gens that existed even prior to the formation of Rome. Hence some of those families had more than 1,000 years of existence. It was a glory to belong to a senatorial family of Rome. It was from the bosom of one of those families that Divine Providence called two saints: St. Avitus and St. Bonet.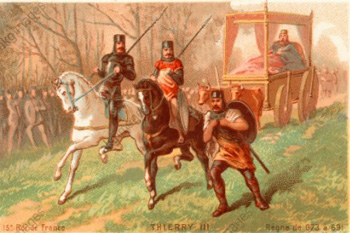 Theuderic III traveling in a special carriage
Regarding St. Bonet, we see that extraordinary prophecy made by a man of God. His mother knelt to pay tribute to him and he paid a much more brilliant tribute to St. Bonet, who was in the womb of his mother, affirming that he would be great in the temporal and spiritual spheres.
In fact, the life of this Saint was quite diverse: He played an important political role – he was an administrator of two Kingdoms of old Gallia. Then, he became an eminent Bishop by succeeding his brother. He ascended from the government of temporal things to the government of spiritual and celestial things.
What a great lesson! Today, who would consider it a promotion to pass from being prime minister of two Kingdoms to become a Bishop? The majority of persons consider being a Bishop the less important situation.
Now then, the opposite is true, because to manage the spiritual interests, to deal with the things of God, to save souls, is incomparably more than to manage temporal interests. We understand that St. Avitus was correct to choose his brother to receive that honor. We are sure that St. Bonet accepted that honor with great respect for the office.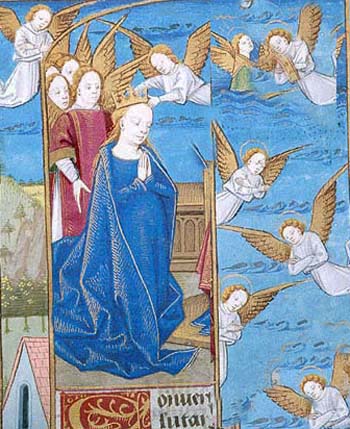 Our Lady works a miracle to reveal the Saint so he might say the Assumption Mass
He was also a soul very dear to God. We see the apparition of Our Lady presiding over many Angels preparing everything for Mass. Then she invited St. Bonet to be the celebrant. Confused, he hid behind a column, but the column changed its shape to reveal his body. By choosing him to celebrate the Sacred Mysteries Divine Providence let others know how greatly St. Bonet was loved.
How charming it is that from this incident he became the Patron Saint of clay workers. The ceramic craftsman molds changeable matter to make vases, and in that miracle his body was the mold for the stone to be modeled. Thus, those who do this work chose him as their Patron Saint.
The men of times long past had surprising ways to find their patrons. I believe I have already commented with you on how the tailors of Rome chose the Eternal Father as their Patron because He was the One who made the first clothing for Adam and Eve when they were expelled from Paradise.
Finally, we can see the vitality of this man. He reached 80 years of age – 80 years of virtue and glory – and he could have thought about retiring to a monastery where he would have private quarters and be the object of general consideration. No. He went to live as a solitary, that is, a hermit. He left everything to think about God.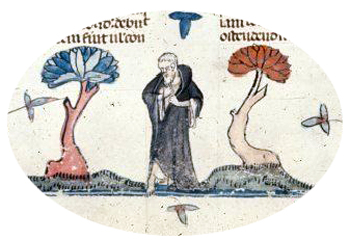 At the end of his full life, St. Bonet became a hermit
What does it mean to be a solitary? For a man of those times it was to live in a poor hut in a woods filled with wolves, wild boars and other aggressive animals, enduring the hard European weather with its severe winters.
After that, he went as a pilgrim to Rome. He was more than 80 years-old, yet he walked from place to place on roads populated by bandits. Then, after he returned to France he died.
We would not know what to admire more in St. Bonet – his human valor or his supernatural valor – except for the fact that we know that supernatural valor is always above human valor. Also, we know that the human valor we find in a Saint is just the projection of his supernatural valor.
We turn to this Saint filled with veneration. What should we ask him? A Saint with so rich and polymorphic a life can teach us how we should face the most diverse circumstances. We should ask him to prepare us for the many different circumstances that we will face in the mutability of today's life, especially during the Chastisement that is so rapidly approaching.




Prof. Plinio Corrêa de Oliveira
The Saint of the Day
features highlights from the lives of saints based on comments made by the late Prof. Plinio Corrêa de Oliveira. Following the example of St. John Bosco who used to make similar talks for the boys of his College, each evening it was Prof. Plinio's custom to make a short commentary on the lives of the next day's saint in a meeting for youth in order to encourage them in the practice of virtue and love for the Catholic Church. TIA thought that its readers could profit from these valuable commentaries.
The texts of both the biographical data and the comments come from personal notes taken by Atila S. Guimarães from 1964 to 1995. Given the fact that the source is a personal notebook, it is possible that at times the biographic notes transcribed here will not rigorously follow the original text read by Prof. Plinio. The commentaries have also been adapted and translated for TIA's site.