Stories & Legends
Dom Nuno, the Mirror of Portuguese Chivalry
Dom Nuno Alvares Pereira was the greatest of Portuguese knights, the very mirror of Chivalry, generous to his foes, a hater of cruelty, champion of women, protector of the weak, in fine, a man of God.
He began his career as a soldier in 1371 at the age of 13, was the right hand man of John I in the struggle for independence, led the advance as Constable at the Battle of Aljubarrota, and won those of Atoleiros and Valverde (1384-1385).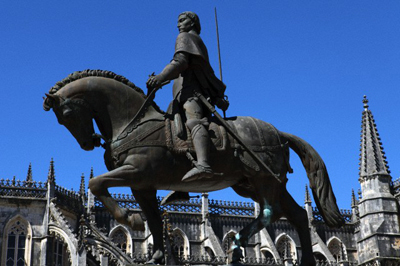 A statue of Constable Nuno Alvares Pereira in the square adjoining Batalha Monastery
When he was 16, his father desired to marry him to a lady of rank, but found the youth strangely unwilling, for, as his chronicler says: "He had great relish for and was often wont to hear and read story books, especially that of Galahad. And because he found that by virtue of virginity this man had accomplished great deeds which others could not achieve, he wished to imitate Galahad and remain a virgin, if it pleased God."
He had however, to yield, and became the founder of the House of Bragança. But when his wife died at an early age, no one could persuade him to a second marriage. His anonymous biographer records some of the actions which won the admiration of contemporaries:
• How he saved a blind man at the siege of Torres Vedras by taking the poor man up behind him on his mule;

• How he restored a cauldron which his men had carried off from a church when he heard of the theft many years later;

• How he punished a knight who had pulled out a villager's beard and taken wine without payment;

• How he gave all the bread he had to eat to some hungry English knights.
In the administration of justice he paid no regard to rank, relatives, servants or friends, which earned him the dislike of the grandees.
Chaste in desire and deed, he heard two Masses daily and three on Saturdays and Sundays, rose at midnight to recite the Canonical Hours, fasted three days a week, and gave a tenth of his income to the poor. Before entering the Carmelite Monastery in Lisbon, which he had built, he distributed all his property, and left himself with nothing but the clothes he wore.
He organized the first standing army in Portugal, and revolutionized the art of war in the Peninsula by recognizing the superiority of foot soldiers to horsemen. Dismounting the horsemen and forming them in a square, he won his first battle at Atoleiros over the cavalry of Castile.
After this he went barefoot on pilgrimage to a neighboring shrine, and finding the church choked with dirt from the animals the Castilians had stabled there, he did not content himself with ordering it to be cleansed, but was the first to carry out the dung. This act of humility is the more remarkable as practised by a man of high lineage.
Excerpt from Chivalry: A Series of Studies to Illustrate Its Historical
Significance and Civilizing Influenceby Edgar Prestage,
London: Kegan Paul, 1928, pp. 153-154,
Posted November 17, 2012