Stories & Legends
Our Lady of Mantua in Prague
The baroque Church of Our Lady Victorious and St. Anthony of Padua in Prague is known throughout the Catholic world for the miraculous statue of the Infant of Prague. That famous statue of the Infant Jesus was brought to the Church in the Czech capital in 1628.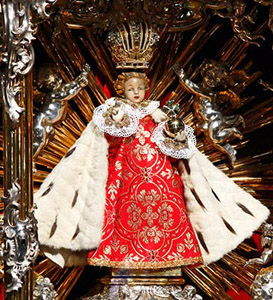 The miraculous Infant Jesus of Prague
When the Saxon army invaded Prague during the Thirty Years' War (1618-1648) they ransacked the magnificent Church of Our Lady Victorious. The monks found the statue in a corner with its hands broken. One of them heard the Infant Jesus asking him for help and promising to bless him and the other friars.
The monk made new hands for the statue, and the miracles began. On the walls around the altar with the Infant Jesus you can see the testimonies of beneficiaries of the many miracles and graces granted through the Infant of Prague's intercession.
But there is another miraculous icon that is not as well known in that same Church of Our Lady Victorious.
On the second altar on the left of the Infant of Prague Altar, you can see a picture in a golden frame that represents the Madonna of Mantua. Its history is briefly recorded in the relief at its base.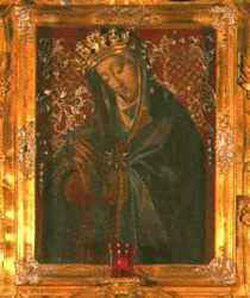 Our Lady of Mantua in Prague
According to tradition, the painting was hanging on a tree near Mantua, Italy, when a soldier fired his gun at it. Blood spurted from the spot where the bullet hit, and then the bullet rebounded and hit the soldier who had fired it. The people began to venerate the miraculous image, and Our Lady worked many favors for the faithful.
In 1626, Hannibal, commander of the Austrian army, conquered Mantua and decided to take the picture as a trophy of war. On his return to Vienna, he gave it to Countess Anna Felicita Stenzler of Grüneberg. Later, this noble lady moved to Prague and gave the picture to her confessor Father Cyril, who was the parish priest of the Church of Our Lady Victorious and St. Anthony of Padua.
He arranged for the miraculous picture to be placed on the altar next to that of the famous Infant of Prague. It can still be seen there today, the place where the bullet hit and blood flowed covered with a precious garnet stone.
It is a good story to reflect upon today. In the 17th century, Our Lady gave a strong demonstration of her sadness and stern disapproval of the blasphemous act of the soldier, sending the bullet he fired back to lodge in him. It was a weighty punishment for his grave act.
In our own times, when blasphemies against the Blessed Virgin and her Son abound, what will be the reaction of Heaven? How long will Our Lady be able to hold back the avenging hand of her Son? And when a cleansing fire from Heaven turns back on man, we can only imagine its breadth and intensity.

Posted December 8, 2012